You are now in the main content area
Episode 20: What does it mean to travel sustainably?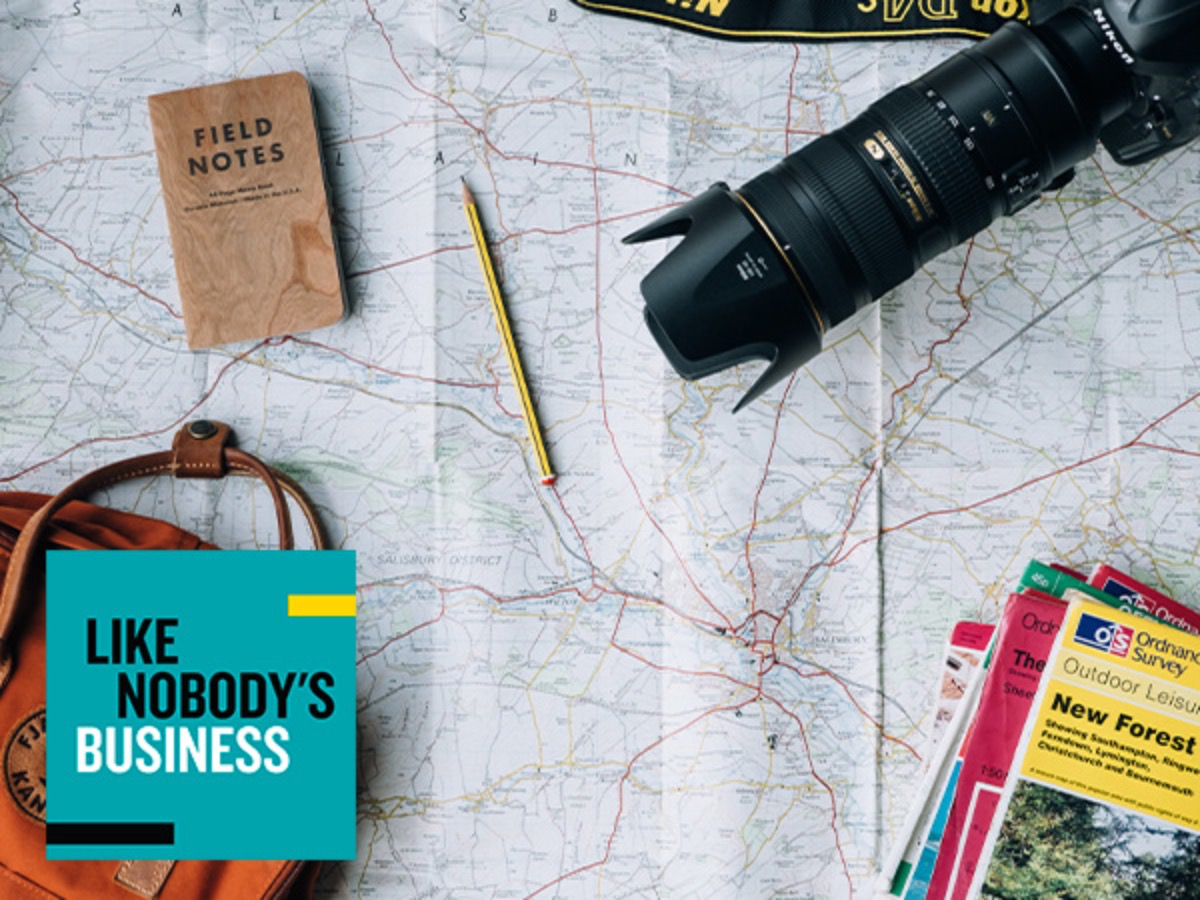 Podcast Transcript - Episode 20

Cassandra Earle:
From the corner of Bay and Dundas in downtown Toronto, this is Like Nobody's Business, a podcast of thought leadership and business innovation. In August of 2022, a UK based sustainability marketing agency, published flight analysis data outlining how celebrity private jets contributed to emissions in the atmosphere with Drake and Taylor Swift's planes being at the top of the list. This sparked conversations across social media about celebrity responsibility in environmentalism and what decisions like these could mean for the planet. The everyday person doesn't have a private jet to fly on. They aren't making 17-minute flights or lending their planet to others to create more emissions. However, this doesn't mean that individuals don't have the power to make better decisions for the planet while traveling. Understanding sustainable travel and the impacts it can make is something Professor Rachel Dodds is trying to make more accessible to the average person.

Dr. Rachel Dodds:

My name is Professor Rachel Dodds. I'm in the School of Hospitality and Tourism Management at Ted Rogers School of Management at Toronto Metropolitan University. And I have been researching in anything to do with sustainability within the tourism industry, probably my whole career. It's some sort of, it's an obsession of mine, I think, to try and make things more sustainable.

Cassandra Earle:

Professor Rachel Dodds co-wrote a book titled, "Are We There Yet? Traveling More Responsibly with Your Children", in an effort to provide a resource for people with families looking into sustainable travel.

Dr. Rachel Dodds:

Well, most academics always write academic literature. And I suppose at this stage of my career, I feel it's really important to try and make influences not just in academia, but also outside. And so myself and my co-author Richard Butler, wrote a book for the mainstream, and it's about how to travel more sustainably, of course, because that's what I do. But it's also focused on how to travel more sustainably when you have a family. So if you're an aunt, an uncle, a grandparent, a godparent, everybody has some sort of interaction with children, especially the mom and dad, wherever they may be. And so we wanted to provide practical tips and heartfelt stories on how different parents had done it and just how you can make your life easier when you're traveling, but also be better for the planet. And all the proceeds are going to go to World Animal Protection. And the good news is we did, I'm not sure if it's made a mark, but we did just win an award in the United States for best family travel gift for the USA Today awards.

Cassandra Earle:

Growing up, Professor Dodds traveled frequently with her family and during these travels witnessed harm to the environment around her. This inspired her to learn more about tourism and how travel can impact the planet.

Dr. Rachel Dodds:

My usual sort of foray I always say is when I was... I traveled a lot as a kid. I've been really, really privileged to have been able to go to so many countries in the world, but I remember being 13, walking along the beach in Mexico and seeing raw sewage go into the ocean. And I was totally horrified. And my father said to me, "Well, you can choose to be part of the problem or part of the solution, and if you're not part of the solution, you're probably part of the problem." And that really stuck with me. And then when I was doing my Master's in Australia, actually a lot of it had to do with sustainability. The beach was in shade by one o'clock, they built too close to the shoreline, so the beach was eroding, terrible construction principles. The community wasn't happy based on the amount of tourism.

Dr. Rachel Dodds:

And so that really, really, it just sort of really cemented and I thought, this is what I really want to do. I'd worked in the tourism industry for a while. I'd worked in hotels and tour operators and then I've been consulting to for the last 20 years, but I never find that I get tired of it. So after I did my PhD, I went to do my PhD in the UK about policy and sustainability, and I thought that must be the answer. And sadly, it hasn't been the answer. Policy's not the answer, but it takes everybody to move a mountain, not just one person. And I think that's becoming really apparent. It's one of the reasons why we decided to write the, "Are We There Yet? Traveling More Responsibly with Your Children", is that it's not just about academic work. There's social impact, there's community impact, there's academic impact. There's so many different audiences that you have to convince or prove that there is a better way to do things before you actually see change.

Cassandra Earle:

What does sustainable travel actually mean though? How can people ensure that they're planning their travels through this lens and why is it important that they do? Professor Dodds explains.

Dr. Rachel Dodds:

So sustainable tourism, a lot of people these days want to call it ecotourism or regenerative tourism or slow tourism or green tourism. And I feel that part of the problem in our industry is that we have too many words to try and explain all these different things. And so the average consumer, somebody says, "You should travel more responsibly or more green or more regeneratively." And someone says, "I don't know where you're talking about." And there's nuances between them all, but the basic main point is that you should leave somewhere better than you found it. We are all guests on this planet and we are all guests in people's communities. And so we need to take consideration of our impact on the environment, our impact on the communities, as well as our impact financially. Tourists vote with their wallets. So we actually have a lot more power than we think we do, but also it's not just about making sure it's a good trip for you. It's about making sure that you're considerate of everything and everyone around you.

Dr. Rachel Dodds:

And I think that's the really key thing is that a lot of people go down this road, especially in academia of, well, they focus on an eco-lodge in the middle of the Amazon jungle. And my argument is that every part of the tourism industry should be more sustainable. It should be more responsible. It's about making sure that everybody benefits. It's about making sure that we have fair wages, that we're not having raw sewage running down the beach. It's about making sure that when we make a decision to go somewhere, we're not just thinking of ourselves. We're thinking of the impact it has on everyone else.

Cassandra Earle:

I love what you said as well about leaving a place better than you found it. That to me really resonates with my experience, at least as a traveler. We grew up camping a lot as kids. We lived in BC so it's, we would go to these campsites, and there would be signs saying, "Leave it better than you found it," other campers, whatever. It was also just a value that my parents instilled. So before we left the campsite, we would have to go around and pick up garbage and I would say, "Mom, this isn't our garbage." And she'd say, "It doesn't matter. We were here and it's up to us to make sure we leave it better than we found it." So I think it's a tangible way to explain it to someone, and I really resonated with that.

Dr. Rachel Dodds:

Yeah, it's funny. Well, I have the same camping story, and it's in the book. My father, when we got to the campsite, I'm one of three kids and he would put a dividing line of thirds on the campground and we would have to pick up the garbage before the tent went up and before we could even play. So, and then we had to do it afterwards. And that's one of the reasons we wanted to focus on kids and make it for mainstream is when you learn those kinds of values as a child, you bring them into adulthood.

Cassandra Earle:

When making travel plans, individuals can rely on resources and tools to help them make sustainable choices. These resources are easy to access and can make an impactful difference. Professor Dodds shares her top tips.

Dr. Rachel Dodds:

Traveling is an unbelievably fun thing to do. Not always, business travel is not always that great, but for the most part we get to eat different food, meet different people, be away in a different environment, different weather, et cetera. But I think that if you have the assumption that everything has to be really difficult and you have this weight carrying around, you're not going to do it because human beings are lazy and we do the easiest, we take the easiest route possible. But if you know that you could do one thing, for example, that could make a difference, then maybe next time when you see results, you'll do two things. So for example, you could travel off season. It makes a huge difference so that we don't have to deal with over tourism.

Dr. Rachel Dodds:

And for just as a definition, over tourism is when there are too many people in a place. And so the place can't handle it. It's being disrupted somehow. It's either conservation or crowding or resentment by locals or whatever the case may be. So some places, for example, London, England can cope with 25 million people, no problem. It's a huge city. It's got a lot of infrastructure. Sometimes you don't even notice. But if you put those same 25 million people on a mountaintop, you've got some real issues. Even put 5,000 people on top of a mountaintop or on a beach, you've got real issues. And so if you as an individual realize is that by making one choice, for example, going off season instead of in the busy season, you could actually have a huge benefit to the local economy because you're spreading the money around, but also you're going in a period when it's not busy, it's pretty easy for you to do as long as you're not dealing with school holidays.

Dr. Rachel Dodds:

If you look at Google now, you can see the least carbon intensive way to travel, be it by plane, by train, by car, what have you. It takes no effort whatsoever. But you can choose the least carbon intensive. If you have to fly, and we all know flying's bad, one international flight is the same as driving a car for an entire year. And it's a very hugely privileged thing to do, right? 80% of the world has never been on a plane, but if you are flying somewhere, you can stay longer, you can fly direct, you can take hand luggage instead of checked luggage. All those really tiny things make a huge impact. And if everybody makes that choice, then we can have some serious impacts.

Cassandra Earle:

If these resources exist and are easy to access, why is sustainable travel still difficult for some travelers to accomplish? What is holding people back?

Dr. Rachel Dodds:

We're lazy. We're lazy and we're egotistical and we think we're right all the time. I just don't think it's top of mind. We look at the weather or we look at the price or we're tired and we feel like we deserve a holiday. Tourism has historically been pretty hedonistic. It's all about me. What do I get to eat? What do I get to do? How many showers do I get to have? I can have 20 towels and have my bed linen changed every day because I paid for it kind of mentality. And that's our biggest issue. We're so used to the convenience of everything, basically having everything at our fingertips that now it's a really hard thing to say, "Well, I think this is better for the planet, or this is better for the community, so I'll make this shift." We don't even think about it.

Dr. Rachel Dodds:

We just think what's here and what's now. And with the shift to phones too is really interesting. So I think that that's something when Google made the move to put the carbon intensity off everything you search on Google Maps, that's a convenience thing. So we are going to change behavior by making it so easy that you can't do it. And just as a little final accolade, and I really wish I could find this quote, the source for this story, but I read an article ages ago about Disneyland, and Disneyland wanted to know how far people would walk before they threw their garbage or their trash on the ground. Do you know how far it is? You want to take a guess?

Cassandra Earle:

I'm going to guess 10 feet.

Dr. Rachel Dodds:

You are pretty close, actually. It's nine feet.

Cassandra Earle:

Oh, look at me.

Dr. Rachel Dodds:

But that's actually pretty sad, right.

Cassandra Earle:

It's incredibly sad. I low-balled that for sure.

Dr. Rachel Dodds:

So you wouldn't even walk the distance of a room before, you'd just be like, "Ah, there's no garbage can here, so I won't do it." And so guess what Disney did? Did they ask people to do something? No, they knew people wouldn't change their behavior. So they just put a garbage can and a recycling can and an organics can every three meters.

Cassandra Earle:

And that is the case when I think about it, that's how far apart they were.

Dr. Rachel Dodds:

Because people are lazy. And so Disney realized they weren't going to change behavior. So they adapted to behavior and then slowly they change it, right? People stand in line, it amazes me, people stand in line for two hours, for one minute of entertainment and they think it's the happiest place in the world. I don't personally understand quite that logic, but everybody loves Disney, but Disney is also one of the cleanest places you'll go to. And so I feel like if Disney can figure out the garbage thing, maybe they can as a huge place that everybody wants to go once in their life, maybe they need to be the ones to say as a corporation, "Actually, you know what? We're not going to have single use plastics. And you know what? We're going to give a donation to the local. We're not going to have anything to do with animals because it's cruel. We're going to do X, or maybe we're going to pay our workers higher than everyone else." If they become the example, imagine what that would do for the rest of the industry.

Cassandra Earle:

Although individuals hold the power to make changes in their plans and where and how they choose to spend their time, some of the issues with sustainable travel lie with companies and organizations. Professor Dodds says, part of individual responsibility goes beyond your personal choices and into holding these companies responsible for their decisions.

Dr. Rachel Dodds:

I mean, everybody always puts the onus on the consumer, but for sure the businesses and the governments, everybody needs to help out. There's no one person responsible. But I also think we can put a lot of pressure. I said before tourists vote with their wallets. So if we have the opportunity to choose a tour operator, to choose a hotel that is doing more than someone who's not. Maybe they're not perfect, but maybe they're doing something. And our big power of even more than our wallets is our opportunity to ask questions. So if you ask a hotel, do they have a fair wage policy? And they look at you blankly, chances are they don't. If you ask them that they have recycling and they look at you blankly, chances are they don't. And so even we write reviews all the time as travelers, if we wrote a review and said, "Wow, I was really disappointed that this hotel didn't have recycling or, wow, I was really disappointed that I saw their staff being treated poorly."

Dr. Rachel Dodds:

If you said the beach was dirty, that would really make the hotel wake up. We're going to review and we're going to spend all our time looking at reviews and be on TripAdvisor and Google and all these things. Maybe we should start writing, "Hey, the beach was filthy. I smelled sewage when I walked past this restaurant. I was really disappointed about X," or maybe even the opposite in a better way, rather than calling them out saying, "I was super impressed that this company went to the effort to get rid of everything plastic. Way to go." And then maybe we should start generating that. So that's an option, I think.

Dr. Rachel Dodds:

We don't have a choice. We need to be more sustainable. And I precursor that because nothing is ever truly sustainable. As soon as we step foot somewhere, we have an impact. But every industry within our tourism industry can be more sustainable. Don't get me wrong. I'm not a huge cruise advocate. I never have been. But I also think they're not going away. So we need to encourage them to do better. And it's not just about the little eco resort in the middle of the rainforest. The cruise lines can do better. The all-inclusives can do better. Every hotel chain can do better. Every restaurant can do better. There's no perfect industry out there. And the airlines can do better. And by us talking about these things and by travelers asking and travelers writing reviews and tour operators being pressured to do better, everybody becomes better.

Cassandra Earle:

Professor Dodds believes that individuals, businesses, and corporations can work together to create change in sustainable travel. It's a group effort that she wants to provide resources for and make accessible to all.

Dr. Rachel Dodds:

We all know, I think whether you're a traveler or not, we all know there's issues in the world. They're very apparent to us. COVID lightened that up even more for us. But I think a lot of us are still hesitant to do anything or we're maybe afraid. We maybe think it's too expensive. We maybe think it's too hard. Maybe we just can't be bothered. But if we all make one action and then we tell someone else, then maybe the businesses will come on board and the governments will come on board and people will come on board. Communities will come on board. And when we all start to make even a little bit of an action, we're hopefully going to see some big results. And we have to act because that's the big thing is human beings are really great at talking. I'm good, I'm talking right now, but what are we actually doing about it?

Dr. Rachel Dodds:

And I think that we all need to do something. And maybe one person will listen to this podcast and they'll think, huh, maybe I'll bring my reusable coffee mug today. And actually maybe I'll fly. Maybe I won't fly for a weekend somewhere. I'll actually go and stay for a long time and make sure that all my money goes into the local economy and that a lot of communities will benefit and they'll make a pen pal, and a huge friendship will develop out of something. Then I've made an impact in the world because I've influenced someone else's behavior. And that person, whoever that person may be, should feel amazing that they've done something fantastic. And when they get that great feeling, maybe they'll tell someone and we'll be like that 1980s Tim Matey commercial where it said, "And so on and so on and so on."

Cassandra Earle:

Professor Dodds's book is available on Amazon, and her website is sustainabletourism.net where she offers tips to travelers if you'd like to learn more.

Dr. Rachel Dodds:

Well, thank you for having me and for having a chat about travel. Good luck on your next trip.

Cassandra Earle:

Like Nobody's Business is a presentation at Toronto Metropolitan University's Ted Rogers School of Management. For more information, visit torontomu.ca/tedrogersschool. Thank you for listening.