Delegates come together to celebrate Indigenous peoples in business
The event featured panels, special guests and a big drum and dance circle
September 26, 2022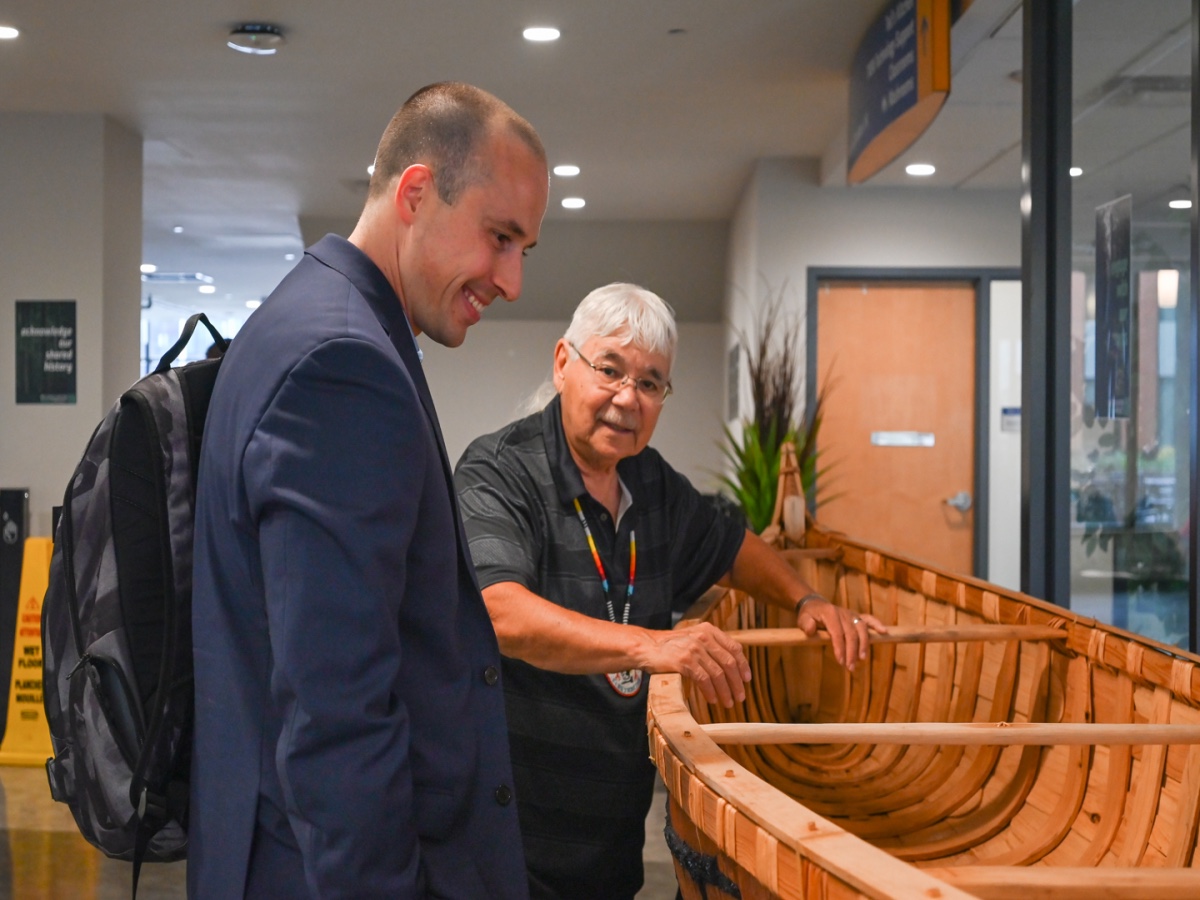 Students, staff and business leaders came together on Sunday at the Ted Rogers School of Management to celebrate the resurgence of Indigenous peoples and explore the roots and teachings of Indigenous commerce.
The student-led Ted Rogers Indigenous in Business group organized the event as part of a school-wide effort to respond to Canada's Truth and Reconciliation Call to Action #92, which is aimed at supporting Indigenous self-determination, as well as closing the socioeconomic gap and unlocking the $100 billion annual Indigenous economy.
"We had so many people who made this happen– a whole community, I feel like, came to the Ted Rogers School, [including] dancers, drummers, vendors and speakers," said Cody Anthony, Founder of Ted Rogers Indigenous in Business and Reconciliation in Business 2022.
"It was really cool because even entrepreneurs [at] the Indigenous marketplace, some of the speakers and people from small businesses– they all knew each other. It is a testament to the incredible Indigenous community in Toronto."
Panels included discussions of Indigenous women in entrepreneurship, Indigenous peoples in tech, and Indigenous peoples in commerce, with a focus on recruitment, retainment and reconciliation.
Events such as a Birchbark Canoe Ceremony and a Big Drum and Dance Social were highlights of the afternoon and a feast/marketplace closed out the day.
"The connections that everybody was making on the floor because we were all coming together with a common purpose…it was awesome," said Anthony.
A few days before the conference, a commissioned 16-foot Birchbark canoe arrived from Nova Scotia at the Ted Rogers School from Mi'kmaq canoe builder, Todd Labrador, as part of the school's Indigenous Art Installation Initiatives. The canoe was brought to the conference area, as well as another canoe from the Mississauga of the Credit First Nation.
"Having [those] two canoes [at the event] was symbolic of the history of Indigenous entrepreneurship and trade, as these canoes were used in trade and exchange and reciprocal partnerships before and after colonization."
Anthony is hoping that there will be another event in the future, and that this lives on as a tradition.
"It truly was an inspiring day of learning for the Ted Rogers community. This event further reflects the great work that the Ted Rogers School of Management has been doing to respond to Call to Action #92, and the responsibilities we have as a business school to continue having dialogue and action towards reconciliation. This event reminds us that Business Schools can be more than advancing commerce, but can move towards advancing community. This event led by Cody continues to highlight the consistent pursuit for expanding our Indigenous initiatives efforts at Ted Rogers."