You are now in the main content area
Mission & Vision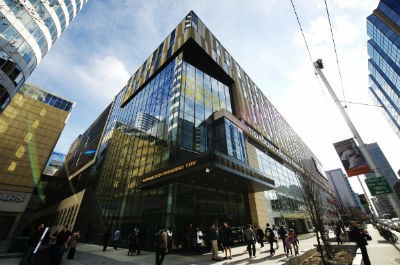 Vision
At the Ted Rogers School of Management, shaping diverse global leaders through experiential education that is practical, innovative and socially conscious, is a priority.
Mission
We seek to provide students with a unique and innovative learning experience in a vibrant urban environment, combining critical reflection and practical skills. We shape socially conscious leaders with an entrepreneurial orientation and we promote impactful research that has local, national and global relevance.
Guided by the following principles and values:
Relevance and Innovation 
Offering rigorous academic programs in a variety of specializations, we prepare our students for successful careers in their chosen fields. The academic quality of our programming is strengthened by the relevance of our curricula and the experiential learning opportunities available to our students. Our innovative programs foster entrepreneurial thinking in the spirit of Toronto Metropolitan University.



Commitment to Community 
As a city-centred School, we are committed to enhancing the quality of the urban environment that surrounds us through teaching, research, and community engagement. We aim to shape business leaders who are conscientious, civic-minded citizens and who add value to their communities. We continue to expand our network of strategic partners, and include research and intellectual exchange on the pressing issues facing global organizations today as part of our mandate.
Diversity and Inclusion 
Diversity in all its manifestations enriches our students' learning experience. We are dedicated to providing opportunities and support for students from diverse backgrounds and capabilities. We strive to make management education accessible, and ensure that every student is empowered to achieve his or her full potential.
Spirit of Collaboration 
We recognize that collaboration among students, faculty, stakeholders and employers is key to our success and we nurture a culture of collaboration in every way we can. Whether it's creating partnerships with employers through our co-operative education program, securing funding for innovative research done by student-faculty teams or working with the community to share expertise and ideas, we are always looking for new ways to engage with collaborators.