You are now in the main content area
Assurance of Learning
The Assurance of Learning (AoL) process for the Ted Rogers School of Management (TRSM) was initiated in 2008-2009. Learning goals for the Ted Rogers School students were articulated and course embedded measurements were selected where the goals will be assessed.
Program-level educational goals were identified where student performance is assessed every year. It has also been recognized that there are significant differences in the specialization streams to justify the measurement of additional learning goals for each School and/or Department.
The AoL process at the Ted Rogers School was reviewed by the AACSB review team in Spring 2011 and the School was accredited in the Summer of that year. The AACSB Evaluation Committee and Peer Review acknowledged that the School has implemented a full system to support the assessment of its AoL plan.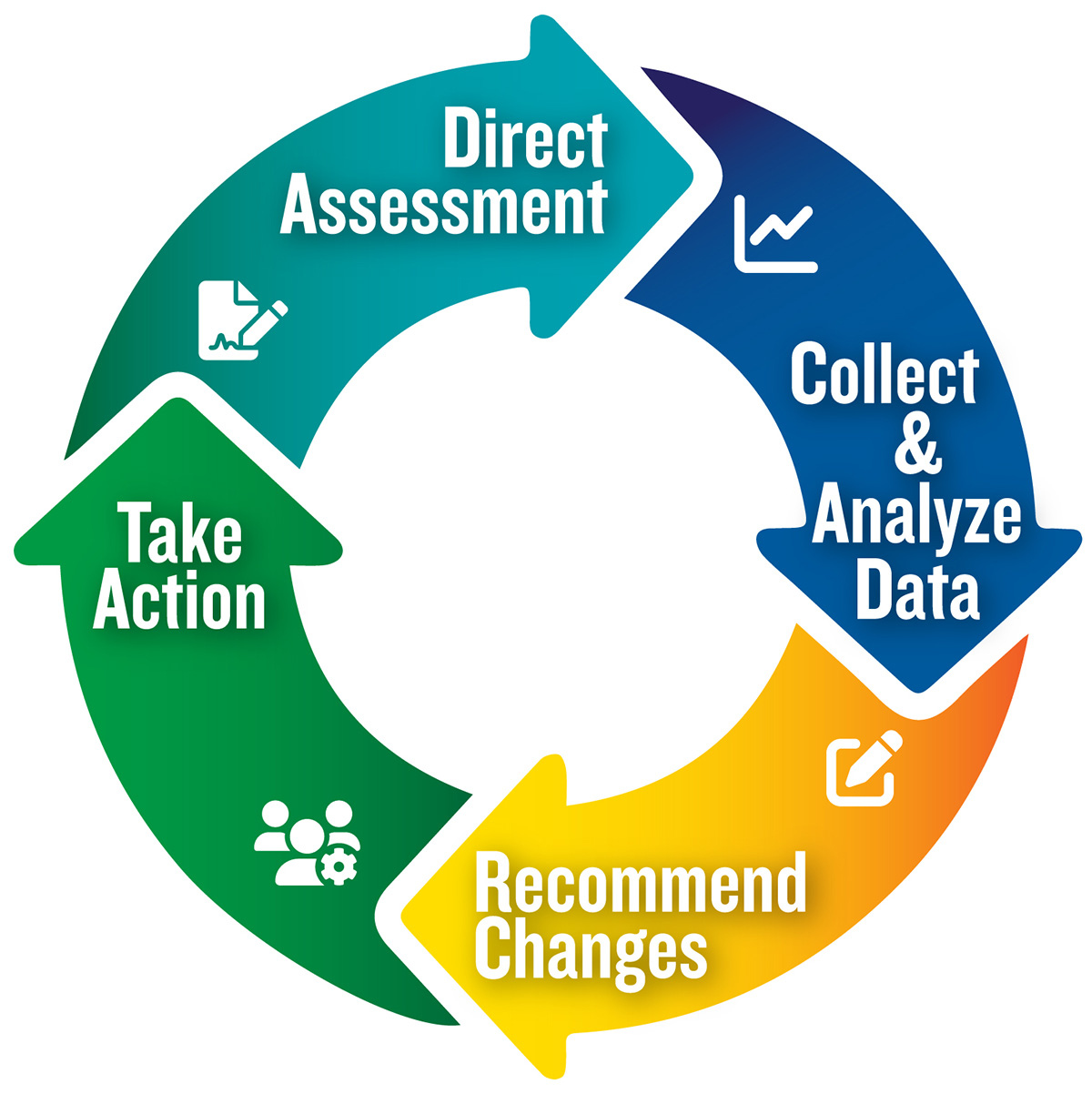 Undergraduate student BComm learning goals
BComm graduates should be able to perform the following learning goals:
| Goal name | Description |
| --- | --- |
| Communication | Express ideas and information effectively and accurately using a range of media commonly used in business environments. |
| Ethical Reasoning | Recognize and analyze ethical problems in order to choose and defend appropriate solutions. |
| Integration of Business Functions | Integrate all business functions, practices and related theories in order to address business problems and advance strategic business decisions. |
| Numeracy | Reason mathematically by analyzing numerical data in business situations through the modeling, analysis and solving of business problems quantitatively. |
Graduate student MBA learning goals
MBA graduates should be able to perform the following learning goals:
| Goal name | Description |
| --- | --- |
| Communication (Oral and Written) | Articulate complex ideas, issues, analysis and arguments clearly and effectively, utilizing a variety of information sources, in both oral and written formats in a manner that is accessible and appropriate to a variety of audiences. |
| Entrepreneurial / Innovative Thinking | Builds new insights to apply knowledge and skills to demonstrate comprehension and performance in novel situations. Incorporates knowledge beyond the classroom including alternate or divergent perspectives with an eye to developing solutions. |
| Ethics | Analyze ethical implications of business practices using advanced levels of ethical reasoning and the multidisciplinary, strategic, and evolving nature of Corporate Social Responsibility (CSR). |
| Leadership | Develop skills necessary for clear communication and responsible teamwork to strengthen and inspire professional attitudes and ethics. Collaborate with others, integrate feedback and new information, and maximize team performance to successfully meet goals, both as an effective team member and leader. |
| Strategic Analysis | Analyze and synthesize information across disciplines/functions in order to evaluate business opportunities and make sound business decisions utilizing the appropriate management theories and statistical tools. Evaluate business environment and opportunities and devise strategies for responding effectively to problems, threats, and opportunities. |
Graduate student MScM learning goals
MScM graduates should be able to perform the following learning goals:

| Goal name | Description |
| --- | --- |
| Communication | Communicate effectively in writing and orally and defend in-depth research (thesis) in a focused field in a variety of formats for various audiences. |
| Develop Knowledge | Identify an area of focus to develop specialized knowledge through critical evaluation of extant research and scholarship. |
| Evaluate Alternatives | Discuss complexity and contributions of alternative interpretations, methods, and disciplines to the topic of in-depth study. |
| Integrity | Carry out work with academic and professional integrity; demonstrate initiative, accountability, and persistence. |
| Research Methods | Identify and apply appropriate quantitative and/or qualitative research methods to address a research question. |
| Research Question | Identify a research question of relevance to the field of management under study. |
Graduate student PhD learning goals
PhD graduates should be able to perform the following learning goals:

Goal name
Description
Knowledge Augmentation
Possess a thorough understanding of a substantial body of knowledge that is at the forefront of their academic discipline or area of professional practice.
Research Design
Demonstrate the ability to conceptualize, design, and implement research for the generation of new knowledge, applications, or understanding at the forefront of the discipline, and to adjust the research design or methodology in the light of unforeseen problems.
Advancement of management knowledge
Contribute to the development of academic or professional skills, techniques, tools, practices, ideas, theories, approaches, and/or materials.
Professionalism
Demonstrate the qualities and transferable skills necessary for employment requiring the exercise of personal responsibility and largely autonomous initiative in complex situations as well as the intellectual independence to be academically and professionally engaged and current.
Communications
(Oral and Written)
Communicate complex and/or ambiguous ideas, issues and conclusions clearly and effectively.
Critical Self Reflection
An appreciation of the limitations of one's own work and discipline, of the complexity of knowledge, and of the potential contributions of other interpretations, methods, and disciplines.
Undergraduate goals assessment cycle
BComm Assessment Schedule

| | | | | | |
| --- | --- | --- | --- | --- | --- |
| Goals | 2021 / 2022 | 2022 / 2023 | 2023 / 2024 | 2024 / 2025 | 2025 / 2026 |
| Written Communication | | | | | |
| Integration of Business Functions | | | | | |
| Numeracy | | | | | |
| Ethics | | | | | |
Graduate goals assessment cycle
MBA Assessment Schedule (2021/22 to 2025/26)

| Goal | 2021 / 2022 | 2022 / 2023 | 2023 / 2024 | 2024/2025 | 2025 / 2026 |
| --- | --- | --- | --- | --- | --- |
| Strategy | | MB 8010 | | MB 8010 | |
| Oral Communications | | MB 8012 | | MB 8012 | |
| Written Communication | MB 8015 | | MB 8015 | | |
| Entrepreneurship / Innovation | MB 8014 | | MB 8014 | | |
| Ethical Reasoning | MB 8013 | | MB 8013 | | |
| Leadership | | MB 8011 | | MB 8011 | |
MScM Assessment Schedule (2021/22 to 2025/26)
Goal
2021 / 2022
2022 / 2023
2023 / 2024
2024/2025
2025 / 2026
Develop Knowledge
MT 8103
MT 8103
Research Question
MT 8104
MT 8104
Theoretical Frameworks
MT 8104
MT 8104
Research Methods
MT 8104
MT 8104
Evaluate Alternatives
MT 8103
MT 8103
Communication
MT 8000
MT 8000
Integrity
Thesis
PhD Assessment Schedule (2021/22 to 2025/26)
Goal
2021 / 2022
2022 / 2023
2023 / 2024
2024/2025
2025 / 2026
Knowledge Augmentation
Dissertation Proposal Defence
Research Design
MG 9103
MG 9103
Advancement of Knowledge
Dissertation Defence
Professionalism
MG 9112
MG 9112
Professionalism (LO2)
Annual Student Survey
Oral Communication
Oral Dissertation Defence
Written Communication
Written Dissertation
Critical Self Reflection
MG 9112
MG 9112
| | |
| --- | --- |
| Accounting Major goals | Description |
| Ethical Issues in Accounting | Learn how to use accounting concepts and techniques to prepare and/or communicate financial information considering the relevant ethical issues in a global economy |
| Knowledge of Functional Ares of Accounting | Demonstrate the skills and competencies required in accounting functional areas |
| Use of Accounting Information | Explain how stakeholder motivations and biases can influence the preparation or use of accounting information. |
| | |
| --- | --- |
| Accounting Major goals | Description |
| Ethical Issues in Accounting | Learn how to use accounting concepts and techniques to prepare and/or communicate financial information considering the relevant ethical issues in a global economy |
| Knowledge of Functional Ares of Accounting | Demonstrate the skills and competencies required in accounting functional areas |
| Use of Accounting Information | Explain how stakeholder motivations and biases can influence the preparation or use of accounting information. |
| | |
| --- | --- |
| Entrepreneurship Major goals | Description |
| Identifying Opportunities | Be able to identify entrepreneurial opportunities |
| Acquiring and Exploiting Resources | Understand how to acquire and exploit resources to support entrepreneurial ventures |
| Persuading and Selling | Develop skill for persuading and selling in a wide variety of contexts |
| | |
| --- | --- |
| Finance Major goals | Description |
| Apply Cash Flow Valuation | Be able to use forward looking, no arbitrage and efficient market concepts in cash flow valuation |
| Time Value of Money, Risk & Return | Apply time value of money and risk and return concepts |
| Investment and Financial Decisions | Integrate financial concepts and principles to make appropriate investment and financial decisions. |
| | |
| --- | --- |
| Global Management Studies Major goals | Description |
| Knowledge and Impact of International | Have knowledge of international institutions, and understand their impact on international business |
| Assess International Business Risk | Will be able to assess the risk involved in international business transactions |
| Cultural Understanding | Be able to apply management principles in developing sustainable strategies within an international business environment. |
| | |
| --- | --- |
| Human Resource Management goals | Description |
| Knowledge and Functional Areas of HR | Have the skills and competencies required in the HR functional areas |
| Strategic Role of HR | Relate the strategic role of the HR function within an organization |
| Workforce Optimization & Developement | Determine how to optimize and develop the willingness and capacity of a workforce. |
| | |
| --- | --- |
| Law and Business Major goals | Description |
| Knowledge of Business Law | Have a general understanding of the Canadian legal system and the fundamentals of tort and contract law |
| Impact of Law on Business | Critically understand how laws and regulations affect the business environment |
| Social Issues Interaction with Business Law | Recognize how social issues interact with business law. |
| | |
| --- | --- |
| Marketing Major goals | Description |
| Marketing Research | Use the research process to develop market analysis skills |
| Applying the 4 P's of Marketing | Apply the 4 P's of marketing and the underlying theories of marketing and market forces |
| | |
| --- | --- |
| Hospitality and Tourism goals | Description |
| Service Quality Management & Value Creation | Explain and demonstrate service quality management and value creation (delivering on customers' expectations and creating a valuable experience for the customer) |
| Drivers of Profitability | Identify and manage key drivers of profitability |
| | |
| --- | --- |
| Business Technology Major goals | Description |
| IT Strategic Analysis | Be able to manage information technology to achieve competitive advantage in a rapidly changing global context |
| Implementing IT Applications | Be able to model business requirements, configuring and implementing IT applications to achieve specific business objectives |
| Communications, Partnerships & Projects | Be able to manage communications, partnerships and IT projects with business and technology partners. |
| | |
| --- | --- |
| Retail Management goals | Description |
| Understanding Retail Supply Chain | Be able to consider all stages in Retail Supply Chain |
| Consumer Insight Integration | Be able to integrate consumer insight into retail processes |
| Retail Management Strategy | Be able to apply all components of retail operations to meet organizational objectives. |