You are now in the main content area
Hire a ProCom Intern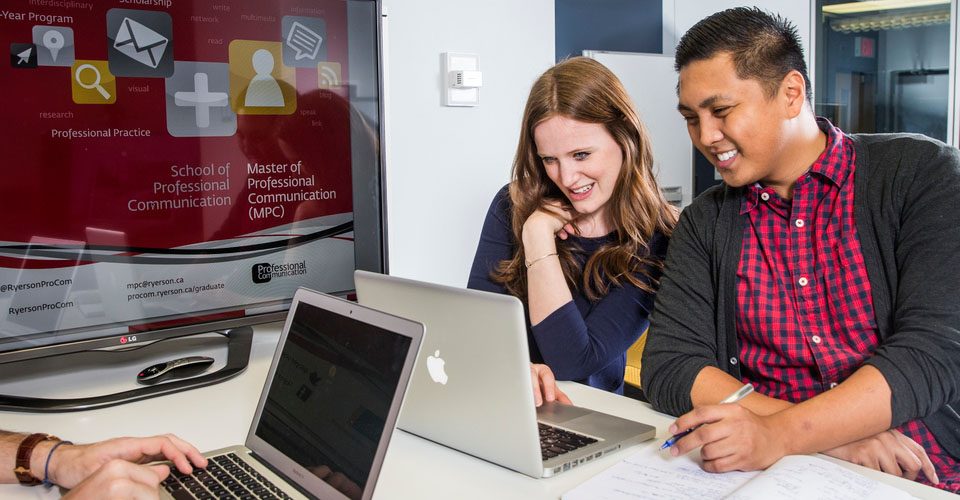 When you sponsor a ProCom intern, you get:
A fresh perspective on communications from Canada's brightest talent
A tech-savvy, social trendsetter with innovative ideas
An extra set of hands to amp up campaigns, events, and projects
The ability to test-run long-term hires, saving you time and money
Mentor and leadership opportunities for staff
Lifelong brand ambassadors who love promoting businesses they love

Previous sponsors include:
TTC
North York Arts
Rethink Breast Cancer
Yonge-Steeles Ford Lincoln
Simcoe District School Board
Canadian Association of Mental Health (CAMH)
Rogers Media, Ontario Medical Association (OMA)
Acceptance guidelines
We are grateful to all organizations that volunteer their time and resources to the development of our students. Your support, mentorship, and feedback are crucial to ensuring internships are successful — for you and the student. We look forward to working with internship sponsors who:
Facilitate workplace on-boarding, including but not limited to any necessary organizational privacy and confidentiality agreement policies
Submit duly completed forms and administrative documents before the placement start date
Ensure a safe working environment in which student can thrive to apply their communication skills
Contribute to student evaluation via online interim and final assessments
Mentor and support student career development throughout the placement
Date
Internship Events
Early March
Summer Internship Mixer
(registration closed for Spring/Summer 2023)
March 31st
Deadline for employers to submit their internship opportunity

(external link)

May 1st
Earliest internship start date (approx.)
August 31st
Latest internship end date (approx.)
How long are internships?
As an overview, our undergraduate summer internships carry a 240-hour minimum requirement between May and August. Students typically work either 6 to 8 weeks full-time or 10 to 12 weeks part-time, with any additional hours being entirely up to the student and employer.
Can I still hire an intern if I don't attend the Internship Connector?
Yes! Please complete a Placement Proposal Form (external link) [external link]. Once approved, your position will be circulated to prospective interns who will follow up with you directly.
How many ProCom interns can I hire?
As many as you have opportunities and support for so long as the acceptance guidelines are met.
Can the intern keep working past the length of their placement?
Any paid or unpaid employment that takes place outside of the parameters of the internship placement would be at the discretion of the student and the employer. Liability insurance coverage provided by Toronto Met University for any unpaid internship is extended for the entire duration of the work placement.
Does my internship opportunity have to be paid?
Compensation depends entirely on the organization's capacity and budget and is not a prerequisite to hiring. We often collaborate with startups, SMEs, not-for-profit and various charitable organizations whose funding is limited to research and other grants. While we certainly encourage compensation at the appropriate skill level, we often help facilitate opportunities provided that the experience is of relevance to the student. Most unpaid internships do however come with a lump sum stipend or honorarium attached. These are typically equal to appropriate hourly rate times the total number of placement hours.
Become an Internship Sponsor
To be considered for internship placement, please complete the following steps:
or
If a pdf or Word document summarizing a possible role already exists, feel free to forward it via email at procom.internships@torontomu.ca.

Once received, we will post the position on our internal job board for any interested student to follow up and initiate the recruitment process

Contact
For more information about the ProCom internship program, please contact: