You are now in the main content area
ENCHOREO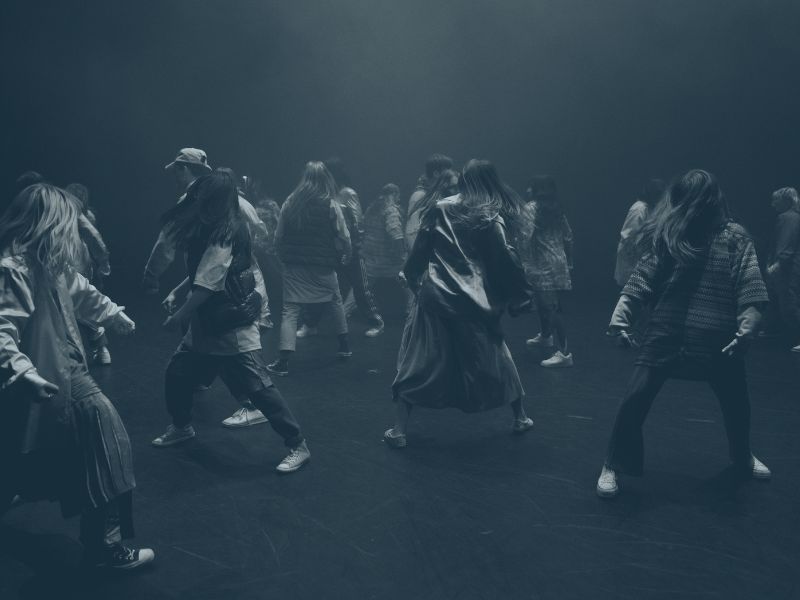 Beyond the Line explores the relevance of boundaries in both mental and physical states. Through movement and conversation, we dissect the idea of self-generated boundaries, boundaries within a partnership, and the breaking or crossing of boundaries. We have observed that the 'rules' we create for ourselves and the ones that exist for us in society are ever-changing, sometimes making them difficult to adhere to, define, or defend. How do we navigate others boundaries while respecting our own when we are met with opposing ideas and beliefs? In order to find common ground.
Vania Dodoo-Beals is a Dance Artist and Choreographer inspired by architecture, complex rhythms and physical movement. Born and raised in Toronto, she attended Toronto Metropolitan University (formally Ryerson) where she received a Bachelor of Fine Arts with an accompanying Minor in Marketing. Her credits include The National Ballet of Canada, Fall For Dance North, Dance: Made in Canada, Orillia Jazz Festival, Buffy Sainte-Marie, MMVA's and works by Anne Plamondon, Merce Cunningham, Peggy Baker and Vicki St Denys. Being a versatile mover Vania has also worked with recording artists and brands such as Jessie Reyez, Majid Jordan and Holt Renfrew. In 2023 Vania was awarded the RBC Emerging Artist with Peggy Baker Dance Projects where she received choreographic mentorship and guidance on solo creation. In pursuit of professional development she has attended programs all over the world including Medhi Walerski: Orsolina28, San Francisco Conservatory of Dance, RUBBERBAND, and b12. Moving forward into her career Vania is interested in working with other mediums such as films and installations as well as choreographing for companies and institutions.
Carleen Zouboules is an accomplished artist and performer who earned her BFA from Toronto Metropolitan University in 2020. She has established herself as a dynamic and versatile presence in the Toronto dance scene, dancing for companies including Côté Dansé, ProArteDanza, Red Sky Performance, and Zata Omm Productions.
One of her recent standout roles was as Ophelia in the innovative collaboration of "Hamlet," directed by Guillaume Côté and Robert Lepage. The company performed a "first draft" of the work in Saint Sauveur this summer and the show is set to premiere in Toronto this spring. Carleen has performed at Fall For Dance North on two separate occasions, where she performed choreographed works by renowned artists such as Jera Wolfe and Anne Plamondon. Her performance repertoire also includes dancing in notable works such as "Fearful Symmetries" by Roberto Campanella, "Only Who's Left" by Lesley Telford, "Tethered to Your Palms" by Chantelle Good, and the immersive contemporary duet "Touch" by Guillaume Côté, among others.
Beyond the stage, Carleen has made her mark on-screen with appearances at the VMA's during Tate McRae's "You Broke Me First" and in feature films like "Sweat" by Jennifer Nichols, "Eden Planted" by William Yong, and "The 9th" by Robert Glumbek & Roberto Campanella. Carleen has choreographed for "Night Shift," presented by Citadel + Compagnie in collaboration with Fall For Dance North in 2022. She is currently working on a piece for the students at Toronto Metropolitan University, alongside her choreographic partner, Vania Dodoo Beals. In all her endeavors, Carleen is an artist driven by the magic of emotion and movement. From being an interpreter to an emerging choreographer, she leans into the depth of movement and where it truly comes from.