Alum and author Shelly Sanders intertwines Latvian family history and fiction in "Daughters of the Occupation"
October 23, 2022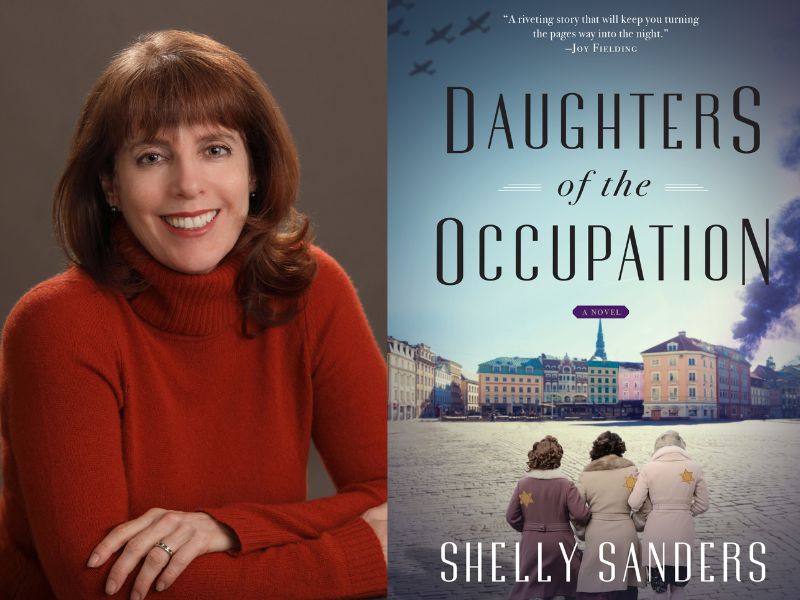 While Shelly Sanders (external link) , '88, was going through old family photos from her grandmother, she found some had 'Dvinsk' written on them, now known as Daugavpils in Latvia.

No one in her family talked about Latvia in their family history. Sanders was told by her mother that her grandmother never mentioned Latvia.
This is where Sanders' idea for "Daughters of the Occupation" (external link) began. After doing more research through a Jewish genealogy site, she discovered that her great-grandparents were actually married in Riga, Latvia, and, in 1905 they were exiled to Siberia for being involved in the workers' revolution.

"I went to Latvia for the first time and met with the curator of the Jewish Museum in Riga. I had sent him family information ahead of time, and he was the one who told me that my great grandparents were exiled for the revolution and filled me in with some other information," Sanders said.

Sending information months ahead of time, she went to the archives, "I sat down at a table, and she had all of these really old, old albums and photos, a stack of them, and she said, 'these are 26 of your relatives and all of them were killed in the Holocaust.' I just was like, 'wow,' I couldn't take the documents out, but I took pictures of every single document."

Sanders was moved when she went to visit the Rumbula forest and saw the mass mound-like graves.
"Knowing that I have family members there kind of was this emotional feeling. I was really overcome by a sense that I had to write something about this, that I had to portray this in some way."
It was hard at first for Sanders to decide how she wanted to develop the book. She wanted it to be different.
"There's a lot of World War Two historical fiction. I knew the setting was different, so that right away was good. I knew I had a different setting and a new story. But, the characters, I wanted them to be strong female women, so I started looking back at the women in my family."
She looked at her great-grandmother, who died before Sanders was born and came to Canada after World War Two. Her great-grandmother experienced fleeing from a pogrom in Siberia, went to Shanghai, was taken by the Japanese and lived under poor conditions due to the war.
As she apparently never smiled, Sanders found her great-grandmother looking kind of dour in pictures.
Sanders' grandmother was the only grandparent she remembers, since she is named after her, and the other ones died when she was little.
Although they didn't see each other a lot, Sanders remembers having a good relationship despite her not being a hugging kind of grandmother. "There was a sadness in her eyes that I just remember."
Intergenerational trauma is a central theme that follows throughout the storyline of "Daughters of the Occupation". Sanders researched and saw how trauma can trickle down from each generation, whether it be from experiencing gas chambers in the first generation to being afraid of fire in the third generation.
Trauma from events like the holocaust can be carried on and impact multiple generations of survivors.
For Sanders, it was depression running through the maternal line. After seeing how it was passed down through her family, her great-grandmother, her grandmother and her mother, it made sense to her.
"So that's when I came to the idea that I want to explore this through generations within my novel. I chose generational trauma. I took that idea from what I've seen but fictionalized it within the context of my novel."
Sanders' advice for learning to cope with trauma is to learn to understand it. If you don't know what's going on, it will be hard to find a solution within yourself.
"I think for me, understanding what my ancestors went through, really helped me understand my family. It helped me understand and appreciate and realize that this is the way it is, and also be proud of what the women have endured and survived in my family."
HarperCollins U.S. and Canada will publish Shelly's next historical fiction in April 2024.