You are now in the main content area
Sonny Sachdeva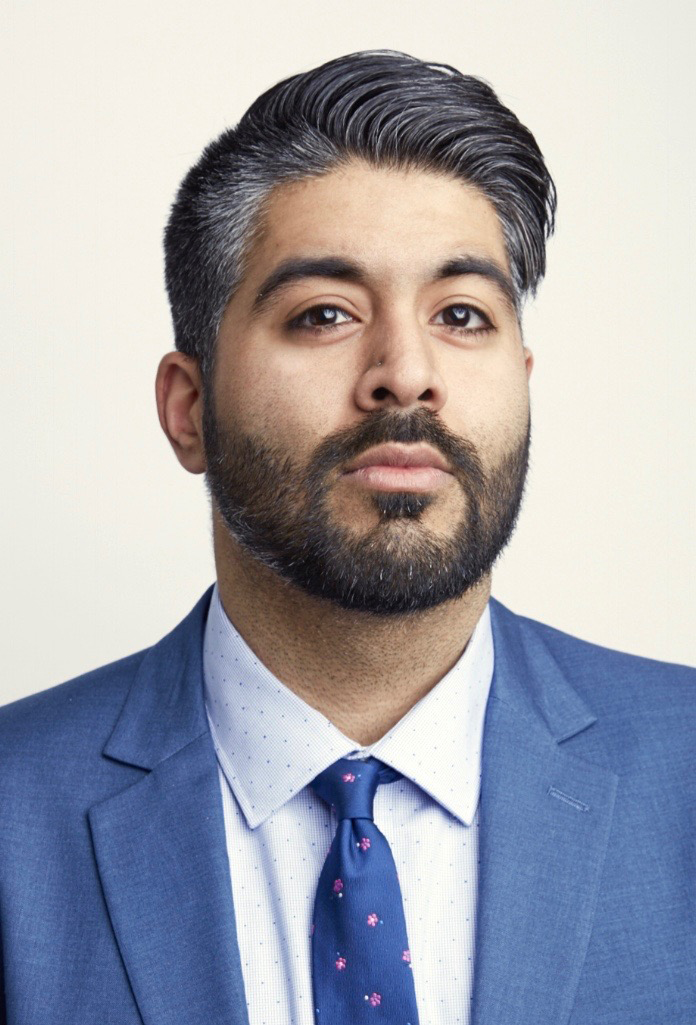 Sonny Sachdeva, MJ '18, is an Associate Editor and writer at Sportsnet, external link.
This Q&A was conducted when Sonny was an Associate Editor for Sportsnet.
When did you realize you wanted to be a journalist?
It wasn't until a couple years into my undergrad. I'd always been interested in writing but my background is in music, so after high school I wrote and performed, studied music production in Ireland for a year, and was solely focused on pursuing a career in that industry. I only enrolled for my undergrad at the University of Calgary because I was planning to transfer to a music program in New York, but I ended up staying, and some time during my second year I got into a discussion with the sports editor at the campus paper. He asked me to write something, I did, and I fell in love with that form of writing. The next year, I pivoted to journalism and never looked back.
What made you decide to come to the School for the MJ program?
I wanted to work in sports journalism and I wanted to be at an outlet with a large audience, a wide reach, one that told interesting stories — originally I was envisioning Sportsnet Magazine. But being out in Calgary, the path to realistically getting there didn't seem too clear. I'd worked at the University of Calgary's paper for a couple years and at the same time had covered the Calgary Flames for a website in the U.S. that got me credentialed, but getting into the final years of my undergrad degree, I felt I needed to head east to try to get my foot in the door. The best route for me seemed to be studying at [the university], learning more about the fundamentals of the craft, and trying to get an internship so I could get in the building and prove myself. And I felt a Masters degree would open up other career options down the line if that plan didn't work out, or if I decided to move on from journalism at some point.
How did you arrive in your current position?
Thankfully, that plan did end up working out — I did my internship for the MJ program with Sportsnet, the first half on the broadcast side with Hockey Night in Canada and the second on the editorial side with the digital team. I constantly pitched and wrote stories as much as they would let me while I was there, and after my internship ended I was able to join the team in a part-time role on the news desk, and eventually move up to a full-time editing role, and then into a writing role.
What do you love about sports journalism? What would you tell people who are interested in pursuing it as a career?
My view of sports journalism and my place within it might not necessarily be similar to most people trying to work in sports. While I spent some time covering NHL games and being part of the daily excitement at the rink, which I think is what draws a lot of people in, the thing I always loved about the sports world was just how strange it is from a human experience perspective. I was fascinated by the story of someone dedicating their entire life to this one pursuit, moving away from home at a young age to play a sport, working every day at this singular goal, and then seeing it all play out and come to fruition on this massive stage. It just seemed like a world where there would be a lot of interesting stories to be told, because of that general framework. And then, on the other side, the sports world is so flawed in terms of it not yet being a truly diverse and inclusive space, and there are so many important stories in need of telling there too. Both of those factors drew me to write about sports, and that's mostly what my work has focused on so far.
My advice to those interested in pursuing sports journalism as a career would be to spend time figuring out what it is you find most interesting about the sports journalism world — whether it's analytics, the daily behind-the-scenes work, longform storytelling, coverage of the intersection of sports and social justice, or anything else — and hone your skills in that area. Being versatile is important, but so is being the best you can be at the thing you care most about and want to do most often.
You also write features for Sportsnet. Which piece has been your favourite to work on? Which piece are you the most proud of?
It's tough to choose one, because they've all been important to me in different ways. The story I wrote on Hockey Night Punjabi, external link fighting to create space in the sport was a very personal one, as it was about my own community and its place in the hockey world. My piece about anti-racism efforts in women's hockey and the need to centre the voices of the game's Black women in conversations of change was an important one for me, too, particularly given the emotional, tumultuous time in which it was written. Those two would be the ones I'm most proud of, I'd say, in terms of creating work that hopefully pushes these important conversations forward in some way.
As for one that was a favourite just in terms of the reporting process and the chance to unravel an interesting story, I'd say the piece on Marco Argentino, external link. I'd always been interested in the constellation of people in the background surrounding the more visible parts of pro sports — the trainers and coaches and equipment staff working away and ensuring things run smoothly. Marco had a beautiful story — his dad had been a shoemaker in Italy and went on to open a shoe repair shop in Montreal in the '50s, which by chance became the go-to equipment repair spot for the Montreal Canadiens in their old-school heyday, and the site of Marco learning the craft from his father, before becoming the name the game's premier talents trusted with perfecting their gear.
It was an odd, wonderful story to be able to tell, and a great experience spending time with Marco and his father at the old shop on Wellington Street in Montreal, reporting on such a quietly impactful piece of the city's sports history.
What's one of your favourite memories from j-school?
First of all, the relationships that were formed with the rest of my MJ cohort — I had moved to Toronto for the program and a fair number of others in my year had as well, so there was just an excitement about starting something new in this new place, and everyone trying to navigate that together.
But I think a really important highlight for me was the process of working on my final project, because it was an immensely important learning experience. I'd wanted to write a feature on Hockey Night Punjabi, one that told their story in a more authentic way than I felt had been done to that point, and I requested Kamal Al-Solaylee as my supervisor for the project because he was a writer I looked up to — particularly in terms of writing on race and culture — and I thought he would challenge me to create better work. And that's exactly what happened — he pushed me to think more deeply about the issues I was dissecting in the piece, and to be more intentional about how I wrote about them, and those lessons have had a lasting impact on my writing.
That experience had a profound impact on my career, too. Circling back to the question of how I wound up in my current position, when I started at Sportsnet I was just trying to do what I could to prove myself, and hadn't even really thought about trying to pitch a longform piece. A colleague who was already established there and exceptionally kind to me, David Singh, read my piece on Hockey Night Punjabi and put it in front of the Features editor, Evan Rosser. I was still fairly new, but Evan saw enough in the piece to take a chance on it. A version of that feature ended up being my first longform piece for Sportsnet, was nominated for a national sports feature reporting award, and is the reason I was able to begin writing features more regularly for Sportsnet.
What advice would you give to current journalism students?
The simplest advice I have is to read as much good writing as you can, and to read outside of the space you want to work in. I write mostly longform pieces on sports, and while I read plenty of work from sportswriters, I read far more longform work that has nothing to do with sports. There's so much to be learned from work in other fields, in terms of how to tell stories or how to approach different issues, that you can bring into the type of work you want to do.
In a more general sense, I would just say if you've put in the work, don't be afraid to ask for opportunities. Take the time to work on your craft and improve your skill-set, take the time to find stories that need to be told and to think about how they need to be told, and don't be afraid to pitch them. It won't be a green light every time (and you'll learn from the attempts that fall short), but pursuing good ideas and good work is a far better route than waiting for things to fall into place.
Grads at Work is a series of profiles of School of Journalism alums. If you know of a notable grad you'd like to see featured, send us an email at office.journalism@torontomu.ca.