You are now in the main content area
David Rider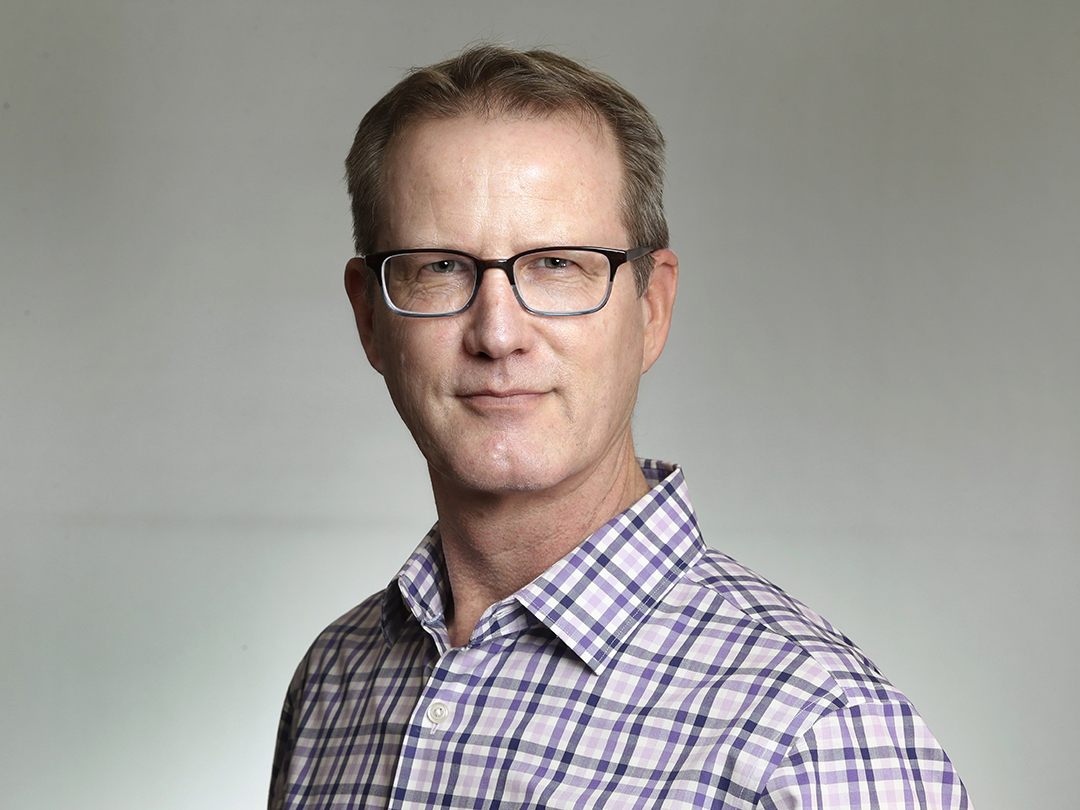 David Rider, School of Journalism '89, is City Hall Bureau Chief for the Toronto Star.
What did you want to do when first enrolled in journalism school?
Entertainment journalism and feature writing. I grew up reading rock reviews, movie interviews and the like. My heroes were people like Lester Bangs, an American gonzo rock writer. I was entertainment editor at The Ryersonian* school paper. I also saw the music business up close, working a summer public relations job at the Ontario Place Forum concert venue.
What was your first job after graduation?
I had limited options. I had not done student reporting gigs at the Star or the Globe. My clippings were only from The Ryersonian*. My Ontario Place work led to an offer for a pretty exciting entertainment PR job. I hesitated, then consulted my [School of Journalism] reporting prof Don Gibb. He advised me to take the PR job if I knew I didn't want to be a reporter. But if I was unsure, moving from journalism to PR was (and still is) easier than moving from PR to journalism. So I applied to every daily newspaper in Canada and said I'd take the first offer I got. I moved to the Brandon Sun, in southwest Manitoba, to be a general assignment reporter. It was a fantastic training ground. I got to cover elections, a huge train derailment, a prime ministerial visit — assignments no junior reporter in a big city would ever get. I also discovered my love of, and knack for, political reporting.
What was your first job at the Toronto Star?
Like Drake, I started at the bottom. Summer-relief contract copy editor. I had reported for Sun newspapers in Winnipeg, Ottawa and Toronto. I did good work and won awards but the Star would not hire tabloid reporters. I had other experience — freelancing from Asia, where I taught in a Japanese high school for a couple of years and, back at home, online producing at CBC and freelance reporting for the Ottawa Citizen. My only way into the Star was the summer gig. After three months I went back to CBC, then Reuters, then another Star contract. I was finally offered a Star staff editing job in 2006.
How did you arrive at your current position?
I was promoted to slot (supervisor) copy editor and then night assignment editor. The boss who hired me for the summer contract had said "Don't think you can come in as an editor and jump the fence to be a reporter — it won't happen." I ignored that and told then-city editor Graham Parley I'd be interested in reporting if he'd have me. I had hoped for maybe a general assignment gig. I was shocked when he offered me city hall bureau chief. Before the Star I had done a lot of political reporting at all levels. But I was still daunted — it was an election year and David Miller was retiring from politics so Toronto would get a new mayor. When I asked Graham if I could think about it, he said: "Sure, think about it — but you should know that I have no second choice."
Can you talk a little about what you do day to day as City Hall Bureau Chief?
I am in charge of a three-person bureau covering everything to do with: the mayor and city council; city bureaucracy and the machinery that turns political direction into policy; city agencies, boards and commissions such as Toronto Public Health; and broad urban issues such as how self-driving cars will impact cities. I review news tips and P.R. pitches and, with my editors, decide what to cover. We cover council meetings and news conferences but also dig up lots of stories on our own.
What's your favourite part of your job?
I find politics endlessly fascinating. I was in charge of covering the Rob Ford mayoralty for the Toronto Star. Every day was bonkers. Life under John Tory is calmer, which is great because I get to see my kids. But there is still behind-the-scenes intrigue and personalities shaping policy. City hall is a bit of a gossipy small town. I also love giving regular people a voice, helping them challenge one of the biggest governments in Canada. A leading news outlet like the Star has power and a megaphone. We can listen to shopkeepers and homeless people and waterfront advocates and, in print and online, send their message to powerful people.
What has been the most challenging story you've worked on?
I have been lucky enough to be a lead reporter on two major national/international stories. The first was the Somalia Affair in the mid-1990s. Two Canadian soldiers in Somalia abducted and tortured to death a 16-year-old Somali boy. Over about 19 months I covered, for the Ottawa Sun, the coverup, which started in the Somali desert and spread to National Defence Headquarters in Ottawa. Although truncated, the resulting public inquiry exposed white supremacism and lawlessness within the ranks then triggered the disbandment of a paratroop regiment. It was tough investigative journalism, with officers including senior generals fighting to keep details secret to protect the military institution, and themselves. I broke many big stories with the help of brave whistleblower Maj. Vince Buonamici, a senior military police officer. Then in 2010 I was city hall bureau chief when Rob Ford became mayor. My bureau broke the most stories despite the fact that Ford officially wouldn't talk to us and even refused to send us press releases. It was an extremely busy and difficult job. I left for a bit to be a journalism fellow at U of T's Massey College — my rehab from Rob Ford! But for a political reporter that period was endlessly fascinating and Star stories made headlines around the world. Now I occasionally cover his brother, Premier Doug Ford.
What's been the biggest change in the industry since you started your career as a journalist?
The Internet, without a doubt. When it first arrived in my Ottawa newsroom, only the editors were allowed to use it! A universe of information at our fingertips soon revolutionized a craft that previously required frequent library visits, peering through old city directories, and knocking on doors — rather than looking at social media posts — to retrieve photos of murder victims. I love that social media has democratized news — everyone can interact, the days of old white male news gods, handing down news tablets from above, are gone. I hate that the internet has also shredded the newspaper business model — that good journalism could prosper by attracting readers that would in turn attract lucrative advertising. No good substitution has yet been found. Quality investigative journalism, holding public institutions and politicians to account, has never been needed more.
What excites you about the future?
Young journalists and the use of data and other digital tools for telling stories. Not long ago a journalist of my vintage was on Twitter trashing young reporters, accusing them of being lazy and much more. He was dead wrong. I know so many who work so hard to produce amazing stories, online, on video, with sound, and dynamic charts. With multiple degrees, multiple languages and opportunities in many fields, they still flock to journalism even though the industry is crumbling beneath our feet. For any young reporter, multiple internships and layoff notices are virtually guaranteed. I recently taught an opinion writing course at Centennial College and marveled at the great, smart and passionate students. I love that a once overwhelmingly white industry is becoming diverse, and the impact that has on responsible storytelling.
What advice would you give to current journalism students?
Try different types of reporting to see where your passion lies. Don't be afraid to pack your bags and move to Brandon., or Whitehorse or Moncton. Use social media to help build a profile but set ground rules, interact with other people with respect and know that your opinions can be used against you in a bid to undermine your reporting. Ignore people my age who want to lecture you endlessly about how they did things. If you can, learn good reporting, how to crunch data and HTML. I know a few people with that talent trifecta who have been able to write their own tickets. Be aggressive when you need to be, to get information, but keep it professional, not personal. Build relationships, they will bring tips and scoops. But recognize the line between being friendly with sources and being friends. Hunter S. Thompson, a famous American author, called journalism a "ticket to ride" — you get a front row seat for extraordinary events and meet incredible people. So have fun.
Grads at Work is an occasional series of profiles of alums. If you know of a notable grad you'd like to see featured, send us an email at office.journalism@torontomu.ca.
*The name of the publication has since been changed as has the name of the university. You can read more about the philosophy behind this name change at Toronto Metropolitan University's Next Chapter.