You are now in the main content area
Cassandra Juradinho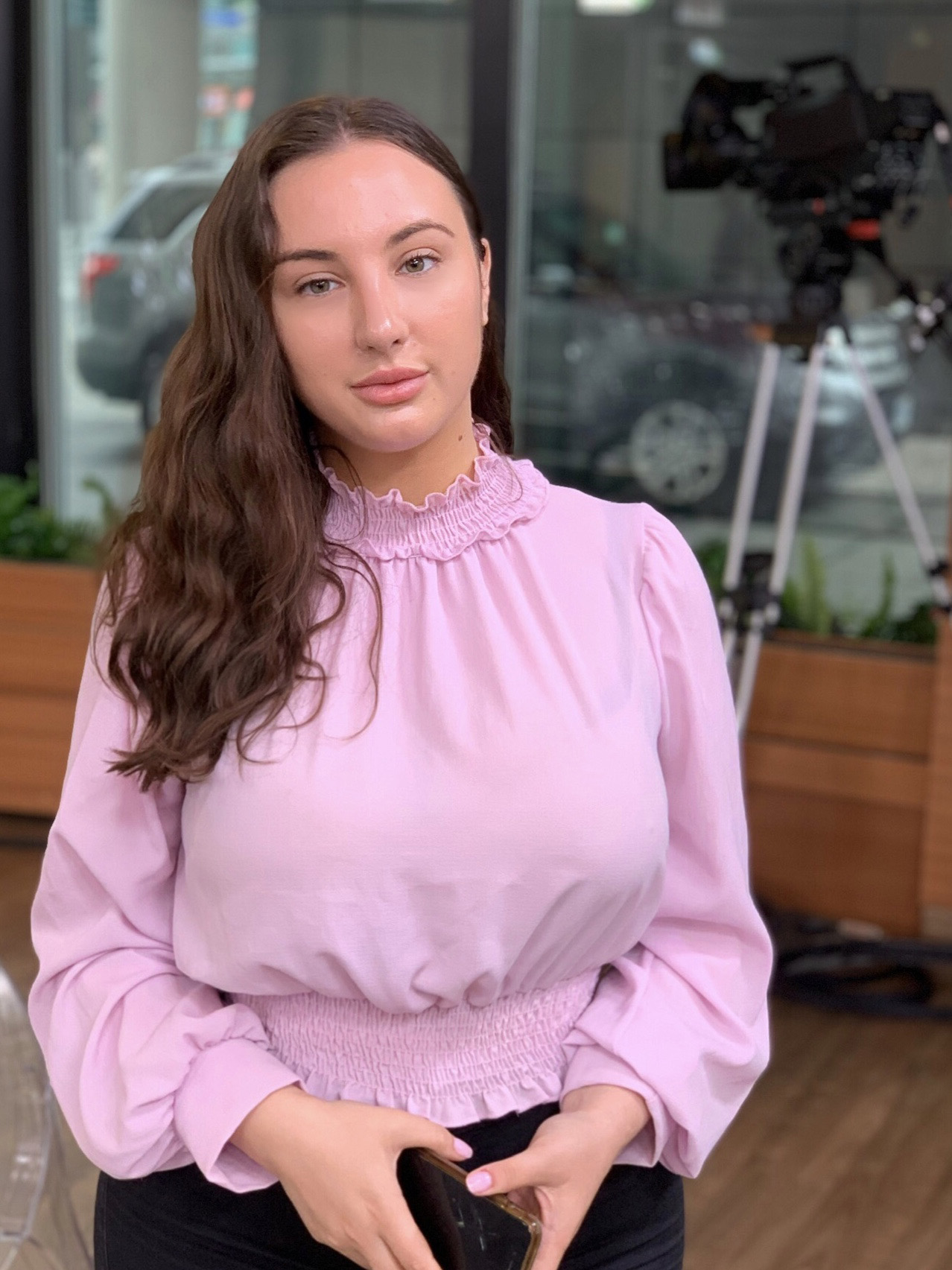 Cassandra Juradinho, School of Journalism '13, is Web Content Producer for Cityline at Rogers Communications.
What did you originally see yourself doing when you first enrolled in journalism school?
Before applying to J-School, I consumed traditional journalism at an obsessive level. I followed international current events closely on nearly every medium. I was wrapped up in not only the news itself but the news business; who the reporters, anchors, and producers were but also the major players making important decisions behind the scenes. There was nothing more clear to me at the time than the trajectory of my career: I was going to anchor the nightly news.
How did that vision change as the years went by?
Probably slower than it should have, I held on to the dream with white knuckles. I got my first taste of a local newsroom while interning at Citytv Toronto and realized very quickly I didn't thrive in the 24-hour news environment. What I fell in love with was long-form journalism and interviewing experts who brought insight and context to stories. The fires and hit-and-run reporting that would roll in like a tide and retreat just as quickly weren't fulfilling for a few reasons. The most important being that I was way too fragile to be that close to personal tragedy. Reporters have since reassured me that the initial shock of the job is outweighed by the importance of responsibly shining a light on these stories, but the emotional curve is steep.
What have you done since graduating/how did you arrive at your current position?
I interned, interned, interned; and then more importantly, I stopped interning. Working for free is beneficial to a point and debilitating beyond that. Don't be afraid to offer your daily rate when a company asks you to intern after you've graduated. After graduating from [the School of Journalism], I worked as a journalist for a marketing company (very conflicting), an editorial assistant for BNN, producer at Citytv Entertainment, and an AM news producer at eTalk before landing my current role as the digital producer for Cityline.
What's your day like at Cityline?
It can range from meeting with web developers for updates to cityline.tv to attending national Facebook summits to filming and editing digital exclusive series with Cityline's host Tracy Moore.
What's your favourite part of being a journalist?
I'm sure there are some who'd say it's generous to consider my current job journalism but I will always approach things from a journalistic perspective. Taking an interview with an expert as an opportunity to create content for online audiences always involves finding a hook to the story and producing it in a digital-literate way. For example, tomorrow we're filming with Dr. Jen Gunther—the NY Post recently referred to her as 'Twitter's Gyno'. We'll write an article from that chat while also filming under-a-minute social videos and planning an interactive vagina quiz to go live in Instagram stories. Cracking algorithms online, distilling lengthy television segments into digital-friendly viewing, and figuring out how to customize a story to best fit the features of a specific platform never loses its lustre.
Thinking back to your first year self, how do you think they would react to where you are now?
She'd be very confused. I was always a late-adopter of technology. It was by the grace of God (and my classmate Jeyan Jeganathan) that I passed my Photoshop course at J-School.
How has your journalism degree and what you learned in school prepared you for your current career?
My job varies and evolves constantly but what stays consistent is my need to be a skilled storyteller. That ability was ignited and developed at [the School of Journalism].
Can you talk about one of the biggest:
1) accomplishments you've made?
On a macro level, it was graduating from a respected journalism school and getting a rewarding job in the industry despite having my daughter at 17 years old. If you want to get granular, it was probably producing special events with Citytv—most notably our live red carpet show at The GRAMMYs in Los Angeles.
2) challenges you've faced as a journalist?
Day-to-day it's maintaining credibility as the voice of a lifestyle show while competing with the sensationalist writing and click-bait headlines that sometimes plague content in our space.
What do you think the School of Journalism experience offers that you can't get anywhere else?
I think it's the quality of the professors and resources that an institution like [the School of Journalism] is able to tap into. During my second year, Ali Velshi came by the RCC to chat with aspiring journalists. I don't think you'd get that access at any other journalism school.
What's one of your favourite memories from j-school?
Probably deciding it was a good idea to film a Toronto island ferry broadcast feature during the dead of winter. My ears are still thawing but the entire experience forged two friendships that I rely on to this day.
Any memorable School of Journalism professors during your time at the university?
Gary Gould, always. Also, Lisa Taylor and Cathy Dunphy. The Cathy Dunphy appreciation developed slowly. It took me realizing how many of those first-year skills I will probably rely on my whole career.
What advice would you give to current journalism students?
Journalism's strength is in its diversity; one perspective never tells the full story. In my first year at [the university], we were assigned to report on George Harvey Collegiate, a Toronto high school, receiving a grant to build a greenhouse to support their breakfast program. We did our reporting in the field and came back to school to read our article to the class. I remember hearing the terms "at-risk" and "low-income" on repeat. George Harvey happened to be the high school I graduated from. It was the first time I watched my community through someone else's lens. It made me realize that while we should strive to remain objective, every piece of journalism is personal to someone. This is a round-about way of encouraging you to stay with it. Even if you don't see faces or stories like yours represented in your peers, even if you have the strongest feeling of being an imposter. Your voice deserves to be in that room.
Grads at Work is a series of profiles of alums. If you know of a notable grad you'd like to see featured, send us an email at office.journalism@torontomu.ca.