You are now in the main content area
Annie Burns-Pieper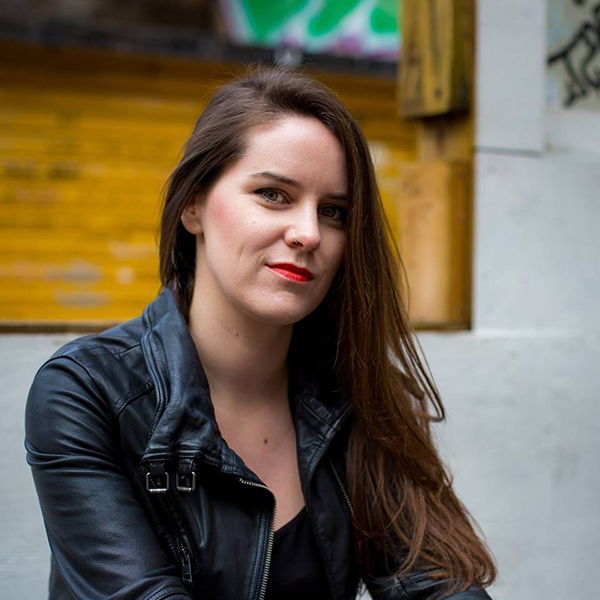 Annie Burns-Pieper, School of Journalism '12, is a Senior Researcher at Inclusive Development International. This interview was conducted when she was Managing Editor of the Institute for Investigative Journalism at Concordia University.
What did you originally see yourself doing when you first enrolled in journalism school?
I don't think I had any real idea. I think in my imagination there were still jobs like foreign correspondents had years ago.
I liked the idea of going into work where you didn't have to have all the answers but could ask a lot of questions.
How did that change as you went through the program?
In my first year of journalism school, I had two experiences that inspired me to go into investigative reporting. Harvey Cashore spoke to one of my classes about reporting on the Airbus affair and I did my first internship with CBC The Fifth Estate. Quickly after being exposed to investigative journalism I was drawn to telling stories that hold power to account. Since then, I have almost exclusively focused on investigative work. I had my first producer/director credit on The Fifth Estate in January nine years after starting there as an intern.
How did you arrive at your current position?
I am the Managing Editor of the Institute for Investigative Journalism in Montreal. I have been lucky enough to work on almost every major investigative team in the country. The Canadian media is contracting, and investigative work is expensive and time-consuming. It's often the first area to lose funding and I feel lucky to keep landing jobs in this area.
What attracts you to investigative reporting?
As mentioned, I was immediately drawn to holding power to account. It's an intellectually challenging specialty that keeps me engaged. I believe in the power of investigative reporting to expose wrongdoing, impact policy and lead to positive change.
What is a common misconception you think people have about it?
People assume investigative reporting is more glamorous than it is. The reality is it is a lot of reading and involves a great deal of patience and persistence.
What has been one of your biggest accomplishments as a journalist?
I am most proud of how I have managed to support myself as an investigative reporter and do work I believe in without ever having a staff position. No one gives you a prize for that.
What has been one of your biggest challenges as a journalist?
The industry. The work is beautiful but the industry is not, people don't always treat you well and the volatility of the industry has led to more heartbreaks than I can list.
You won both the Gordon Sinclair Roving Reporter Fellowship and the Michener-Deacon Investigative Reporting Fellowship. What have these awards allowed you to do? How have they affected your career?
The Roving Reporter fellowship was probably the coolest thing I have ever done in my career. It allowed me to report independently from Madagascar, an incredible place. The experience taught me how to work as a foreign correspondent and gave me so much confidence in my ability to tell stories from anywhere.
The Michener-Deacon fellowship was a huge honour, it bridged a gap in employment and allowed me to work on a big important project independently. It's a very generous grant and an incredible opportunity for investigative journalists.
I am really grateful to the foundations which made both of these opportunities possible.
What advice would you give to current journalism students?
Don't bother with the journalism industry unless you really love the work. If you really love it, then build up your personal resilience because unless you are really lucky you will go through some struggles getting where you want to be. Don't take the struggles you go through personally, believe in yourself and your work and find mentors who believe in you.
Grads at Work is an ongoing series of profiles of alums. If you know of a notable grad you'd like to see featured, send us an email at office.journalism@torontomu.ca.