You are now in the main content area
Programs
Indigenous Student Services provides a number of programs for First Nations, Inuit, Metis, Canadian Indigenous students (or those who identify by nation or community) at TMU.
Indigenous Foundations Program for Indigenous community members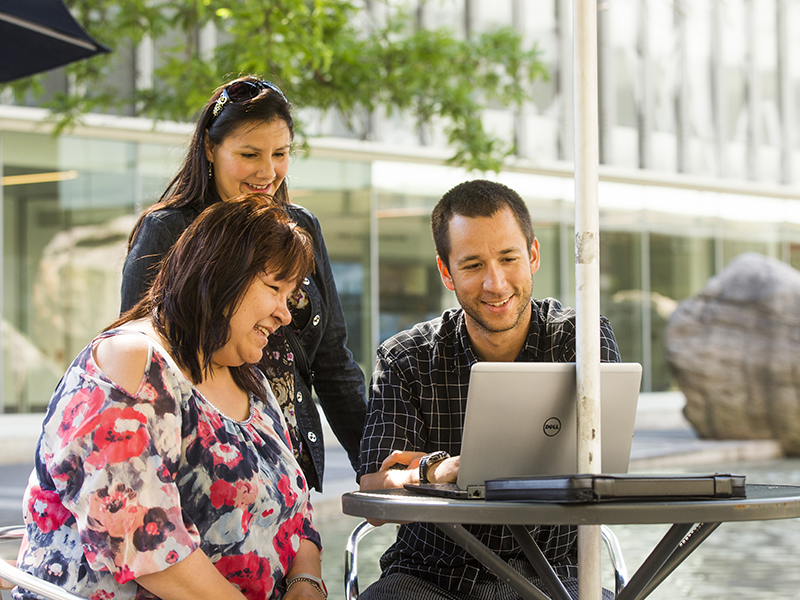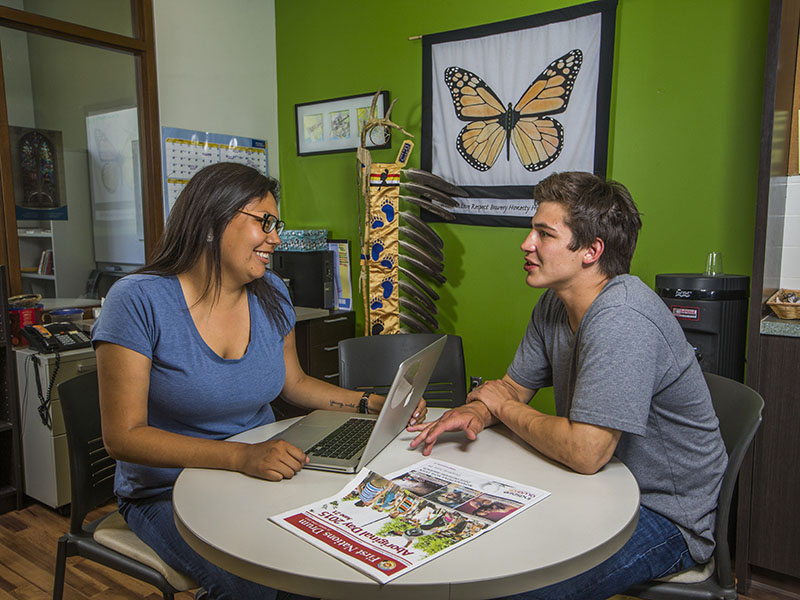 Apply for a student staff position with the Indigenous Peer Support Program
The Peer Supporter Program aims to enhance the university experience of Indigenous students at TMU by supporting their adjustment and transition to university life. The program helps facilitate academic success, as well as positive social and personal growth. Peer Supporters provide opportunities for Indigenous students to access campus programs, networks and resources that enable them to benefit from a well-rounded university experience.
Peer Supporters will:
Serve as a positive role models and support systems for Indigenous students
Professionally communicate with students to offer assistance and valuable academic and social guidance
Facilitate the active involvement of students in events
Foster strong links between students and Indigenous Student Services
Ensure confidentiality of students' cases
Demonstrate commitment to valuing diversity
Peer supporters are not counselors or teachers, but are important resources, friendly guides, organizers and referral points. They act in a professional manner with students. Peer supporters will initiate and remain in contact with their students to offer valuable assistance and guidance both socially and academically. They are dynamic event organizers, which enrich the network and knowledge of the Indigenous Student Community. In return, Peer Supporters will be provided with the opportunity for valuable hands-on work and leadership experiences, with formal leadership training.
Get in touch and apply to be a Peer
Phone: 416-979-5000, ext. 556660
Email: abpeers@torontomu.ca
Tea n Talk: Connect with fellow Indigenous students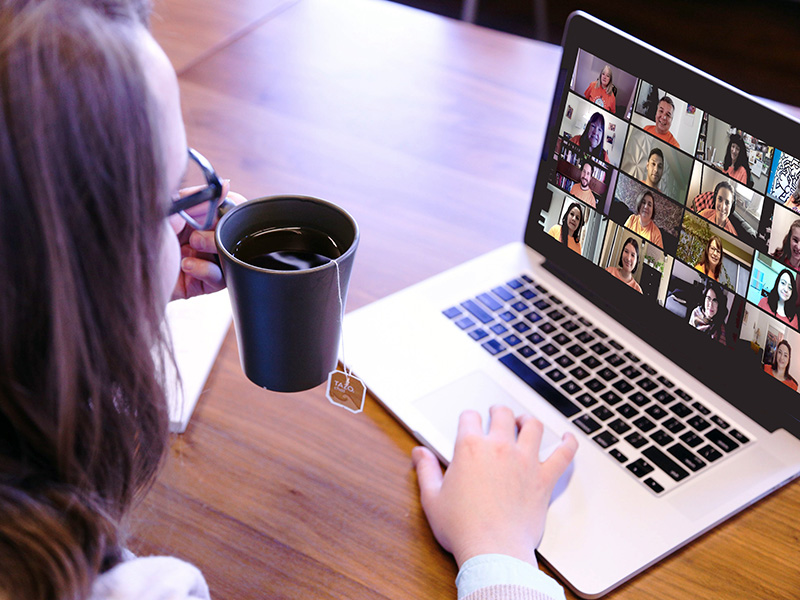 Writing workshops and support for Indigenous students at TMU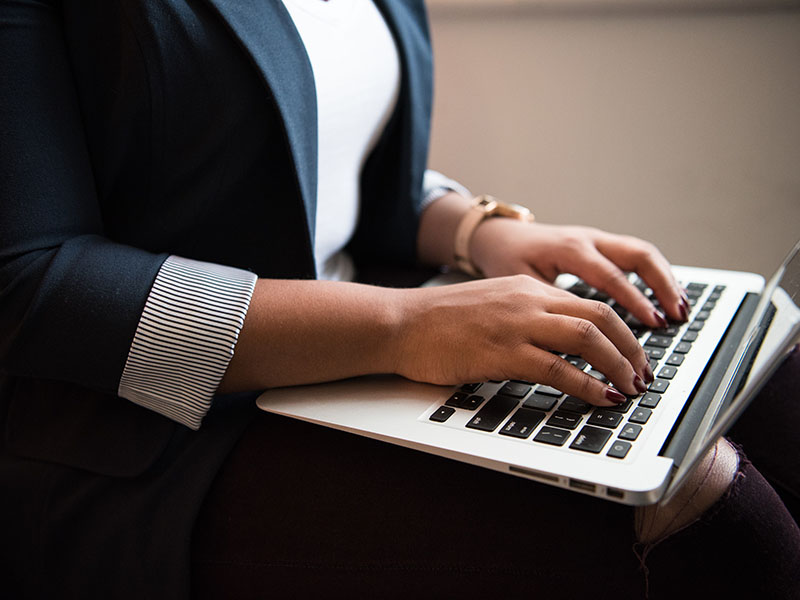 Cultural and traditional teachings for Indigenous students at TMU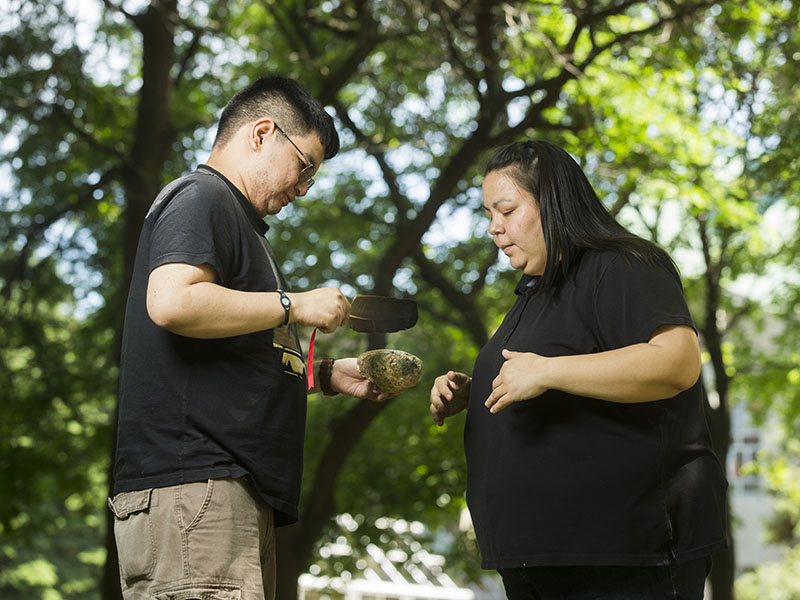 Additional programs for TMU students and Indigenous community members
The Laptop Loan Program provides access to laptops for Indigenous students to ensure computer and program access, which is required to complete schoolwork off-campus. You can sign out computers for a short term loan.
Learn more about the Library's Laptop Loan Program.
The Certificate in Indigenous Knowledges and Experiences is a multidisciplinary exploration, analysis, and reflection on the experiences of Indigenous peoples in Canada and their relationships with non-Indigenous peoples. This exploration aims to help develop an understanding of these experiences and relationships from many dimensions: historical, political, social, and arts- and health-related.
This certificate provides a broad orientation to Indigenous experiences in Canada and how Indigenous peoples have been impacted by laws, policies, and practices in the health, social services, human resources, and other sectors. Indigenous and non-Indigenous students, regardless of their academic or professional background, have the opportunity to learn about Indigenous lived experiences through curriculum from Indigenous perspectives taught by Indigenous scholars and experienced community teachers.
Learn more about the Indigenous Knowledges and Experiences Certificate Program through the Chang School of Continuing Education.
The Indigenous Community Outreach and Recruitment program is based on engaging the Indigenous community (both in Toronto and throughout the Province) in identifying how we can collaborate with and support their career, employment, training and education initiatives and programs.
It is associated with existing transition and support programs, involving several internal and external partners (within the Indigenous community, locally and provincially).
For general inquiries about this program please contact:
Sheila Saikkon
Administrative Assistant
Phone: 416-979-5000, ext. 7699
Fax: 416-598-5919
Email: ssaikkon@torontomu.ca