George and Helen Vari Foundation gives $1 million
March 15, 2018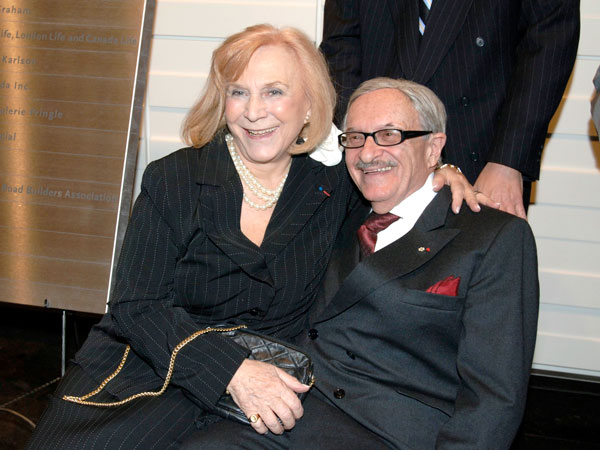 For the last 12 years, Ryerson's George Vari Engineering and Computing Centre has welcomed and educated thousands of emerging engineers, been home base for exploration at the cutting edge of research and innovation, and hosted countless special guests and industry professionals. Named in 2005 in recognition of a generous gift from entrepreneur, developer and philanthropist George William Vari, the eye-catching building has stood as a cornerstone to his legacy at Ryerson since his death in 2010.
George and Helen Vari came to Canada after the 1956 Hungarian revolution. A civil engineer, George became a successful international real estate developer, responsible for, among many projects, Europe's tallest building at the time, the Tour Montparnasse in Paris. Vari credited his education and the opportunities that Canada provided as the keys to his success, stating that "with an education and a country like Canada, you can do anything."
To ensure others have the opportunity to achieve through education, Helen Vari, through the George and Helen Vari Foundation, extends the family's legacy at Ryerson with a new gift of $1 million to Ryerson's Faculty of Engineering and Architectural Science (FEAS). The gift is the largest-ever single donation to FEAS to be dedicated to entrance awards, ensuring future engineers are able to begin their education. It brings the Foundation's total giving to Ryerson to more than $6 million.
The first cohort of Vari Scholars will enter Ryerson's engineering program in September.
"George's unwavering belief in Canada's values and the potential for its future is even more relevant today," says Helen Vari, President of the George and Helen Vari Foundation. "He understood better than most the value of an education. George knew that providing young people with the opportunity to educate themselves is the key to future success. Our country depends on its youth to build the future — we consider it a privilege to help build theirs. We came to Canada with nothing; Canada gave us everything. We are honoured and fortunate to give back to our beloved country."
"Awards change lives," notes Ryerson University President Mohamed Lachemi, himself an engineer and a recipient of scholarships as a student. "They allow students to realize their potential and to fully contribute to Canadian society. The Vari name brings with it distinction and honour, and recipients of these new awards will feature it with pride on their developing résumés."
Tom Duever, dean of FEAS, adds that "offering an award of this stature will help Ryerson to attract, retain and reward the best and the brightest students: those who excel academically and have the potential to become the next generation of leaders and innovators. At the same time, the Vari Award will level the playing field, ensuring that talented young people, regardless of their financial circumstances, have the opportunity to benefit from the Ryerson experience."
"We are immensely grateful to Mrs. Vari and the George and Helen Vari Foundation for their generosity and vision," adds President Lachemi.