Rams Men's Soccer Team Scores Strong Assist
May 04, 2016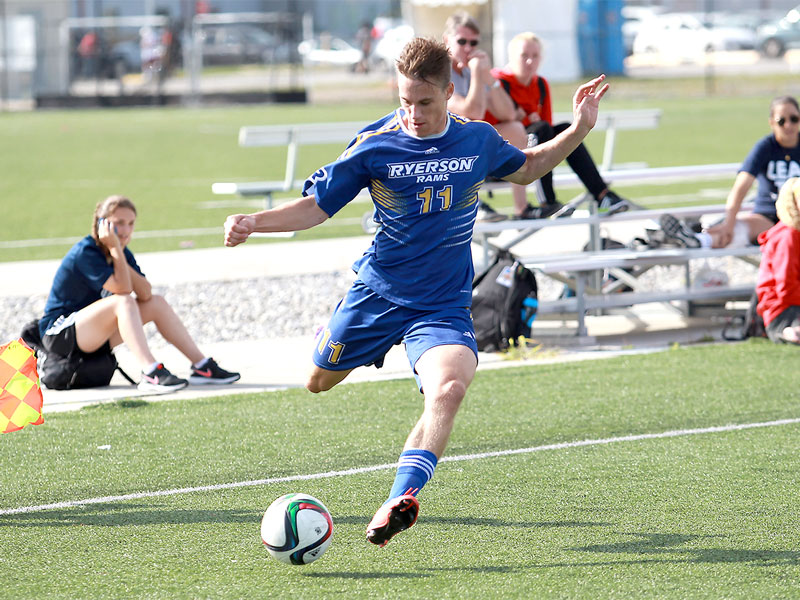 "The future is the students," says Vivian Risi, president of Your Community Realty, a Royal LePage franchise.
Towards that future, Risi is donating $100,000 over the next five years to the Rams Men's Soccer team. The generous support creates tremendous opportunity for students in several ways. The Vivian Risi Royal LePage Award ensures financial considerations will not prevent deserving and qualified students in the soccer program from succeeding both on and off the pitch.
Rams soccer players will also have the opportunity to lead a free summer community development program through the Ryerson and Vivian Risi Soccer Clinic, teaching youth from priority neighbourhoods about post-secondary education and the opportunities they have through sport to bridge the gap to university. Risi's support will also provide program leaders with a greater ability to take advantage of once-in-a-lifetime developmental experiences for Ryerson athletes.
"Vivian Risi is creating opportunity for Ryerson soccer players not only on the field and in the classroom, but also by setting an example of how to achieve success and be a leader in the community," says Filip Prostran, coach of Ryerson men's soccer.
An award-winning entrepreneur, Risi has worked incredibly hard to achieve the success she has today. Her business achievements are equally matched by her philanthropic leadership. Risi devotes her time and energy to helping support the communities she works in. Whether it's raising money for local hospitals, supporting community initiatives or chairing a $4 million capital campaign to open a second emergency shelter for the Yellow Brick House – an organization which supports women and children affected by domestic violence – Risi recognizes that leadership stems from giving back. In turn, she has received well-deserved accolades, including the prestigious YMCA Peace Medallion Award (2009), Royal LePage Philanthropist of the Year Award (2008) and City of Vaughan Philanthropist of the Year Award (2013), to name a few. Her leadership has inspired many around her, including a student at Ryerson, who through discussions with her, introduced her to the athletic program and the opportunity to support.
"He described how Ryerson really focused on developing the student completely, not just as a soccer player, but academically, and as a well-rounded person able to contribute to society and the community," recounts Risi. The discussion led her to meet with program leaders and visit the Mattamy Athletic Centre at Ryerson University. She was immediately impressed.
"The facilities were really top-notch, and everyone was on the same page. Students come first. And it is loud and clear that education is the top priority," says Risi.
Those priorities aligned closely with her own ideals of strengthening communities and helping the most vulnerable in society: "If I am able to help students, I am doing something important. I'm not only helping them, but giving back to the future of this city."
Thanks to Vivian Risi's support of Ryerson Men's Soccer, that future looks incredibly bright.