You are now in the main content area
Future Study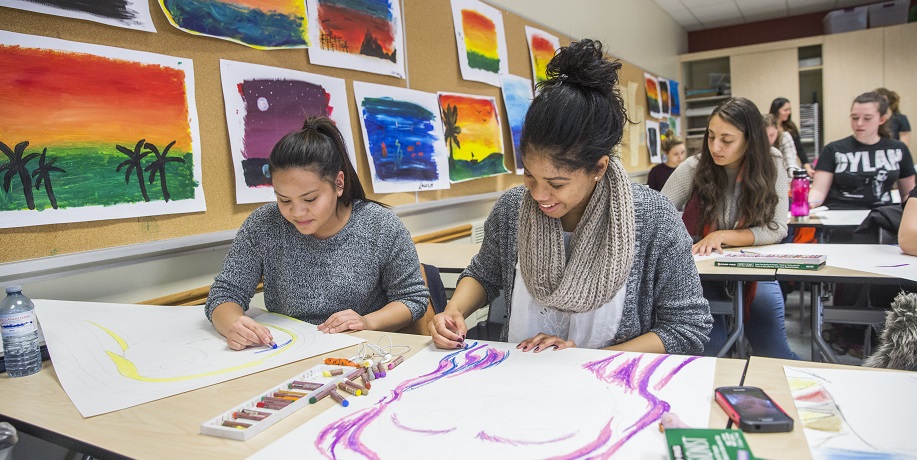 Careers in Creative Arts and Design
Many graduates choose to combine their foundational knowledge in early childhood studies with post graduate studies in art, design and technology.
Graduates from our program have pursued careers, research and studies in the following fields:
What They Do
Child life specialists work to promote the psycho-social health and well being of children and youth in healthcare and community settings. Child life specialists provide children and youth facing illness, trauma and loss with opportunities to engage in therapeutic activities which promote continued growth and development.
Child life specialists draw upon knowledge in child development and family systems to help children develop effective coping through play, education and self expression.
Where They Work
Child Life Specialists work in hospital or health care settings, hospices, community agencies and not-for-profit organizations.
Become a Certified Child Life Specialist
Graduate Degrees
Graduates from our program have been successful in pursuing studies in the following Graduate Programs:
Graduate Studies in Rehabiliation Services Fields

Graduate Studies in Early Childhood Studies and Education
What They Do
Occupational therapy is a profession which focuses on working with individuals and groups to strengthen skills and abilities necessary to actively participate in daily life activities.
Where They Work
Occupational therapists work in a variety of settings such as schools, community centres, hospitals and in the home.
Occupational Therapy (MScOT)
There are a variety of institutions offering graduate studies in OT such as:
For more information, please visit:
What They Do
A physiotherapist is an allied health member, working with patients of all ages. Physiotherapists work in healthcare centres, community organizations, sports clinics, private practice and in the home to reduce physical barriers to healthy functioning, prevent disease and promote health behaviours and activities.
Physiotherapy (MPT or MScPT)
A variety of institutions offer graduate studies in phsyio or physical therapy such:
For more information, please visit:
What They Do
Speech language pathologists focus on the assessment and treatment of a variety of communication and swallowing disorders.
Where They Work
SLP professionals work in education, healthcare and community services with individuals and groups.
Speech Language Pathology (MSc or MHSc)
A variety of institutions offer graduate studies in speech language pathology:
For more information, please visit the Ontario Association of Speech-Language Pathologists and Audiologists., external link
Master of Teaching (MT)
The University of Toronto, external link also offers a combined graduate degree in teaching and education. Students graduate with a Master of Teaching (MT) and a Bachelor of Education (BEd) and are eligible to apply for certification with the OCT, external link.
Master of Early Childhood Studies (MA)
Toronto Metropolitan University offers an innovative Master of Arts program leading to a Master of Arts (MA) degree in Early Childhood Studies. This program is unique among graduate program in North America with a focus on integrating diversity into early childhood studies. Terms such as "diversity" and "inclusion" are used in the broadest sense to include issues of linguistic, cultural and racial identity as well as disability, gender, class, sexuality, age and migration status. This approach is in recognition of a child's need to develop a positive identity, not only as an individual but also as a member of a group. Through a critical and reflective process, students will develop a deep understanding of the complex issues that affect children and their families.