Digital Transformation: How do we skill for innovation?
April 01, 2021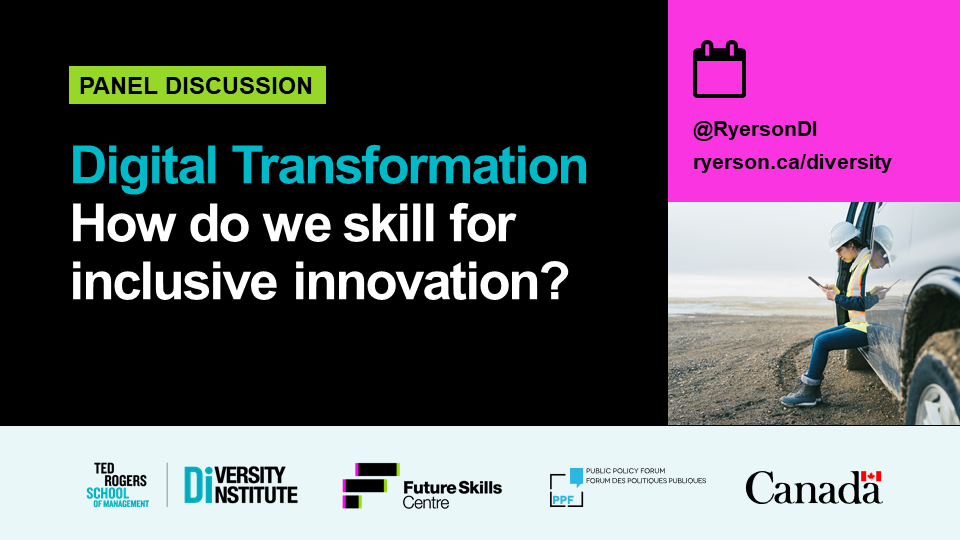 Among the many transformations we are seeing in the world of work today, technology-driven disruption and digitization are at the forefront. Not only are the skills needed to thrive in the labour force changing, the ways we access and learn those skills are also shifting.
At the same time, the COVID-19 pandemic has deepened the digital divide and exacerbated pre-existing structural inequalities. To rebuild better, it is necessary to challenge assumptions about skills, and be clear about how we define, assess, develop and implement them.
We recently launched the Skills for the Post-Pandemic World research series in partnership with the Public Policy Forum (external link) and the Future Skills Centre (external link) with an expert panel discussing the implications of digital transformation on skills hosted by Julie Cafley (external link) , Executive Vice-President, External Relations at the Public Policy Forum.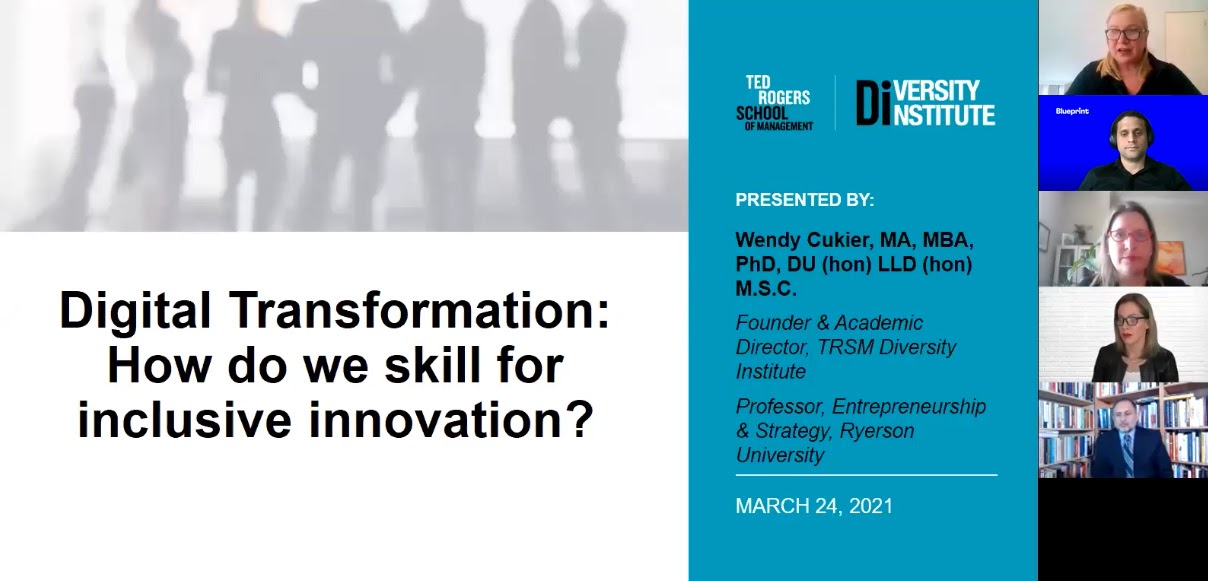 Wendy Cukier (external link) , Founder and Academic Director of the Diversity Institute at Ryerson University, shared highlights from the new research series to open the discussion. She argued that while employers talk about needing "digital skills," they often mean different things. For instance, a recent study from the Organisation for Economic Co-operation and Development (OECD) showed that digital skills were those most in-demand in Ontario. Yet a deeper examination showed that only 10% of employers were referring to deep technology skills like programming, while 15% were referring to specific applications like SAP, SQL, which can be mastered by people without a tech background. 75% of the remaining employers were in fact referring to broader digital skills, like the ability to use Microsoft Office. Cukier also stressed the importance of considering both supply and demand sides of the equation to ensure that service providers are not training people for imaginary jobs, and that employers are not "looking for skills in all the wrong places"—overlooking newcomers, immigrants, women, and other marginalized individuals.
Murtaza Haider (opens in new window) , Research Director of the Urban Analytics Institute and Professor of Data Science and Real Estate Management at Ryerson University, has undertaken one of the studies soon to be released in the series. Haider talked about how the COVID-19 pandemic has accelerated the adoption of new technologies across businesses and the shift to distributed work, and highlighted some of the potential ripple effects it may have on everything from real estate to public transportation. Haider is optimistic, however, and does not see a future with less jobs as a result of widespread digital adoption and automation, but one with different jobs. The challenge is how to help people to succeed in these jobs, Haider explained.
Steven Harrington (external link) , National Lead of Workforce Strategy at Deloitte, built on this point. Harrington described how the dramatic acceleration of digitization has created opportunities for new ways of thinking about work, jobs and skills. The potential for technology to make the work easier or more efficient, rather than replacing current jobs entirely is immense, Harrington explained. It is crucial to think about technologies that can collaborate with or enable human contributions, Harrington said, rather than those that simply automate through substitution, like grocery store self-checkout lanes, that are not in fact very efficient and still require significant human intervention.
"We cannot talk about skills and digital skills unless we talk about affordable and equitable internet access for everybody," explained Marlene Floyd (external link) , National Director, Corporate Affairs at Microsoft. Floyd has seen technological developments projected to progress over years take just weeks to emerge amid the COVID-19 pandemic. This dramatic acceleration has exacerbated existing inequalities and pushed the digital divide even deeper, Floyd echoed. Access to technology infrastructure across Canada is uneven, Floyd explained, and puts many at a disadvantage—especially those in remote and rural areas. She underlined the promise of innovative programs that broaden the talent pool and make jobs in tech more accessible to a wider range of people in the country's post-pandemic recovery.
That point was reinforced by Colin Harvey-Lewis (external link) , Associate Director, Blueprint ADE. Working on evaluations of projects funded by the Future Skills Centre, he noted that new approaches to skills training can create pathways to digital careers for job-seekers from marginalized groups and non-tech backgrounds. For example, nPower (external link) works with employers to address in-demand needs, customize training and provide internships for marginalized youth supported by a range of wrap-around services designed to increase their success. Another program, the Advanced Digital and Professional Training Program (ADaPT), provides alternative pathways for post-secondary graduates from a number of different disciplines by also working with employers and providing targeted training and work-integrated learning to its participants.
Employers also have a role to play to enable and support alternative pathways, inclusive talent pipelines, and the upskilling and reskilling Canadians for the future of work. Harvey-Lewis underscored the importance of recognizing and addressing the impacts of COVID on employees' mental health and the need for employers to create supportive and inclusive work environments. Harrington noted that valuable opportunities can be unlocked through work-integrated learning within organizational upskilling and reskilling programs as well, not just for students. Floyd added that governments can incentivize small and medium-sized employers, who make-up much of the private sector, to invest in upskilling and reskilling programs too.
Pedro Barata (external link) , Executive Director of the Future Skills Centre wrapped up the discussion by emphasizing the need to maintain the momentum for innovation, for harnessing evidence-based approaches to anticipate employer needs while building resilience and adaptability in the workforce.
Connect with the Diversity Institute