Skills for the Post-Pandemic World Research Series Kicks-Off
December 21, 2020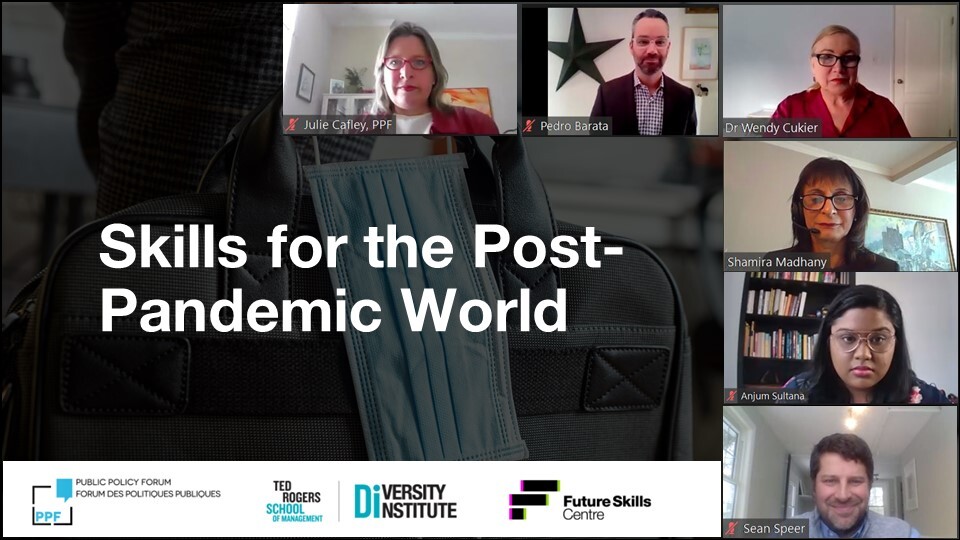 What skills, training and retraining opportunities face Canadians in a post-pandemic world? How can the skills development ecosystem contribute to a more resilient, inclusive and innovative future?
On December 11, the Diversity Institute launched the "Skills for the Post-Pandemic World" research series in partnership with the Future Skills Centre (external link) and the Public Policy Forum (external link) with support from Microsoft (external link) to examine these key questions. A new scoping report outlining the major themes that will be explored in the series sets the foundation for a discussion of the current landscape and questions facing policymakers, employers, training providers and workers in the months ahead.
Wendy Cukier, Founder and Academic Director of the Diversity Institute, led the insightful conversation featuring Shamira Madhany (external link) (Managing Director and Deputy Executive Director, World Education Services), Anjum Sultana (external link) (National Director of Public Policy & Strategic Communications, YWCA Canada), and Sean Speer (external link) (Fellow in Residence and Prime Minister of Canada Fellow, Public Policy Forum).
Julie Cafley (Vice President, Public Policy Forum) and Pedro Barata (external link) (Executive Director, Future Skills Centre) introduced the new series and underlined the urgency of this research. For Cafley, this research presents an opportunity to address structural inequities facing vulnerable groups in Canada—inequities that have been exacerbated by the COVID-19 pandemic. Barata added that this work can inform, orient, and calibrate the collective efforts of the skills development ecosystem.
"This research will contribute to the conversation about how to build a robust policy ecosystem that supports the reskilling, retraining and upskilling needed for workers and employers navigating this new reality," explained Cafley.
"We stand at a really pivotal point"
Wendy Cukier began the discussion by asking panelists to illuminate the impacts of the pandemic on the labour market from their vantage points. Over the past few decades, Sean Speer explained, a greater share of jobs have become clustered around the low- and high-end of the skills distribution spectrum, with less and less available in the middle. Speer has seen plenty of evidence that suggests the pandemic has exacerbated this trend.
Shamira Madhany expressed concerns about the many immigrants facing underemployment prior to the pandemic, or who work in frontline jobs, who have been deeply impacted by the pandemic. "We have to be very intentional to ensure that these immigrants are not left behind as we start thinking about building back better," Madhany said.
"We stand at a really pivotal point," Anjum Sultana suggested, as the light at the end of the pandemic comes into focus. Sultana explained that many of the workplace trends that have been accelerated during this time will persist, particularly the proliferation of remote work. The shift to remote work presents new opportunities for inclusion and accessibility, particularly for people with disabilities who require flexible and remote work arrangements. However, there are unanswered questions regarding how managers and workers can address mental health challenges in such an environment. It also introduces new barriers, especially for those who may not have high-quality broadband access.
Looking ahead, panelists identified key priorities and opportunities they see in the skills training ecosystem. Madhany noted that more clarity is required around how skills and competencies are defined and assessed as many immigrants continue to find that their credentials are not recognized in Canada. Madhany believes that there is a significant opportunity to use digital tools and artificial intelligence to better assess skills, in addition to conducting skills training programs remotely.
Speer suggested that there will continue to be strong returns for those who seek higher education in a post-pandemic world. However, a significant share of the working age population does not have access to post-secondary education. This share is much higher than many realize, Speer explained. Approximately one-third of people between the ages of 25 and 64 have only a high school diploma or less. Speer emphasized that more work is needed to ensure post-secondary education is widely accessible to all those who wish to pursue it, and that adequate supports are in place for those enter the labour market directly after high school.
Cukier added that Canada has one of the highest rates of social mobility in the world, and that education plays a central role in the path to success. "If we are not ensuring that everybody has access to that ladder, we are going to produce more and more stratification and marginalization," Cukier explained.
Many of the sectors hardest hit by the pandemic are those where women are overrepresented. Sultana sees great opportunities in the care economy to recover job losses and address systemic barriers to skills development and workforce inclusion. Targeted investments in programs and services that lower these barriers, like an expanded child care system, are necessary. "If people don't have access to childcare, to the internet, if they don't have access to their basic needs, that prevents them from re-entering the job market," Sultana explained.
It is critical to recognize intersectionality in these efforts, Madhany added. Not all newcomers, for instance, are the same, and there are layers of differences that must be acknowledged. "As we're thinking about the policy levers and the interventions, we need to think about it both horizontally and vertically," Madhany explained.
"We can't have a one-size-fits-all approach. People come to this need for reskilling from different parts of society and different lived experiences so we need to also take that into account in our training and reskilling programs," Sultana said.
The rapid and collaborative response to the devastating effects of the pandemic from all orders of government, institutions, businesses and individuals across the country show how much Canadians can accomplish to better support one another. Panelists stressed that we now face an opportunity to create the foundations for an economy that works for everyone.
"We have seen something extraordinary happen in the past 10 months. It would be such a missed opportunity not to bottle it and leverage it more broadly," Speer explained.
If you weren't able to join us live, watch the webinar replay here (external link) and take a look at the (PDF file) Audience Q&A (external link) to learn more.
Connect with the Diversity Institute
Hear about all of the latest research, news and opportunities from the Diversity Institute by following us on Twitter (external link) and LinkedIn (external link) .
You can also sign-up for our mailing list (external link) to receive upcoming reports in the Skills for the Post-Pandemic World research series direct to your inbox.