You are now in the main content area
D2L Fetch to MyServiceHub (formerly RAMSS)
Only letter grades can be fetched using the fetch process. If your course is pass/fail, this process will not work.
Students will not be able to see the final grades in the D2L Brightspace course shell - they will only be visible in MyServiceHub.
Please email courses@torontomu.ca if you ran a two-term Brightspace shell. We will need to make a change so you can "fetch" your grades.
Prepare for and complete Final Grade Fetch: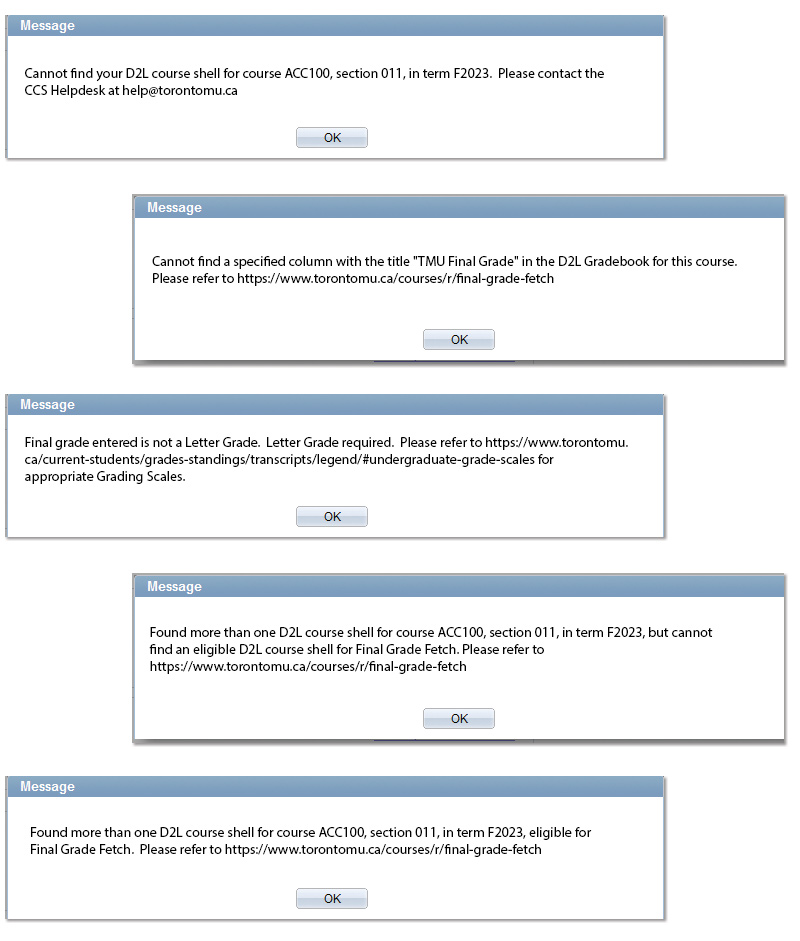 Error message
Possible reason for error
Possible solution
Cannot find a specified column with "TMU Final Grade" title...
It can find a course shell that matches your course-section-term, but that course shell doesn't have a "TMU Final Grade" column to pull grades from.

Review steps 1 & 2, above.

Check that either your Final Calculated or Final Adjusted grade has been renamed to "TMU Final Grade" AND that the correct column was selected as your final grade column.

Found more than one D2L course shell for the course ABC123...
It has found multiple D2L shells where you are the instructor, and contain students from your course-section-term.
It is possible that more than one shell was requested for the same section of students - contact the Brightspace faculty support team for next steps.