After TMU — Madhoori Amirtharanjan
January 24, 2022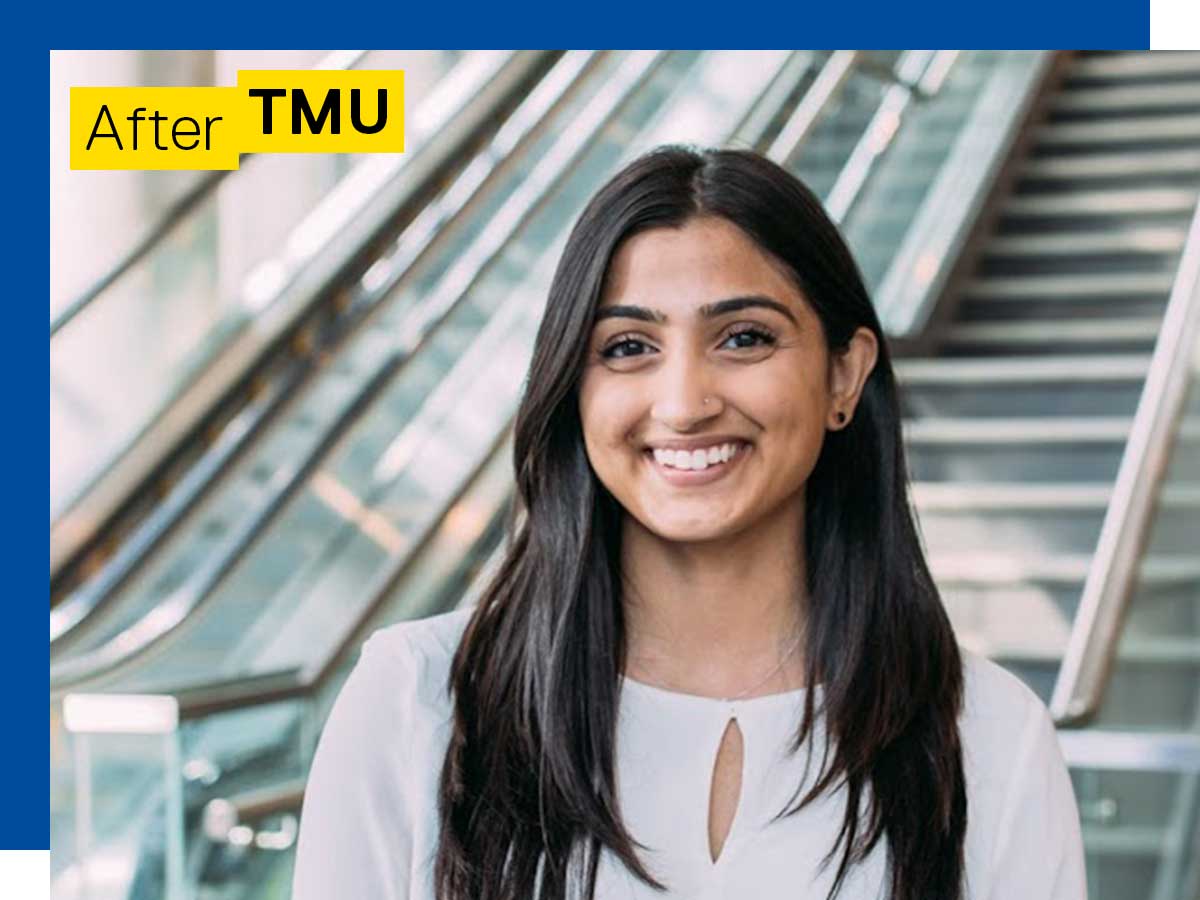 Why did you choose to study at Toronto Metropolitan University (formerly Ryerson University)?

I chose to study at TMU because of the location — being in the heart of the city allowed me to spread my wings and challenge myself to experience life in a different, not so quiet, way. Having been born in Parkdale and moving to suburban Mississauga at a young age, I felt like I truly belonged in the city. The Graphic Communications Management (GCM) program at TMU is a small, tight knit program which gave me an immense sense of community and comfort. Thus, allowing me to be my true self.
How did your TMU degree help you find your first job after graduating?
TMU's GCM program requires that you complete an industry internship during the summer of your third year of studies. Through GCM's annual job fair, I was able to secure an internship at a reputable printing prepress company which led to a full time career opportunity for me once I had graduated.
What are some skills you developed through university that are applicable to your career?
One of the many skills that I was able to master during my undergrad was time management. Being able to block off my calendar accordingly and setting schedules for completing my assignments before their due dates directly translated to my career. During my time as a Project Manager, I found myself in many tight deadline situations where if I had not already possessed the time management skills that I had, I would not have been nearly as successful with completing my work on time.
What interested you in the Rogers Cybersecure Catalyst RBC Women in Cyber program?
When I first heard of the program through a colleague of mine, I thought to myself "this program will allow me to build on the cyber security principles I have learned so far and will also equip me with the right certifications to get my foot in the door for a new career". In addition to wanting to further my knowledge in cybersecurity, I truly believe that women are under-represented not only in the world of security, but in the world of technology as a whole. I was thrilled by the thought of being a part of a movement that enables more women to take on technology related roles in the economy. This program supported my desire to learn, and my desire to be a woman in STEM.
What inspired you to enter the cybersecurity field?
In the same way humans require physical protection, as the technological atmosphere advances, society has a growing need for cyber protection. By choosing a career in cybersecurity I wanted to provide a perspective that is not common to the industry.
What are the best parts of your work; what are the most challenging?
The best part about my work is being able to work with a like-minded team that supports each other's work and initiatives to keep data safe. I think that the most challenging part of my work is that there are endless amounts of concepts which all intertwine with one another. To put it simply, you don't know what you don't know.
What advice would you give to students or alumni looking to follow a similar career path?
I would say never underestimate the skills you acquire through your work experiences, whether it be a part time retail job or a student group. Your experiences build character and that goes a long way. In addition, network, network and network!
What tips or advice would you share with readers about increasing their cyber awareness?
Some basic rules of thumb that everyone should follow are:
Avoid using the "Remember Me" feature on websites and mobile applications unless you are using a secure password manager. Always type in your user ID and password otherwise.

Use a unique password for every account that you create.

A strong password consists of more than 12 characters (the longer the better), a mix of upper and lower case letters, numbers, symbols, no ties to your personal life, and no dictionary words.

Most importantly, avoid writing your passwords on sticky notes!