Hanukkah with Julie Albert
November 25, 2021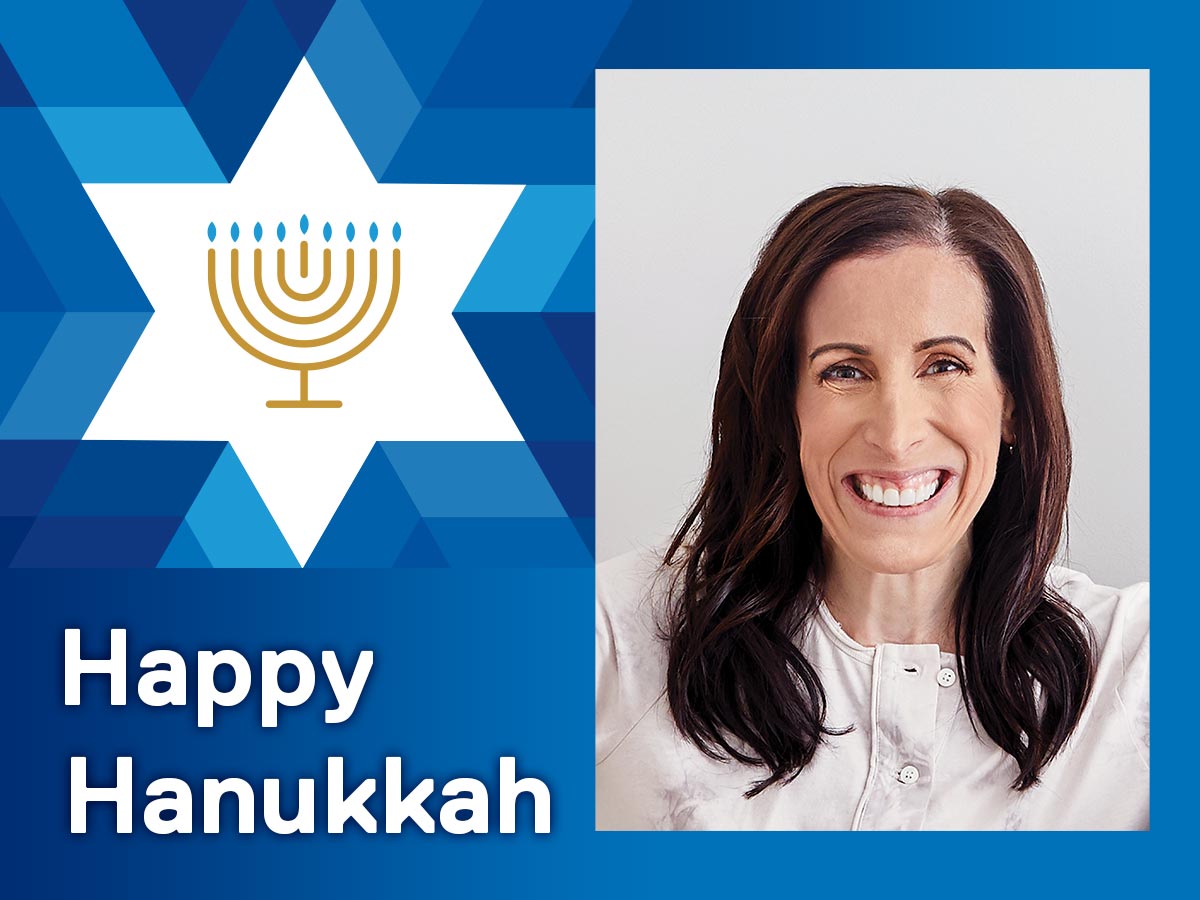 Julie enjoys long walks on the beach, singing karaoke duets with Sinatra and watching others cook. She wailed while watching 'The Color Purple,' fears mimes and was bitten by Alex Trebek. Having a Masters of Journalism (Toronto Metropolitan University University), Julie spends her time writing (she co-authored bestselling cookbooks Bite Me, Bite Me Too, Lick Your Plate, external link, and The Bite Me Balance, external link), throwing crazy fun parties, watering her three kids and wondering what happened to Preparations A through G.
How do you describe Hanukkah to those who aren't familiar with this religious holiday?

Hanukkah means 'dedication.' While the holiday celebrates the triumph of the Maccabees (aka rebel Jews with a cause) in reclaiming their temple in the second century BCE, my less-than-scholarly answer is that for my family, Hanukkah is Funukkah. It's an eight night celebration (the Jews had oil for only one night but it burned for eight nights straight) that invites us to gather with family and friends, devour foods fried in oil (can you say jelly donuts and potato pancakes?!?), light candles, sing songs, and play games.
Can you tell us a bit about your Hanukkah plans this year and how they may have changed (or not) this year due to the pandemic?

While we'll likely celebrate Zoom-style with those we don't see often, we're lucky enough to have 'bubbled' with our extended family. Together, we'll definitely partake in all the Hanukkah treats (as noted, plus the addition of chocolate coins), exchange gifts, and play some seriously competitive dreidel games.
While this holiday will be different for people around the world, what would you recommend people focus on this year?

I think for everyone, more than ever, the pandemic has brought into focus what's most important: our loved ones. We'll continue to be grateful for the sharing of love, laughs, and latkes with our closest friends and family.
Do you have a favourite Hanukkah tradition?
As a kid, while I suffered from St. Nick envy, the eight days of presents, playing with wax dripping from the Menorah, singing Hanukkah ditties, and chowing down on donuts, and chocolate helped me push through. Not much has changed...
What's your favourite Hanukkah dish?
If you couldn't have already guessed, I love the donuts and the latkes, however, I also love to shake things up a bit. We've come up with a great way not to wear eau de latke (have you smelled what it's like to fry them?!?) with our Potato Latke Waffles, external link and a fun spin on the jelly donut with our Jelly Donut Cake, external link and Jelly Donut Milkshake, external link.
What do you wish others knew about this holiday?
There's no wrong way to spell Hanukkah - go with whatever feels good to you — Chanukah, Chanukkah, Hannuka...it's all the 'Festival of Lights'!
Would you like to share some encouraging words or wishes with the community?
Wishing you and yours much health, happiness, and your hands on the last latke.