Celebrating Black women scholars
February 10, 2021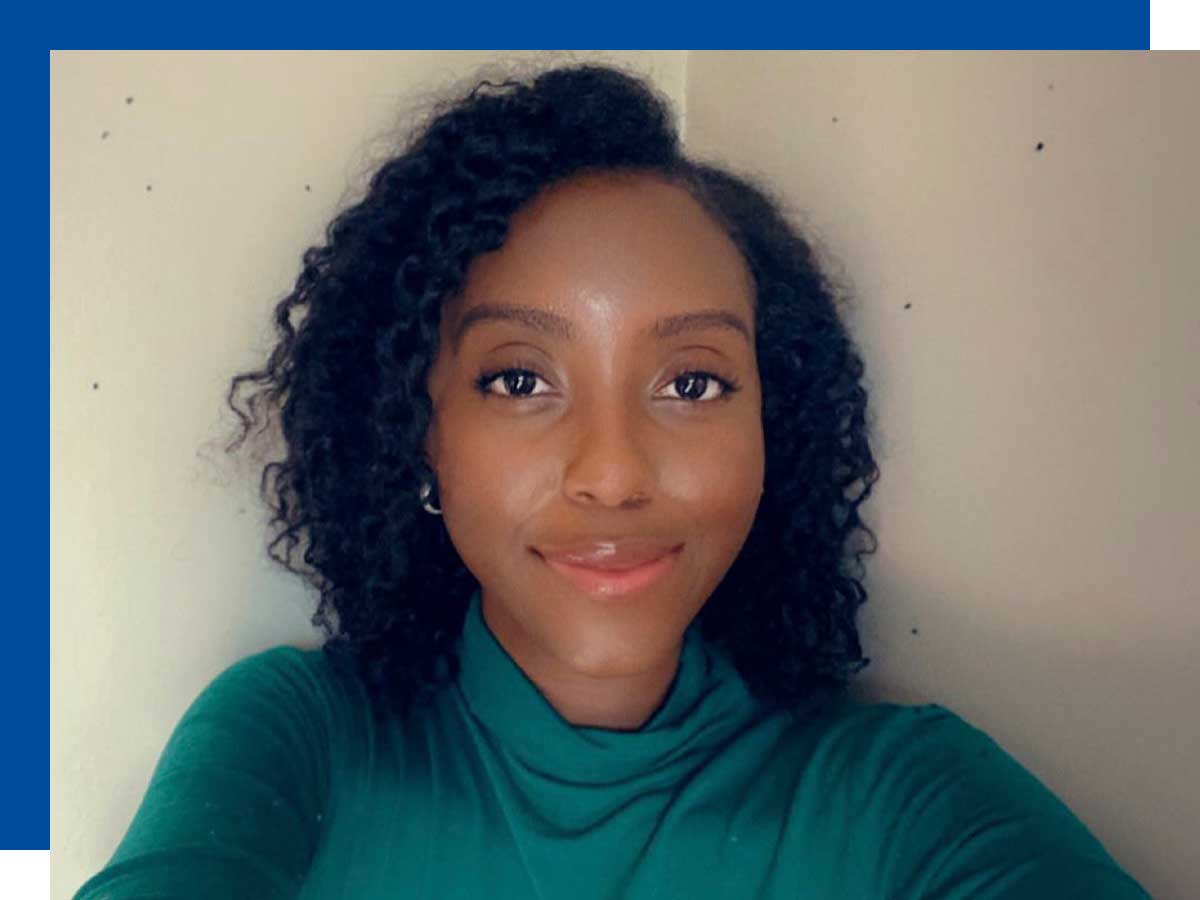 When Bianca Marryshow crossed the stage at convocation to accept her undergraduate degree in the summer of 2017, she vowed to her Toronto Metropolitan University professors that, as soon as she was in a position to pay forward their guidance and support, she'd do it. Three years later, she established the Sonia Marryshow Black Scholar Award.
"There's a saying in West Indian culture, 'each one, teach one,'" says Marryshow. "It is one of the mantras I live my life by and, as I come into my power more, I believe it is my job to also empower somebody else."
Named in honour of Marryshow's mother, the Sonia Marryshow Black Scholar Award was created to celebrate Black women in higher education and support Toronto Metropolitan University students in Sociology, Criminology, or Politics and Governance. Shanice Walters, a fourth year Criminology student, is the inaugural recipient of the award.
"My hope is that this award is a bridge for Black women in the Arts to not only see themselves as valuable contributors, but voices that need to be amplified," says Marryshow.
For Walters, the support came at the perfect time. "My spirits were low due the pandemic," she recalls. "Being the recipient gave me the motivation to stay focussed and reassured me I was on the right path."
As it turns out, Marryshow and Walters share similar experiences in their post-secondary journey. Both women place a high value on education. They both navigated financial hardships during their university years. And both women started at Toronto Metropolitan University feeling disconnected from the university, only to become highly involved as they drew closer to their graduating years.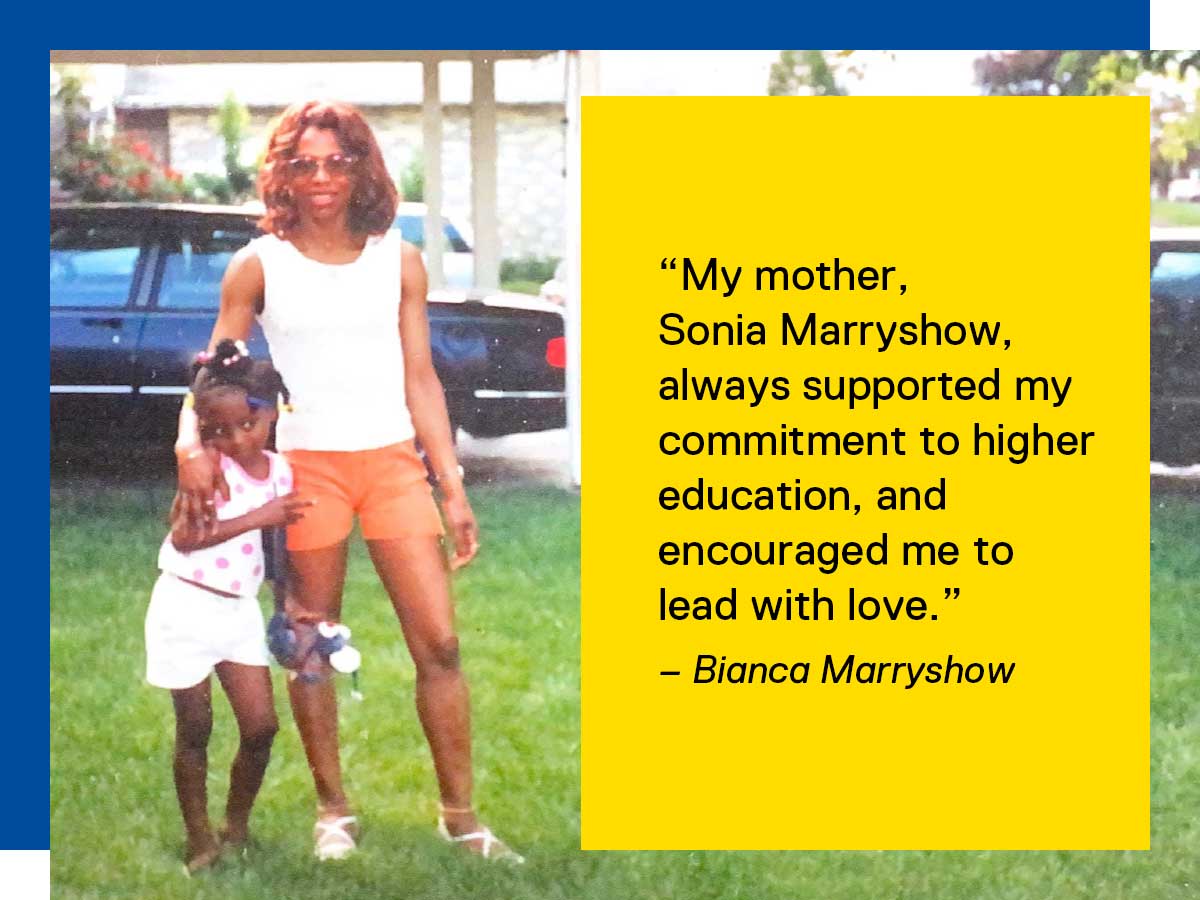 For Marryshow, it was becoming a student ambassador with Undergraduate Admissions and Recruitment (now the ServiceHub) that served as the turning point. Recognizing her talent, her manager offered her a full-time position as a Triage Specialist after she graduated from Sociology - a position she happily accepted. She later moved to the Student Financial Assistance department, earned a certificate in Organizational Leadership and worked her way up to Assistant Manager, her role today. Marryshow also serves as chair of the Leadership Development and Career Mentorship committee with the Black Faculty and Staff Community Network, is a career mentor in Toronto Metropolitan University's Tri-Mentoring program, and was recently accepted into Toronto Metropolitan University's Master of Science in Management program.
Walters was involved in the Black community before coming to Toronto Metropolitan University, tutoring children in the Jane and Finch area of Toronto through Big Sisters and Brothers, but she spent the majority of her first three years at Toronto Metropolitan University keeping her head down and doing her work.
"As a first generation student, there was a lot to learn on my own and I had to navigate the system myself," she says. "I didn't have much spare time."
In her fourth year, Walters started to participate in some extracurricular activities, including becoming an Advocacy Associate for Women in Law, and joining the Black Student Advisory Committee, a group that helps incorporate Black students and the Black experience at Toronto Metropolitan University. Like Marryshow, Walters looks to extend a hand to those who come after her, noting that, "My interests fall in line with helping the Black community advance. I have been committed to the betterment of the Black community since high school because I know the systemic barriers that we face."
Walter's next step is law school, with the goal of becoming a criminal defense lawyer, and one day, a judge. "I know how little representation Black individuals have as lawyers, judges and other important players in the courtroom, yet we are overrepresented in prison. This suggests to me that something is wrong," she says. "In a time where racial division seems to be overpowering, I think it is time to make a change within the system."
Change is what Marryshow hopes to achieve through her award. "This award is not about me," she says. "It's about creating more options and opportunities for Black women to see themselves represented," she adds. "I know how tough it can be as a Black woman in these ivory towers, and not see too many other folks that look like you in your classes. I want to extend a hand back and bring others up with me, just like hands were, and continue to be, extended for me."