You are now in the main content area
Dr.
Joon
Chung
Professor
BSc, MASc, PhD
Areas of Academic Interest
MDO (Multidisciplinary Design Optimization) of Aircraft
Flight Simulation and HMI (Human Machine Interface)
VR/AR Mixed Immersive Simulation and Design
Aircraft Interiors Design and Optimization
Education
| Year | University | Degree |
| --- | --- | --- |
| 1997 | University of Toronto | PhD |
| 1993 | University of Toronto | MASc |
| 1990 | Iowa State University | BSc |
Spotlight
When Joon Chung was six years old, he wanted to design airplanes. Now, he's using high-fidelity computation to turn his childhood dream into a virtual reality.
"Within multidisciplinary design optimization, when you scan an aircraft, you have to consider everything—aerodynamics, control, materials, propulsion," Chung explains. Many technologies have evolved over the last 10 years for multidisciplinary design optimization, but virtual reality allows Chung to tackle design problems holistically.
His research group is one of the few Canadian labs developing cutting-edge applications that cover everything from pilot training, to technician repair, to customizing aircraft interiors. "Let's say you're designing a plane interior based on what a customer wants," says Chung. "You can show them colour and layout options while the aircraft fixtures remain in place. Augmented reality gives you options."
In the next five years, Chung wants to focus on Human Machine Interfaces from the perspective of designers, customers, maintenance technicians, and operators. He anticipates big improvements to augmented and virtual reality in the near future. "This is a new opportunity for us to improve interaction between pilots and machines," he says. "I'm excited for what's to come."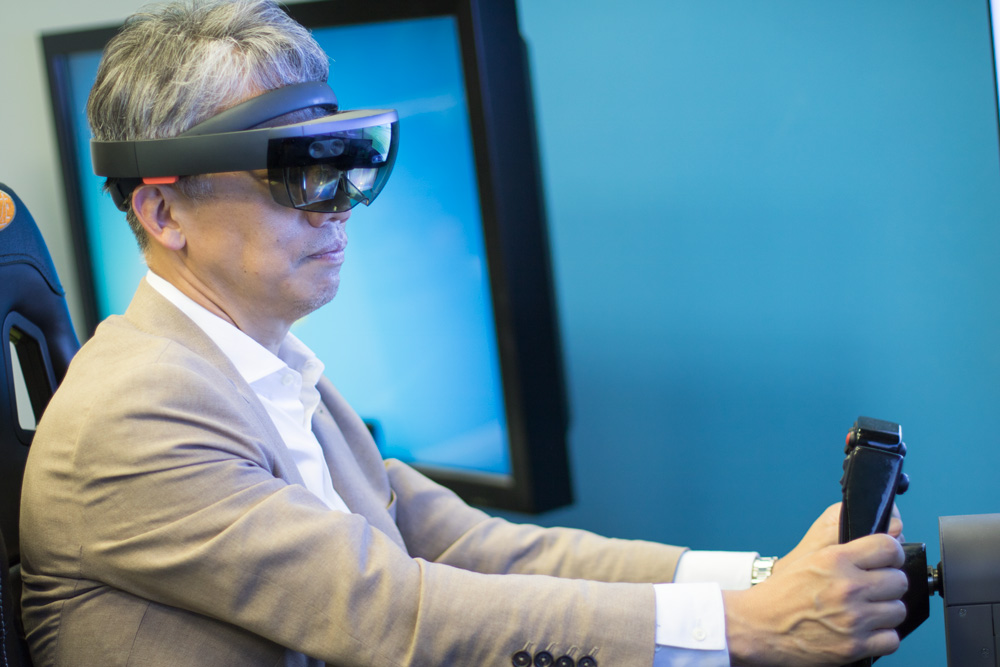 "Before you fabricate something in real life, you can fabricate it virtually."