You are now in the main content area
Harvest Collective and Learning Circle

The four pillars of the Harvest Collective and Learning Circle

We aim to engage the Black community through the multi-faceted lens of food, underpinned by four key pillars:
The Three Bs
To ensure the work of the Harvest Collective and Learning Circle supports Black communities, our activities are guided by the 3Bs: Black-led, Black-mandated and Black-serving. These principles prioritize the voices, wisdom and self-determination of people who are of African, Caribbean and Black of African descent (ACB) and allows us to work collaboratively to reshape food systems and contribute to the nourishing and healing of our communities.
The Harvest Collective and Learning Circle initiative grows crops and medicines that are culturally significant to the African diaspora. Crops and medicines are distributed to the community via our Model of Thirds approach, with one third donated to Black-serving community organizations, one third sold to students at a student rate and one third sold at market price online or at the TMU Market.
Food crops
African eggplant (garden eggs)
Callaloo
Jamaican pumpkin
Long beans
Okra
Pigeon peas (gungo peas)
Scotch bonnets
Thyme
Medicinal crops

Cerasee (bitter melon)
Fever grass (lemongrass)
Ginger
Sorrel (roselle hibiscus)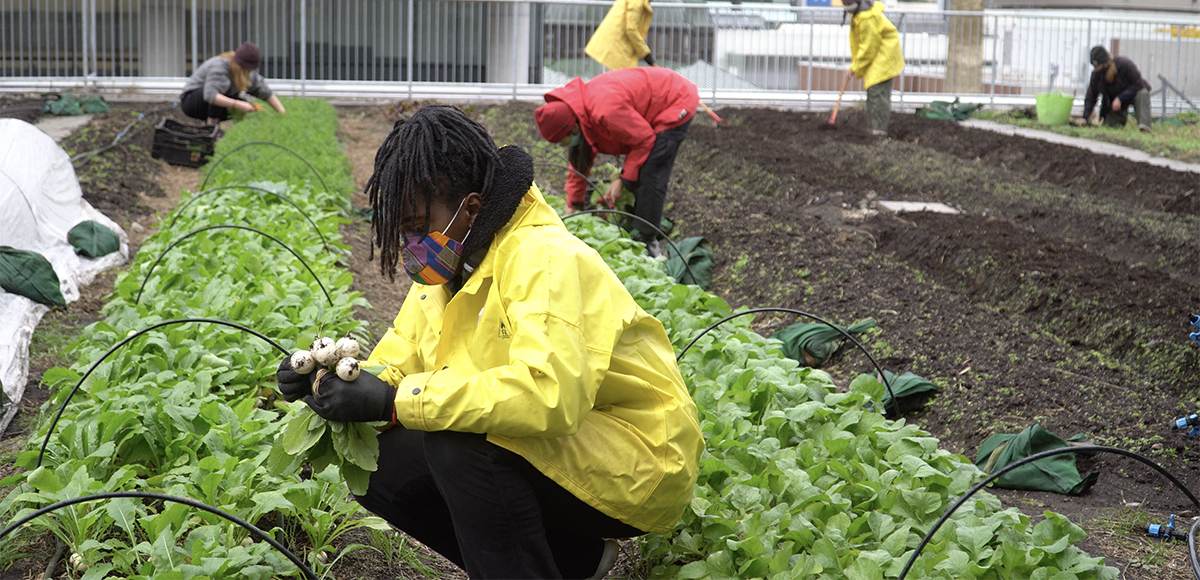 The Harvest Collective and Learning Circle is proud to offer a wide variety of experiential learning modules, allowing community members to participate in the full spectrum of food production, processing and storage.
Our learning modules explore multiple facets of Black Food Sovereignty, including knowledge mobilization around topics like Black food history, the contributions Black communities have made to food systems, food and climate justice and engagement through food production.

Food literacy is also a key theme of our learning modules, with participants exploring the connections between nutrition and food, physical health and mental well-being while also fostering a meaningful sense of belonging and community healing.
Summer learning module topics

Introduction to Black Food Sovereignty
Ecological Farming and Environmental Stewardship
Food Literacy and Natural Medicines
Community Healing, Equity and Inclusion
Food Literacy and Food Preservation/Preparation
Community Healing Celebration
Collaboration and requests
The Harvest Collective and Learning Circle welcomes requests to collaborate by both internal and external groups. We prioritize intentional and purposeful collaboration requests that are grounded in the 3Bs: Black-led, Black-manded and Black-serving. If you have an idea or request that supports the goals of the Harvest Collective and Learning Circle, please contact Nicole Austin, Black-led programs coordinator for the Urban Farm, at n1austin@torontomu.ca.