Ryerson RTA grad wins global award for wellness AI startup LUCID
After overcoming mental health struggles, Aaron Labbé hopes new music technology will help others conquer stress, anxiety, depression
August 16, 2019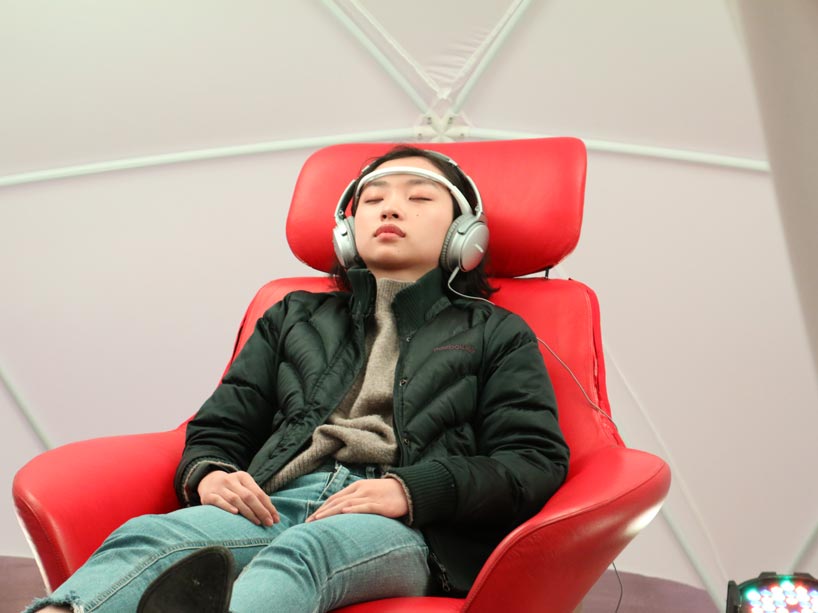 When you meet Ryerson University grad Aaron Labbé, co-founder and CTO of the recent global award-winning startup, LUCID, one of the first things you'll notice is a tattoo stretched across his left forearm.
Alongside a black, intricately sketched treble clef are the words, "Music is life".
The message speaks volumes since music has given Labbé exactly that: life.
First, it served as a much-needed reprieve during an intense mental health battle.
"It was the one thing that I could go to… music was a familiar friend," said Labbé, who graduated from RTA New Media in 2018.
And today, through his startup, which uses AI technology to create customized music to relieve stress, anxiety and depression, he's devoted his life to trying to give others that same peace of mind.
"I want to give people tools to help them cope with whatever they're dealing with," he said, noting that while he supports medication if required, music is empowering since it's self-prescribed, giving patients more control over their treatment.

2019 Best Startup by Wallifornia MusicTech

Others are taking notice. In July of this year, LUCID, external link was named 2019 Best Startup by Wallifornia MusicTech, a music and technology festival in Belgium. Not long after, Labbé and his team – now nine staff on-board – won NextCanada's NextAI Top Startup award in Montreal.
Born out of Labbé's studies at Ryerson, LUCID is currently a resident team in Ryerson's Music Den and Transmedia Zone, both part of the Creative Innovation Hub in the Faculty of Communication and Design. The company has received funding from various grants from Ryerson, the Government of Ontario, the federal government and revenues from corporate partner Steelcase.
"Ryerson was a really great place to do innovation," Labbé said, noting that the new media program gave the "perfect opportunity" to blend art, science and computation.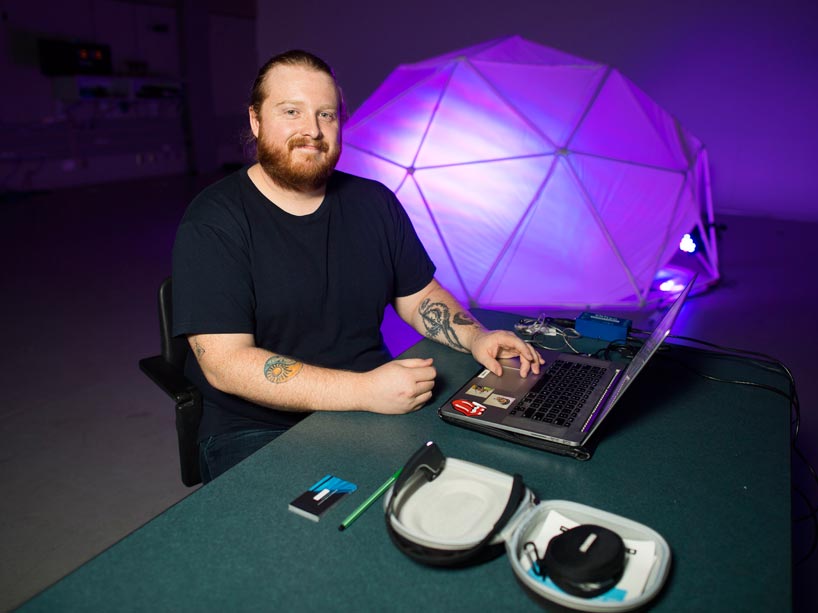 Heart rate, stress levels monitored
LUCID's technology is premised on the impact music can have on mood and emotions. It embeds research-supported multi-sensory stimuli – such as 3D audio, vibrotactile audio and light therapy while using biometric information (that is, a person's intrinsic physical and behavioural traits, such as heart rate variability and skin conductance) to track a user's stress levels and how they respond to the stimuli.

Music and additional audio elements are then personalized to each user based on their biometric data in real-time. A typical session could be as little as five minutes up to 15 minutes.
The more you use the software, the more personalized the music becomes– better enabling you to focus, relax, or whatever you may need to achieve a more therapeutic state.
Technology embedded in customized chairs

While LUCID can be experienced in an enclosed space called a "pod", thanks to the partnership with furniture company Steelcase, it can now be accessed through customized chairs that have been fitted with the software.
The chairs are being placed at universities, research centres and hospitals across Canada and the U.S. So far, about 3,000 people have used the prototype, including ER nurses, who said the platform increased their ability to persevere during a stressful shift.
Massage for the mind

Labbé says the chairs could be available commercially by next year – but the goal is to pair the technology with smartphones and wearable devices. To explore the potential, LUCID is in talks with companies in industries ranging from automotive to pharmaceutical.
"For instance, what would it look like to do music therapy with someone having chemotherapy?" said Zach McMahon, LUCID co-founder and CEO.
LUCID would also differ from most meditation-related apps, McMahon said, since its AI technology takes the onus off the user.
"Many people don't want to meditate, they just want the outcome," he said. "We're trying to create an environment where it's like a massage, the expectation isn't on you… The AI will understand where you have mental knots and will work that out."

McMahon says LUCID can benefit not only the 10 per cent of people who will experience a significant mental health challenge, but anyone experiencing stress in their day-to-day lives. This could range from feeling anxious about an exam to feeling down over a personal loss.
Tattoo a reminder of the solace music brings

Labbé knows firsthand the powerful role music can play in mental wellness. In 2010, while studying audio engineering, mental health struggles sent the then 20-year-old to the emergency room. He had suffered a nervous breakdown, was diagnosed with bi-polar disorder and admitted to hospital.
As doctors began trying different drugs, Labbé struggled to clear his mind.
That's when he found another form of medication that didn't come in a capsule – music.
As he grappled with his situation, music was the one thing he knew he could always count on, he said, explaining that he got the tattoo to commemorate his release from hospital.
Glancing down at his arm, Labbé said, "I wanted a reminder of music and the solace it brings."
Now determined to bring that solace to others, he said, "This is for all the other people who are struggling out there… I want them to know they don't have to give up."
Follow Lucid on IG: @theluciduniverse, external link.