Vivek Shraya Named Curator For Mass Exodus 2019
March 06, 2019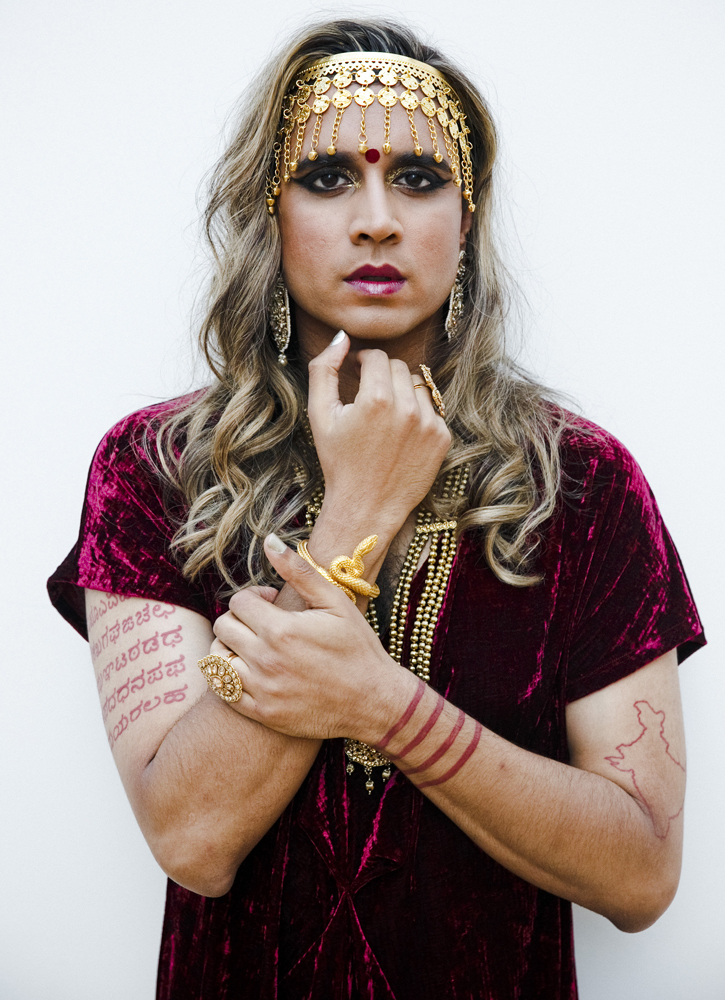 TORONTO, March 6, 2019 – On April 6th 2019, Ryerson University's School of Fashion will host their annual fashion event, Mass Exodus, external link, curated by trailblazing artist and academic, , external linkVivek Shraya, external link. Shraya will review this year's student collections to create a final evening show at Daniels Spectrum.
Vivek Shraya is an artist whose body of work crosses the boundaries of music, literature, visual art, and film. Her best-selling new book, I'm Afraid of Men, was heralded by Vanity Fair as "cultural rocket fuel," and her album with Queer Songbook Orchestra, Part-Time Woman, was included in CBC's list of Best Canadian Albums of 2017. She is currently a director on the board of the , external linkTegan and Sara Foundation, external link and an Assistant Professor of Creative Writing at the University of Calgary.
As curator for Mass Exodus, Shraya will review the final collections designed by fourth year Fashion Design students, shown throughout the day at Daniels Spectrum. She will select approximately 15 students to showcase their design work in the curated evening show.
"Equity, decolonization and sustainability are required for success and systemic transformation in the twenty-first century fashion industry. Our school aims to teach students to unleash their creativity and critical thinking to design clothing and fashion media that design a better world," said Ben Barry, Chair of the School of Fashion at Ryerson University.
"I'm excited to see what kinds of creative designs Ryerson fashion students are imagining alongside a time when identities like non-binary and cultural movements like fat liberation are gaining more visibility, and how Ryerson Fashion students are helping to push fashion forward," said Vivek Shraya. "When we are talking about fashion, we are talking about the body—allowing the body to feel warm, safe, comfortable and sexy. This connection is often lost, which comes at a cost to marginalized bodies in particular, where fashion can not only feel inaccessible to us but this inaccessibility can then perpetuate hatred for our bodies. This is why discussions around social justice and inclusion must be centered in the fashion industry."
Mass Exodus has been a celebrated fashion event for more than 30 years developed by and for the students of the School of Fashion at Ryerson University. Mass Exodus 2019 will be the thirty-first year of the show's production. Three separate runway shows to take place on Saturday, April 6th at 9:45 a.m., 12:00 p.m. and 2:15 p.m. will present collections of fourth year design students, the final invite-only curated show will take place that evening. The final capstone projects of Fashion Communications students will also be on display on Thursday, April 4th.
About Vivek Shraya
A Polaris Music Prize nominee and four-time Lambda Literary Award finalist, Vivek Shraya was a 2016 Pride Toronto Grand Marshal, was featured on The Globe and Mail's Best Dressed list, and has received honours from The Writers' Trust of Canada and The Publishing Triangle. For more information on Vivek Shraya, visit: , external linkhttps://vivekshraya.com/, external link
About Mass Exodus
Mass Exodus 2019: An Inevitable Shift will take the audience on a journey that will entice the senses through a captivating event of colour, light and art. The two components of Mass Exodus 2019, Installation and Runway, will focus on the progression and growth that occurs in the natural world. The student work of Fashion Communication capstones and Fashion Design collections will illustrate the shift from a cold reality to a bright future—where change is able to exist indefinitely. For more information on Mass Exodus, visit: , external linkhttps://massexodus.ca/, external link
- 30 -
MEDIA CONTACT:
Dasha Pasiy
Ryerson University | Public Affairs
dasha1.pasiy@ryerson.ca
416.979.5000 x 2126