You are now in the main content area
As of September 21, 2022, the current license will expire and access to LinkedIn Learning through TMU will end. There are currently no plans to renew the license at TMU.
All access to LinkedIn Learning course content, as well as user learning history will no longer be available through TMU accounts after this date.
Community members may wish to have continued access to their achievements and progress, and connect this information to their LinkedIn account. Below, you will find options for current TMU LinkedIn Learning users, as well as additional information based on the most frequently asked questions.
If you have any questions or require support with your TMU LinkedIn Learning account, Contact Digital Media Projects via email: dmp@torontomu.ca
By connecting your LinkedIn Learning Account to LinkedIn, your learning history will remain tied to you and can be transferred to a new LinkedIn Learning account. Your learning history will not be available for viewing until you have a new LinkedIn Learning account.
If you do not connect to a LinkedIn account, any future use of LinkedIn Learning will not have access to your previous learning history.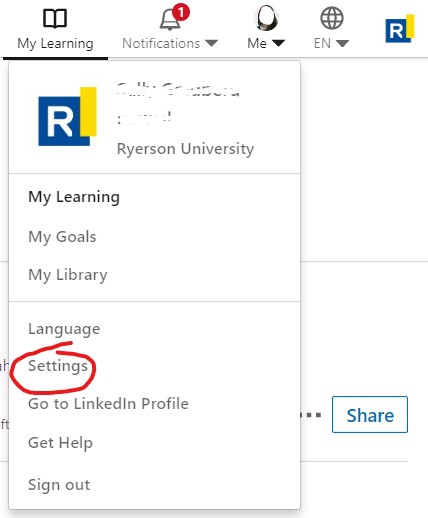 LinkedIn Learning tutorials may still be included in your course materials, as TMU students and employees are eligible for access to LinkedIn Learning through Toronto Public Library (external link) . It is recommended that you provide your students with advanced notice so that they can obtain a TPL card and set up their account.

The Library is available to assist faculty and instructors in evaluating and selecting alternative resources.
Among the resources available in the TMU library, O'Reilly For Higher Education may be of help to some faculty members. Though not a full replacement, the IT training videos on O'Reilly mirror some of the LinkedIn Learning content. Some of the features are shown here on the O'Reilly website (external link) .
Another suitable alternative may be available through eCampusOntario's Open Library (external link) . Many of the open educational resources available in this library contain multimedia content and interactive learning activities. The majority of these offerings can be downloaded and adapted to suit your needs. The Open Library is one of many open education options. Learn more about open educational resources (OER).
For assistance or more information on the library's resources, please contact your subject liaison librarian.
If you would like support with planning and integrating the use of digital resources in your teaching practice, you can book a virtual consultation through the Centre for Excellence in Learning and Teaching.