Student news outlets during COVID-19
Online formats have allowed student media to thrive despite adversity
April 17, 2020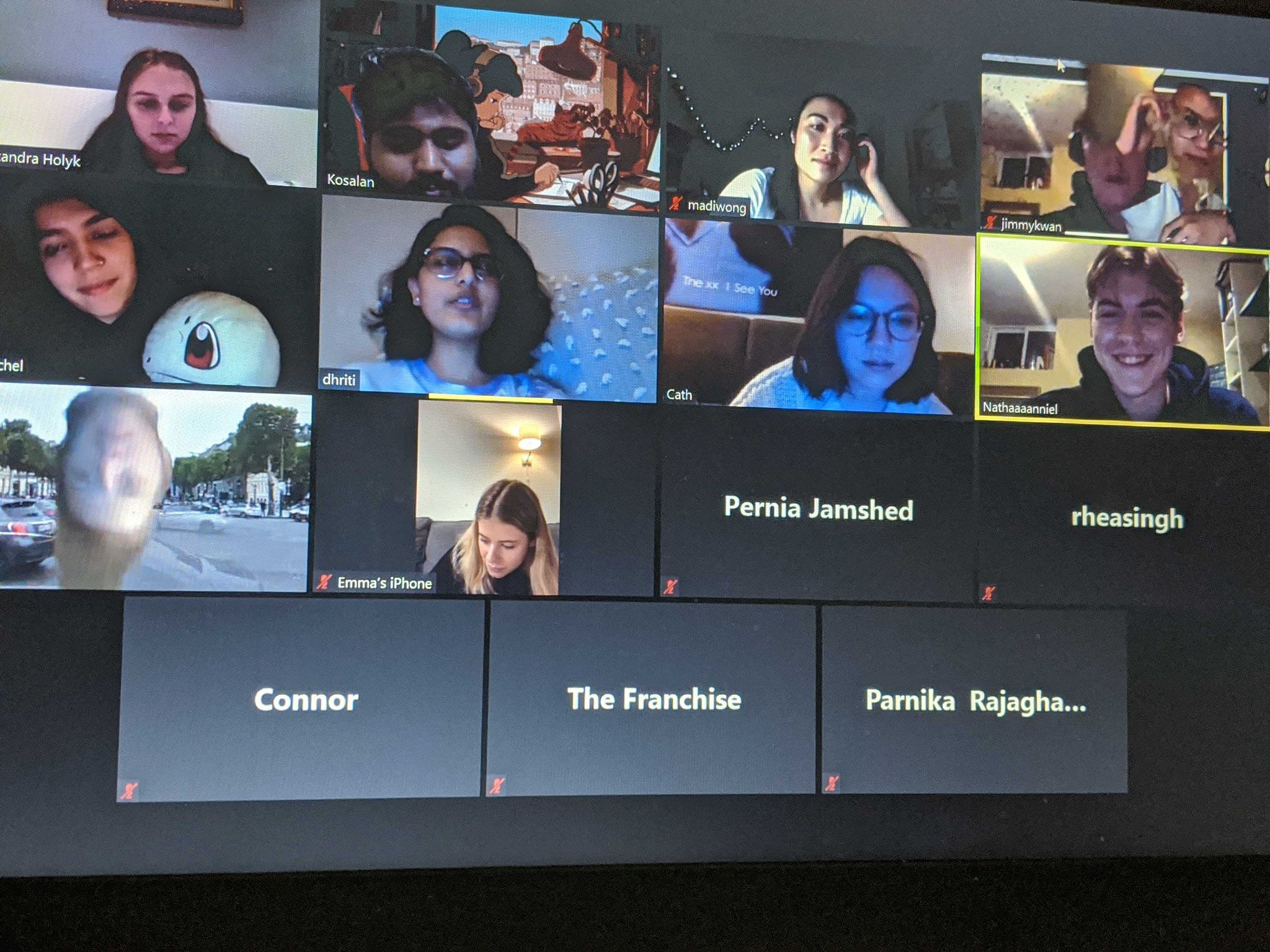 As the RSJ school year comes to a bittersweet close during the COVID-19 pandemic, its students and others across Canada have kept churning out news content despite the situation. Pandemic or not, the news still goes on, as does student reporting, with interviews and team collaboration shifting to virtual formats.
Ryerson student news outlets
In response to the university shutdown, the RSJ's Ryersonian cancelled its final scheduled print edition and broadcast (last September, the Ryersonian switched its print edition and broadcast segment to a monthly run), as well as the remainder of its podcast. Instead, the 16-person masthead shifted its focus to COVID-19 coverage, creating a microsite with content such as university updates, effects on local businesses, new initiatives and tips on managing the crisis.
"It got a little bit more creative as we went," said Isabelle Kirkwood, managing editor. "And the other good thing is that we had a bunch of post-grad students who were volunteering to write a lot of articles for us."
They kept up communications through Slack and continued morning editorial meetings over Google Meet, provided through Ryerson's G Suite.
The Eyeopener, Ryerson's independent student newspaper, published its "Hang in There, external link" farewell edition as entertainment for students and a way to "rid (the masthead) of some collective anxiety," according to Sarah Krichel, editor-in-chief.
Before that, they published two other online-only issues, "Sports & Culture, external link" and "The Hustle, external link." The team had already been working for months on revamping their online format for The Hustle issue, making them prepared to create the new format for the sports issue.
The Eye's fun and satire content played a role in their reaction to COVID-19.
"Satire is super important to global crises and any sort of crisis because it's important to turn to artistic outlets such as humour to get through times like this," wrote Krichel in an email. "Especially (for) young people, in our culture of internet memes and Twitter humour."
As for other print outlets, the Unaffiliated Press and New Wave Magazine have postponed their print issues to the fall, while Ryerson Folio published its issue, external link online-only. Ryerson's community radio station, CJRU 1280 AM, continues to operate remotely.
The Ryerson Review of Journalism's podcast finale, external link, released April 17, is providing a sneak peek of what's to come in the 2020 print issue. More details on a virtual launch will be posted later on their social media channels, according to Sukaina Jamil, conference editor.
Other universities
Student news media outlets elsewhere in Canada have also had to adjust.
The Fulcrum, external link, the University of Ottawa's English independent student news website, had its 10-person masthead continue to produce online content until April 1, as scheduled. Last September the Fulcrum switched to an online-only format, which Matt Gergyek said has been the "silver lining" to having to push back some longer visual and investigative pieces.
Now, the website is run by Gergyek, editor-in-chief, and Safa Saud, online editor, and they will spend this month interviewing candidates for the next masthead.
"We haven't been able to have any of those in-person interviews, which I personally feel is really important to do when you're hiring someone for a job because it's kind of hard to get the feel of a person's personality, the comfort levels, over the phone or over a video call," said Gergyek.
The Ubyssey, external link, an independent student newspaper at the University of British Columbia in Vancouver, ran its weekly print issue as scheduled until April 7, but instead of doing the usual 5,000 to 6,000 copies, they printed just 50 copies and published as usual on Issuu, external link. One week they opted to focus on their scheduled sci-fi supplement instead of publishing a full issue.
Editor-in-chief Alex Nguyen said that they have had to rethink their video and visual content, but otherwise business is as normal, with a switchover to monthly issues in the summer while they transition mastheads.
"I think things are just going to move a little slower," said Nguyen. "I think with COVID-19 we might keep doing the monthly print issue but only publish things online on Issuu, (instead of) printing the actual physical copies."
Over at the University of King's College School of Journalism in Halifax, their main news website, The Signal, external link, slowed down its content (printing stopped a few years ago). Because the senior news workshop that usually handles current affairs concluded in February, coverage was already less consistent.
Professor Terra Tailleur said that the second-year intermediate reporting course, which picks up reporting when the senior workshop concludes, has been the most disrupted as students figure out their living situations.
"In some cases, we've had to park stories when we know we couldn't get back to it just because at the time the first draft was filed, the story may have been accurate," said Tailleur. "All the information may have been up to date, but it could be 24 hours later, or 48 hours later — suddenly we have new information. And if we can't get to it, then we can't publish anything that is out of date."
"If I had a news workshop right now, we would be going gangbusters, we would be calling into every update from the province, we would have a whole bunch of useful content, infographics, how to wash your hands, that type of thing."
The importance of student reporting during tough times
COVID-19 is affecting university students in many ways, including living situations, changing school policies, employment and mental health.
"Students have an extremely vulnerable experience in a pandemic, given their subjects to their still-standing academic assignments, their teachers' empathy or lack thereof and other extremely meaningless and stressful circumstances," said Krichel. "Sometimes there's even bigger stressors like being uprooted out of their homes, having precarious or dangerous personal circumstances during this time, on top of being a student and having extreme depression, anxiety or other illness."
Gergyek said that the Fulcrum has found some issues in getting in direct contact with their university's administration, highlighting the importance of student reporting.
"I think a lot of students have started to notice…. how big of a role student journalism can play in keeping them informed but also holding their administration in check, following along these issues that are popping up from COVID-19 or that are being exacerbated by COVID-19," said Gergyek.
Tailleur has been impressed by the resilience and commitment of her students.
"I've had students say that they'll spend their evening or they'll spend their weekend working on a piece just to fine-tune it or make any edits because they really want their stories to see the light of day… It's a challenging time for everyone and they continually blow me away with what they are going through and how they're doing it with grace," she said.
Supporting each other
Mental health and community support have also been an important focus for these outlets.
"It was exhausting communicating through nothing but Slack, but we all kept high spirits thanks to how much we all care so much about what we do," said Krichel. "(And) if it weren't for our volunteers' dedication to The Eye even while they themselves deal with this situation, we wouldn't have covered so much of the student experience of COVID-19 as we have."
At The Ubyssey, students continue to socialize virtually.
"A few people have been like organizing games night and whatnot, over Zoom or Discord," said Nguyen. " I think it's always good to have an established community where you can just be like, 'Hey, does anyone want to play some games?'"
The Ryersonian, which has wrapped up for the year, had a Slack channel titled, "Mental Health Break," and many writers voiced their own experiences through opinion pieces.
"Most of everyone that isn't a post-grad student is in their final year, and I think it's a pretty sour way to remember your final year at university, having to stay home," said Kirkwood. "But we've gotten some really great stories about writers being honest about their experiences and (they're) talking about the situation as journalists."