You are now in the main content area
People
Our program was created in recognition of the complementary strengths of the two universities. By working together, we can position the program at the forefront of theoretical and applied interdisciplinary scholarship and professional practice. Talented, creative and motivated people are at the heart of this program.
Program Administration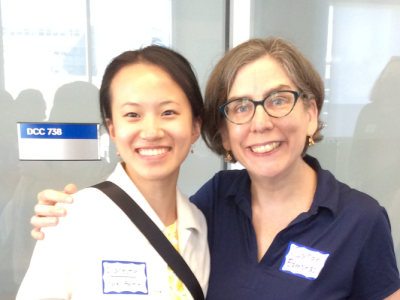 Graduate Students
Faculty
Developing productive relationships with your research supervisor and supervisory committee is one of the most important and rewarding aspects of being a graduate student. What follows is the current list of faculty, from both universities, who are formally affiliated with the ComCult program.

Professors Emeriti
The following is a list of professors emeriti, the founding faculty of the graduate program in Communication and Culture. The title of Professor Emeritus is a mark of distinguished service to the university, awarded to only a few on retirement. Normally, professors emeriti do not take on new graduate students for supervision, but may be available to serve on committees, or provide informal mentorship to students and faculty.
| | | | | |
| --- | --- | --- | --- | --- |
| Professors Emeritus | Stream | School | Department | Research Interests |
| Janzen Kooistra, Lorraine | Media & Culture | Ryerson | English | Archives and collections, Cultural studies, Digital humanities, Gender studies, Visual culture |
| Drache, Daniel | Politics & Policy | York | Political Science | the political economy of integration and social exclusion; borders and identity; North American integration; global cultural commons and microactivism; public goods theory and the theory of the public good; the thought and influence of Harold Innis, Jürgen Habermas and Hannah Arendt |
| Trott, Elizabeth (Betty) | Media & Culture | Ryerson | Philosophy | Canadian philosophy; philosophy of education; philosophy of art and design; multiculturalism; metaphysics; culture |
| Schryer, Catherine | Media & Culture | Ryerson | Professional Communication | advanced literacies in the professions, genre theory, healthcare communication, qualitative data analysis, discourse analysis. |
| Podnieks, Elizabeth | Media & Culture | Ryerson | English | Modernism; motherhood studies; life writing; women's literatures; popular culture |
| Mooers, Colin | Politics & Policy | Ryerson | Politics and Public Administration | the political economy of capitalism, political theory, social movements, theories of citizenship, and the public sphere. |
| Elder, R. Bruce | Technology in Practice | Ryerson | School of Image Arts | Cinema, Documentary, Embodiment, Media history, Philosophy of technology. Modern Literature and Culture Research Centre. |
| Barndt, Deborah | Media & Culture, Technology in Practice | York | Environmental Studies | popular education and social movements; media analysis; photographic methods for participatory research/education/action; cultural production; community development; women, globalization, and food |
| Blum, Alan F | Media & Culture | York | Sociology | medical humanities; culture of the city; sociology of knowledge; theorizing everyday life; the imaginary, symbolic and real registers of social life and phenomena |
| Feldman, Seth | Technology in Practice | York | Cinema & Media Arts | Canadian cinema, history and theory; documentary cinema and media; television studies; rhetoric of radio |
| Forsyth, James Scott | Media & Culture | York | Politics | film and media politics; film history; Marxist cultural and aesthetic theory; film in the third world; cultural politics and Canadian communists; Hollywood and imperialism |
| Fletcher, Frederick | Politics & Policy | York | Politics | political communication; social advocacy; communication and public policy; communication policy |
| Gillies, Donald J. | Media & Culture, Politics & Policy | Ryerson | Image Arts | The Toronto School of Communication; Marshall McLuhan; history of media and communications; history of telecommunications; the communications industry; communications policy; international communications and development; media ecology; media ecology in Gaelic culture |
| Mason, Jean | Media & Culture, Technology in Practice | Ryerson | Professional Communication | writing; narrative; illness narrative; pathography; culture of illness; autoethnography; health communication; science communication; hypertext; digital media; organizational communication |
| Rowland, Wade | Politics & Policy, Technology in Practice | York | Communication Studies | communication; ethics; critical realism; technology |
| Tenhaaf, Petronella (Nell) | Technology in Practice | York | Visual Art & Art History | critiques of genetic engineering and biotechnology; artificial life; Max/MSP programming |
| Schifellite, Carmen | Politics & Policy | Ryerson | Sociology | science and technology studies; popular culture; sociology of knowledge; graduate methodologies |
| Zemans, Joyce | Politics & Policy | York | Visual Art & Art History | nineteenth and twentieth century Canadian art with a special focus on the art of women; cultural policy (Canadian and comparative); arts administration |
Alumni
Alumni Profiles