You are now in the main content area
Google Keep Help Centre
Popular Questions
Google Keep is a note-taking and task-list app that integrates Google Drive. It is categorized as a productivity and organization app, offering a diverse set of tools for creating a variety of notes. With Google Keep, you can:
Create, edit, share and collaborate with others on text notes, checklists, drawings, photos and audio voice memos in real-time.
Always keep your notes with you as everything you create on the app syncs across all of your devices, including phones, tablets and computers.
Organize your notes with labels and colour coding.
You can add an existing Google Keep note to a Google Doc file type by clicking the Tools menu > Keep Notepad. The note inserts into the Google Doc in the same format you created it in, e.g. text, checklist, drawing, etc.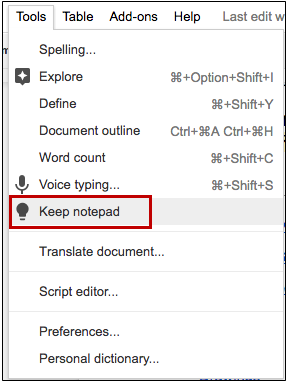 Another way to do this is from within Google Keep. Select the More menu and click Copy to Google Doc.