You are now in the main content area
Teaching and Research Facilities
Overview
Teaching and research in the Department of and Environmental Studies are supported by outstanding computing facilities.
Our GIS labs provide students with an environment, which is conducive to mastering the skills of professional practice. There are two computer labs for the exclusive use of Geography undergraduate students: A teaching lab, and an open lab for completing assignments outside of class time. A third lab with identical computer setup is available for additional classes and drop-in hours scheduled by the Faculty of Arts. Graduate Geography students also have a computer lab devoted to their course work and research projects.
The Department works closely with the Geospatial Map & Data Centre, opens in new window (GMDC) in the Toronto Metropolitan University Library. The GMDC provides access to geospatial data, statistical data, GIS software, and associated training workshops. They house an additional computer lab with GIS and remote sensing software for the use by Geography students, provide individual research advice, and - of course - also maintain a collection of paper maps!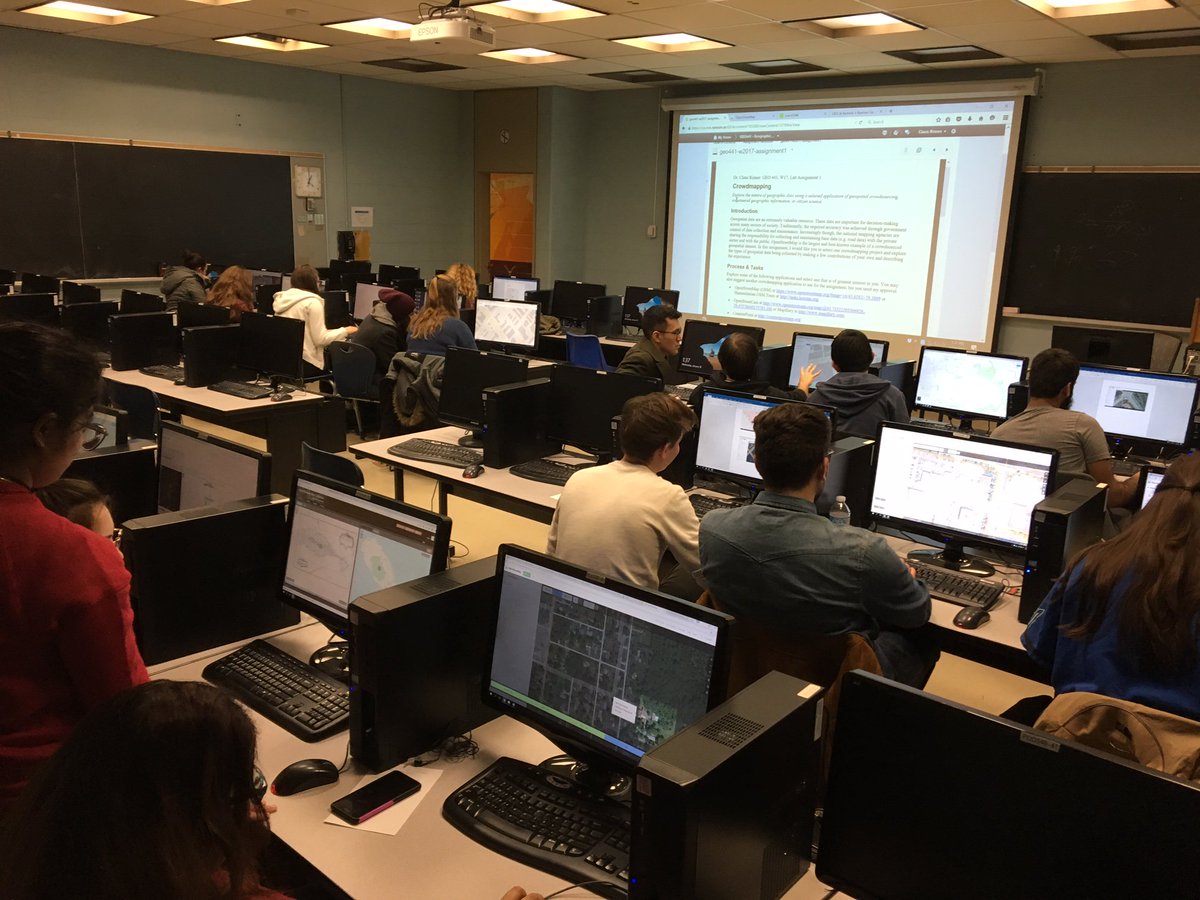 Hardware
GIS Teaching Lab
42 workstations with Intel i5 Quad core processors, 16GB RAM, 512GB SSD hard drives, 2GB dedicated video card, and 24" high resolution LCD monitor.
A colour laser printer is located in the lab for student printing.
GIS Open Lab
34 workstations with Intel i5 Quad core processors, 16GB RAM, 2TB hard drive, DVD burner, 1GB video card, and 22" high resolution LCD monitor.
A colour laser printer is located in the lab for student printing.
Graduate Spatial Analysis Lab
12 workstations with Intel(r) Core(tm) i7-2600 3.40GHz processors with 16GB RAM, 2TB hard drive, DVD burner, 1024MB video card and 24" high resolution LCD monitor.
A black and white and a colour laser printer are located in the lab for student printing.
Servers
The department runs a multitude of servers with many terabytes of disk space. All servers are connected by a very high speed data network to all of the geography workstations. Each workstation is connected to the servers with a dedicated 1Gbps Ethernet cable. The infrastructure is a very fast, high capacity network capable of handling the large datasets and complex software demands of the curriculum.
Digitizing, GPS, Drones, and 3D Printing
There are four tabletop digitizing stations accessible to students in the open lab. These units are Calcomp Drawing Board III using the ArcView Digitizer extension. The Department also has 12 Garmin GPSMap 76 units available to students when undertaking field work for courses.
Individual faculty members have access to advanced equipment such as drones and 3D printers. These are used in research projects, which involve undergraduate and graduate students. Students also have access to several other 3D printing facilities across campus.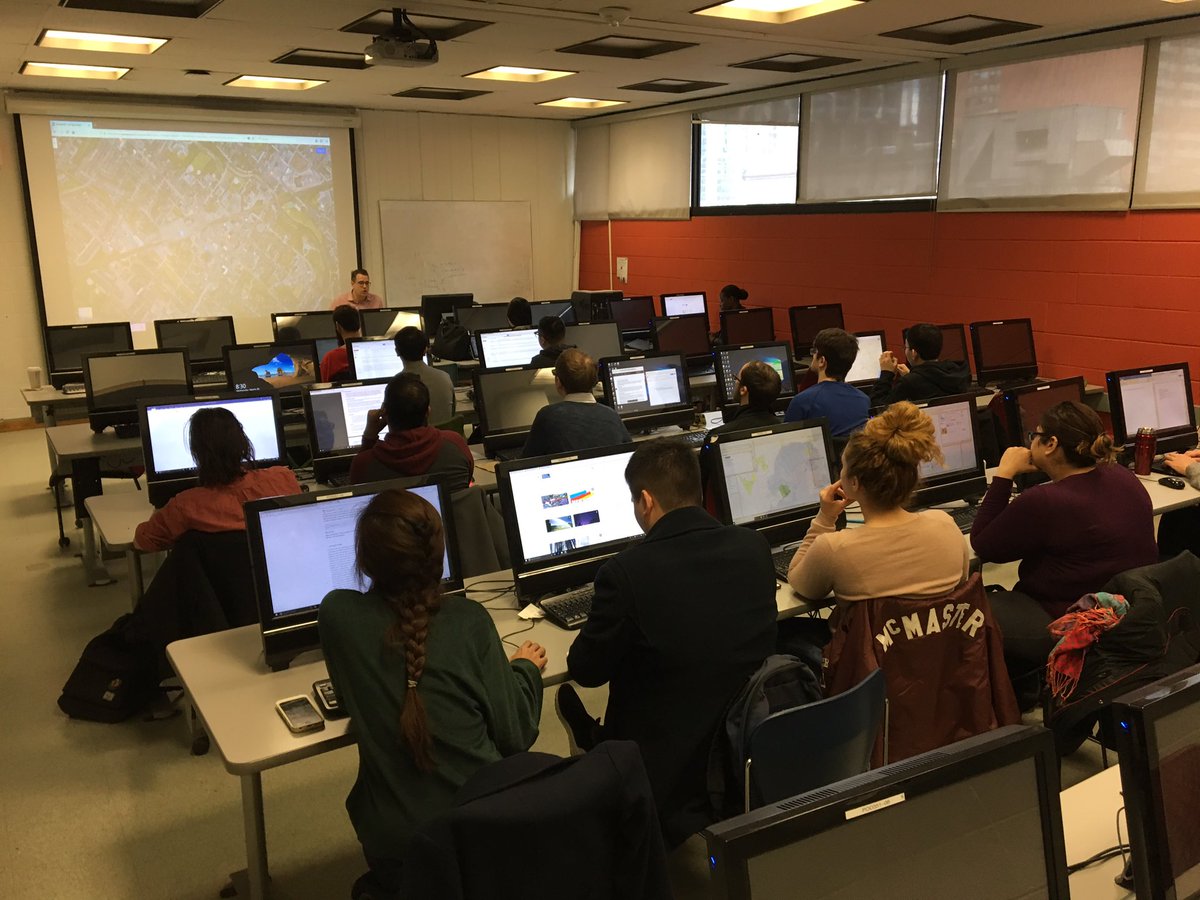 Software
Geographic Information Systems and Remote Sensing
The Department has site licenses for major GIS software. The labs are equipped with the full Esri suite of spatial data management and analysis software. Other Esri products include ArcGIS Server, Engine, and Explorer. We also have a site license for MapInfo Professional and are using the open-source QGIS package.
ERDAS Imagine and PCI Geomatica are used for remote sending. The lab runs only the most recent releases of these products.
Statistics
The use of statistics is a given in any Geography program and ours is no exception. Graduates are expected to know the basics of statistical analysis and the most successful graduates in the job market are those who have mastered some of the more advanced multivariate tools. We run SPSS for Windows in the lab. Other software is available for special projects including SAS, MatLab, S-PLUS, GeoDA, Tableau, Alteryx, and R.
Database and Spreadsheet
Through the university site license for Microsoft Office, our database of choice is MS Access. However, for large-scale projects we use Microsoft SQL server.
MS Excel is used for spreadsheets, primarily because Microsoft Office is the industry standard that our graduates can expect to use when they enter the workplace.
User Accounts and Virtual Lab
In addition to their Toronto Metropolitan University student accounts, Geography students receive their own local account and 1 GB of hard drive space on our servers.
In addition, through the Azure virtual lab, our students have access to the computer labs from the convenience of their homes.