Leadership, perseverance and teamwork drive TMU's Formula Racing team to success
Student design team places first in Ontario and fifth in Canada in first-ever electric vehicle competition
August 02, 2022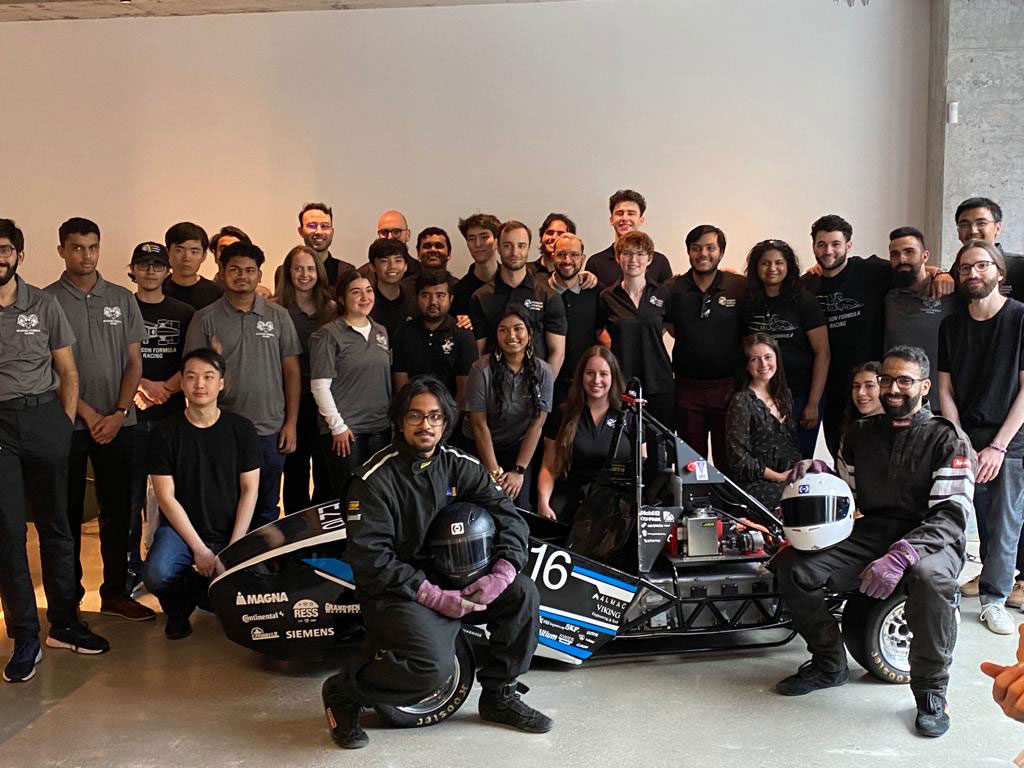 To help drive environmental change and prepare team members for the booming Electric Vehicle (EV) industry, the Toronto Metropolitan Formula Racing (external link) (TMFR) team spent the past two years researching and building their first-ever electric vehicle. This spring, the team unveiled the design of their E216 car and focussed on perfecting it.
While the car was eligible for the June Formula SAE Michigan Electric Vehicle (EV) Series competition, due to time constraints caused by COVID-19, the team could not finish manufacturing it in time to race. Despite this setback, the team and car performed well in the competition's static events, placing first in the Business Presentation Event, 12th in the cost event and 27th in the overall design event. These achievements ranked them 15th out of 55 teams, first in Ontario and fifth in Canada.

In addition, TMU's Engineering Student Society (external link, opens in new window) awarded the team the Sheldon Levy Student Group of the Year Award for the second year in a row. This award is given to a student group that is engaging, shows initiative on campus by hosting events and has outstanding performance. The team also received the 2021 Alan Shepard EDI Award, partly due to their multi-phase onboarding program that enhances engineering students' skills, a Mentor Program created during the COVID-19 pandemic and the creation of a positive and enriching environment.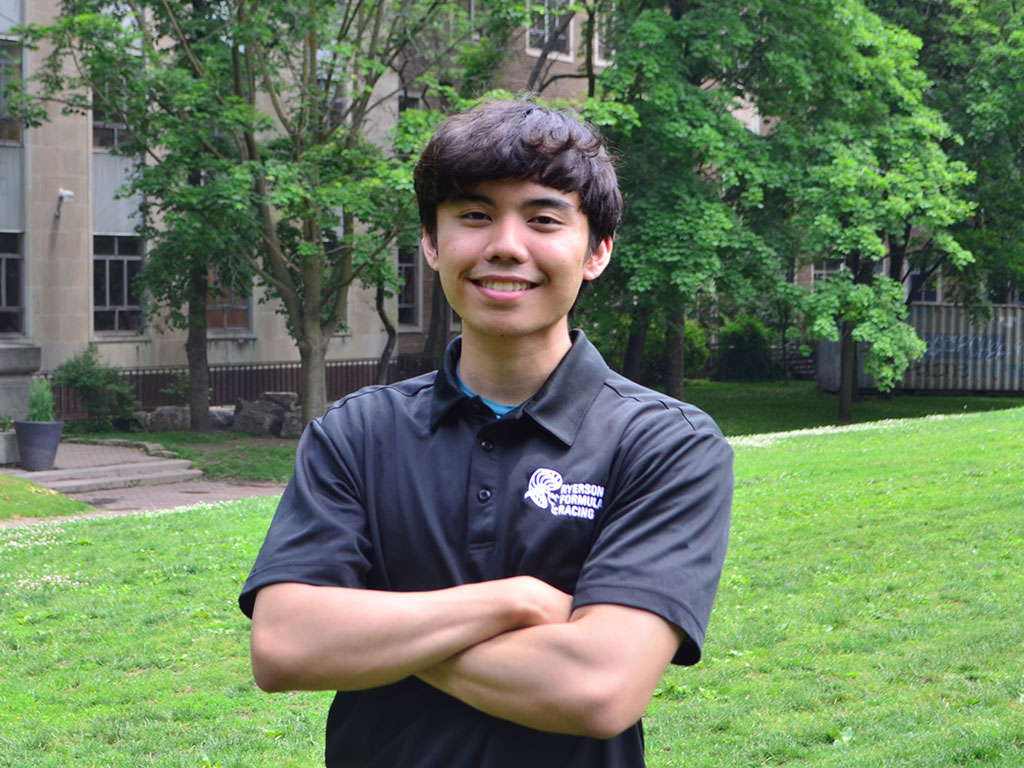 These attributes, plus a willingness to develop students from all backgrounds, inspired Dion Matias, an electrical engineering undergrad, to join the team and stay long-term. For Matias, the group provides endless opportunities to learn technical and soft skills, including 3D software training. "I like to think of my activities at TMFR as the best labs I could possibly have," said Matias.
For example, he applied what he learned about Operational Amplifiers in his Microelectronics course to a low voltage circuit team project and developed a printed circuit board (PCB). He also had the opportunity to improve his professional communication skills by contacting potential team sponsors and building strong relationships.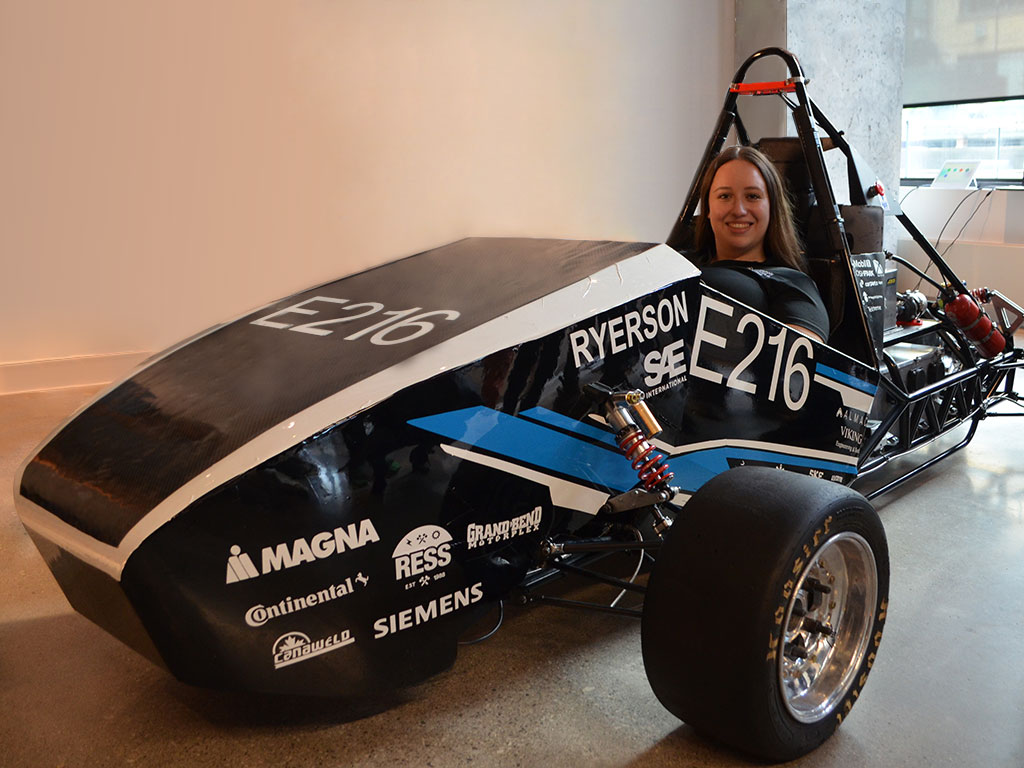 Although they had no previous mechanical experience, alumna Erica Attard (BEng Mechanical '22) and Claudia Bialkowski, a third-year biomedical student, were compelled to join the team in their first year because it emphasized teamwork and provided mentors for new members. "I have built so many technical and soft skills that I never thought I would have the opportunity to learn," said Attard, who acted as the first female Team Captain, Engineering and Chassis Lead for the last two of her five years on the team.
The team provided opportunities for Attard to attain advanced skills in 3D modelling, computer simulation, problem-solving, critical thinking, the engineering design process, manufacturing, coding and more. On the soft skills side, she improved her networking, public relations and public speaking skills. "These are skills I used to secure my three research positions throughout my undergrad," said Attard. "My team experience changed the direction of my career and opened valuable opportunities."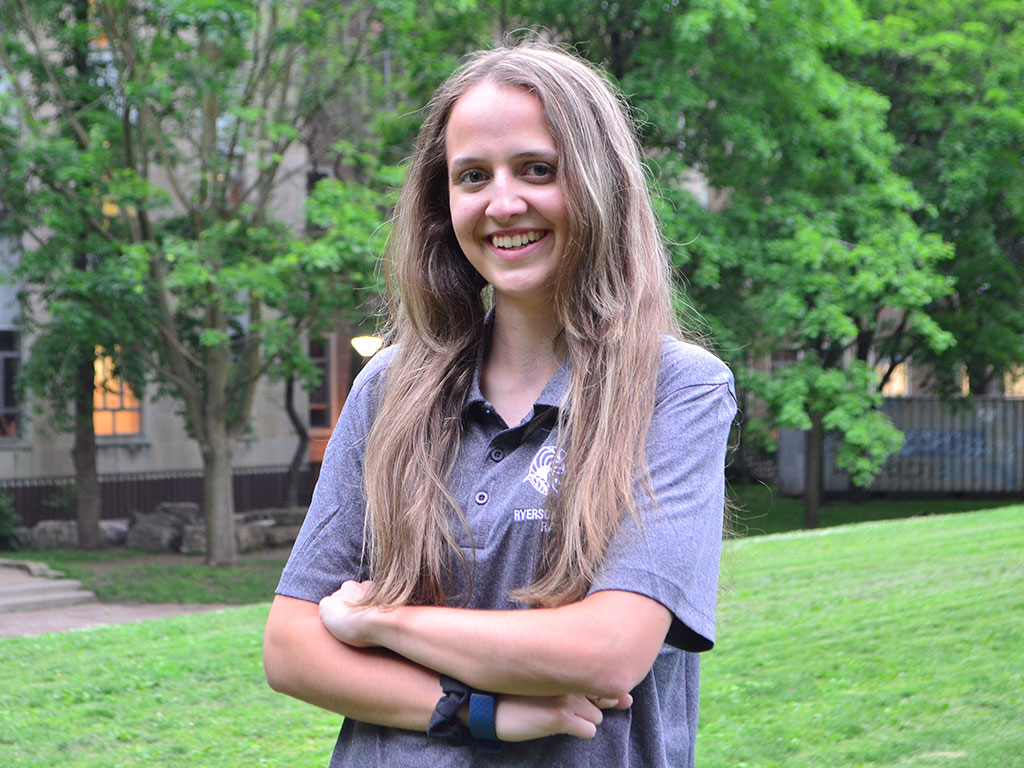 Bialkowski joined the team to gain hands-on experience with electrical components and build confidence in her manufacturing and design abilities. "The hardware design and assembly experience I obtained through TMFR gives me a huge advantage when applying for internships." The team also expanded her leadership skills by providing opportunities to manage other team members.
In-person course labs taught Bialkowski how to use valuable equipment for testing circuits, which came in handy when she was tasked with developing a circuit to test the vehicle's fuses. "The theories I learned in my electric courses helped me better understand the car's components," she said. The chance to apply in-class theories to real-life applications creates a complete learning experience for the students.

"Our team has recognized how important it is to have a clear understanding of the goals and well-defined requirements to meet them," said Attard. "As an engineer, your goals and requirements set the stage for the entire project, so they are critical to its success."