You are now in the main content area
Dr.
Nagi
Mekhiel
Professor
BSc, MASc, PhD, PEng
Areas of Academic Interest
Spotlight
Nagi Mekhiel pushes the boundaries on what is, today, considered possible. While his research focuses on three frontiers – computer architecture, parallel processing and advanced memory systems – the sky is the limit when it comes to innovation and implementation. Take, for example, his work in virtual time computing, which, to many, might sound like science fiction. While most applications utilize multiple locations in conventional memory to perform tasks simultaneously, Mekhiel takes processing one step further, using orbital data to overcome the limitations of access latency and bandwidth. "Parallel time means things happen at the same time in parallel," says Mekhiel. "I am exploring what is beyond the current technology."
And yet, Mekhiel's work is grounded in practicality. His many patents are a testament to the applicability of his innovations, whether it's through image matching for the diagnosis of disease or forecasting weather and stock market patterns. And while blue sky research may be what drives him, Mekhiel credits much of his forward-thinking to years spent in industry. "That gave me the background of how to solve real-world problems, to understand what works and what doesn't work," he says. "So, if I have a problem, I can think of different ways to deal with it."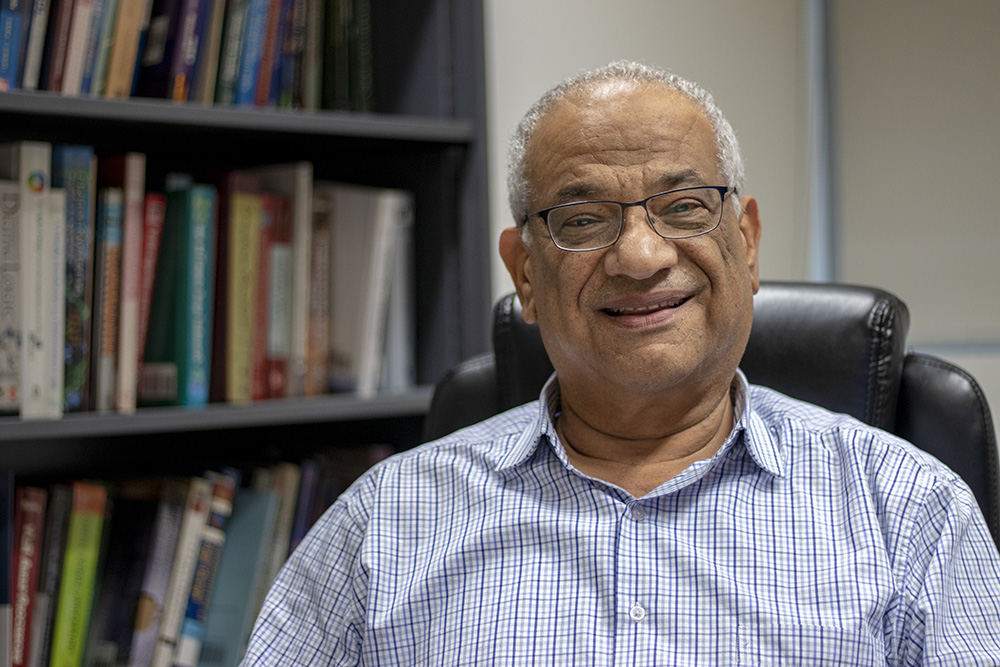 "Engineering is about creativity. I focus on novel ideas and invention."
Nagi Mekhiel, Simple Implementation of Quantum Bits in Silicon by Decoupling them in Space and Time, IXPUG 2019 Sept 24-27 Geneva
Nagi Mekhiel, "Using Orbital Network for Scalable Multi-Core", International Journal of Computer Applications - IJCA

(external link)

Vol. 25, No. 2, June 2018
Nagi Mekhiel, "Hardware Accelerator for Serial Code Using Successive Forwarding for Multi-Core Processor", Intel Collaboration Hub ISC17, June 19-21 2017, Frankfurt, Germany
Mekhiel, "Bandwidth Amplification Method Using Interleaving of Latched Data and Multi Phase Clocking," licensed to Empire Technology Development Llc ,US Patent# 2016/0308666 A1 Oct 2016
Inventor for Conversant Intellectual Property Management,

(external link)

Canada
Inventor of two patents for Empire Technology Development Llc, USA
Senior Member, IEEE
Member, Intel HARP