Changing a Toronto By-Law for Biodiversity
Prof. Nina-Marie Lister's Ecological Design Lab was successful in getting a by-law changed to protect natural biodiversity in the city. Here's how they did it.
June 01, 2022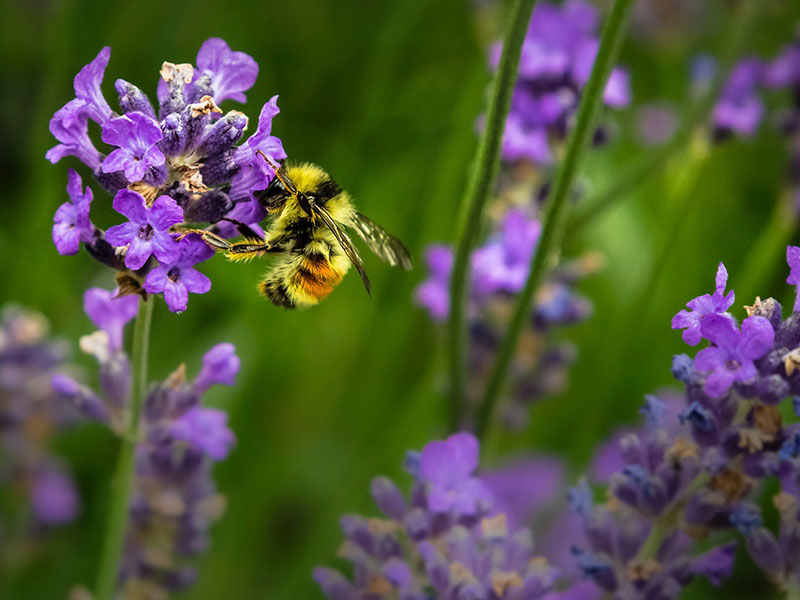 The protection of natural resources, native plants and biodiversity is not limited to naturalized areas – cities play a big part in ecological preservation.
Prof. Nina-Marie Lister, Professor and Graduate Director at the School of Regional Planning, leads the Ecological Design Lab (external link) , which looks at ecological health from a planning and design perspective. She advocates for policy to protect and enhance biodiversity in urban spaces and celebrates the efforts like the Pollinator Protection Strategy to facilitate ecological wellbeing.
In 2021, Prof. Lister had first-hand experience of the City's Long Grass and Weeds Bylaw regarding her own property after she let her garden re-wild and received a notice of by-law infraction (external link) . Lister's take on the by-law was that it stood counterproductive to the municipal policy and biodiversity goals of the City. Armed with her knowledge of ecology and mission to improve urban biodiversity, she fought the by-law, lobbying for a more ecologically resilient amendment to allow natural gardens as-of-right.

With the help of students in the Ecological Design Lab, the by-law was revised to protect the constitutional right to cultivate a natural garden and provide habitat, connecting landscapes to actualize the biodiversity goals identified by the City of Toronto.
Current student and Research Assistant in the Ecological Design Lab, Aylise Cooke, tells the story here of how that by-law was changed for the better.
Q: Prof. Lister was granted an exception to the Toronto Long Grass and Weeds By-law but she chose to fight it instead. Why?
There were a number of reasons for Prof. Lister's approach. First, Toronto adopted its first Biodiversity Strategy to prioritize protecting and restoring nature in the city in 2019. It is simply counterproductive to this strategy to penalize residents for cultivating naturalized landscapes on private yards.
Second, the status quo puts the onus on gardeners to defend their choice to cultivate anything besides a turfgrass lawn, and to gain permission to uphold practices that support biodiversity and the natural landscape through an exemption to the by-law. But by-law officers do not have the formal training to identify plant species and therefore address the complaints of neighbours in an environmentally informed fashion. Clearly the exemption process is not an effective means of ensuring both property maintenance and public and ecological health.
Finally, the by-law discourages gardeners from asserting their ecological and cultural beliefs. Prof. Lister chose to fight for natural gardens as a rule rather than an exemption in Toronto, so that gardeners would be free to express their beliefs. With the support of environmental lawyer David Donnelly, she challenged the City, identifying the by-law and natural garden exemption as illegal and unconstitutional.
It should be noted that other residents and environmental activists like Sandy Bell, Douglas Counter, Deborah Dale have also defended their natural gardens and challenged the Long Grass and Weeds By-law, and their efforts should also be celebrated!
Q: What were the steps the Ecological Design Lab took in seeking to change this by-law? Who was involved, and what was the process like?
The first step was a policy review in 2021, performed by graduate student Carly Murphy with the supervision of Prof. Lister. Murphy examined City of Toronto Municipal Code Chapter 489, Grass and Weeds, and compared it to five other North American municipalities' property standards and similar by-laws.
Following this research, Murphy put together ecologically informed policy recommendations on how the City of Toronto (and other municipalities) might amend their weed and grass by-laws, and created a proposed model by-law (external link) intended to support environmental stewardship.

To support the policy analysis, we also made an argument regarding the support of ecological, social and cultural benefits of natural gardens and how they can support the Ravine Strategy, Resilience Strategy and the Pollinator Protection Strategy, promoting resilient ecosystems. (PDF file) In making our case to the City (external link) , we argued that allowing natural gardens would support diverse pollinator communities, and allow residents to create both ecologically significant and sustainable habitats on their property to actualize the biodiversity goals of the City.
With environmental lawyer David Donnelly, Prof. Lister shared the model by-law and policy recommendations with Toronto City Council, which was persuaded to approve an amendment of the by-law to allow natural gardens.
Q: Is the Ecological Design Lab taking aim at any other by-laws at present, or working on any similar projects to enact change at the municipal level to protect the urban environment?
The Ecological Design Lab offers an environment for students to explore the intersections of planning, policy, ecology and design. Through studio courses, major research papers and Prof. Lister's own research, the lab is a collaborative opportunity for students to examine the infrastructure and policy of cities as it relates to landscape connectivity, biodiversity and resiliency.
For example, students in a recent studio course project, URBAN BIODIVERSITY: Cultivating Support through Municipal Codes (external link) , performed a policy review to produce a report on best practices for biodiversity and a toolkit that guides local governments on how they can transform their municipal codes and by-laws to cultivate urban biodiversity, rather than prevent it. And in his recent MRP, Biodiversity Finance for Cities (external link) , MPl candidate Jean-François Obregón Murillo examined the process of parkland dedication in municipalities and provided recommendations on potential improvements in acquiring parkland and engaged stakeholders across sectors.