You are now in the main content area
Using XM Fax (Formally XMedius Fax)

XM Fax is a network fax server solution which enables users to send, receive and manage faxes using their own PC, instead of a fax machine or a fax modem. XM Fax can be accessed using XM Fax client or the XM Fax web interface.
Using the XM Fax client or the XM Fax web interface you can attach documents with the file type HTML, PDF, DOC, DOCX, XLS, XLSX, WPD, RTF, TXT or images with the file type GIF, JPG, BMP, TIFF to your fax. To use the SendFax client, you need to download and install a driver available from the CCS website at Software for Phones and Fax.
Requirements:
Hardware: Any x86 or 64-bit desktop
OS: Windows 11/10/8/8.1
Supported browsers: Microsoft Edge, Mozilla Firefox, Google Chrome

Before you use XM Fax, please ensure that you have an XM Fax username and password. For assistance with XM Fax please call the CCS Help Desk.
Using the SendFax Client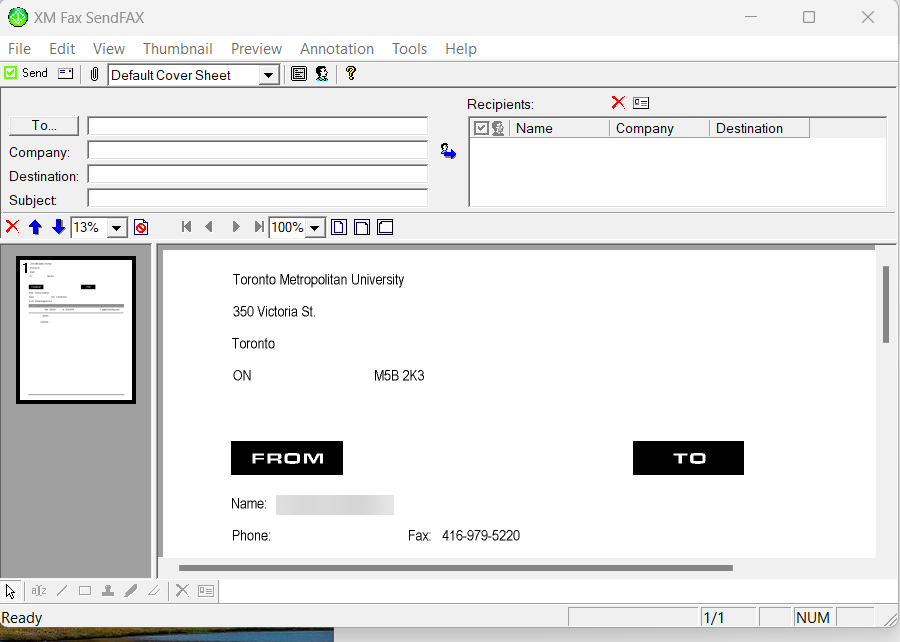 The SendFax Screen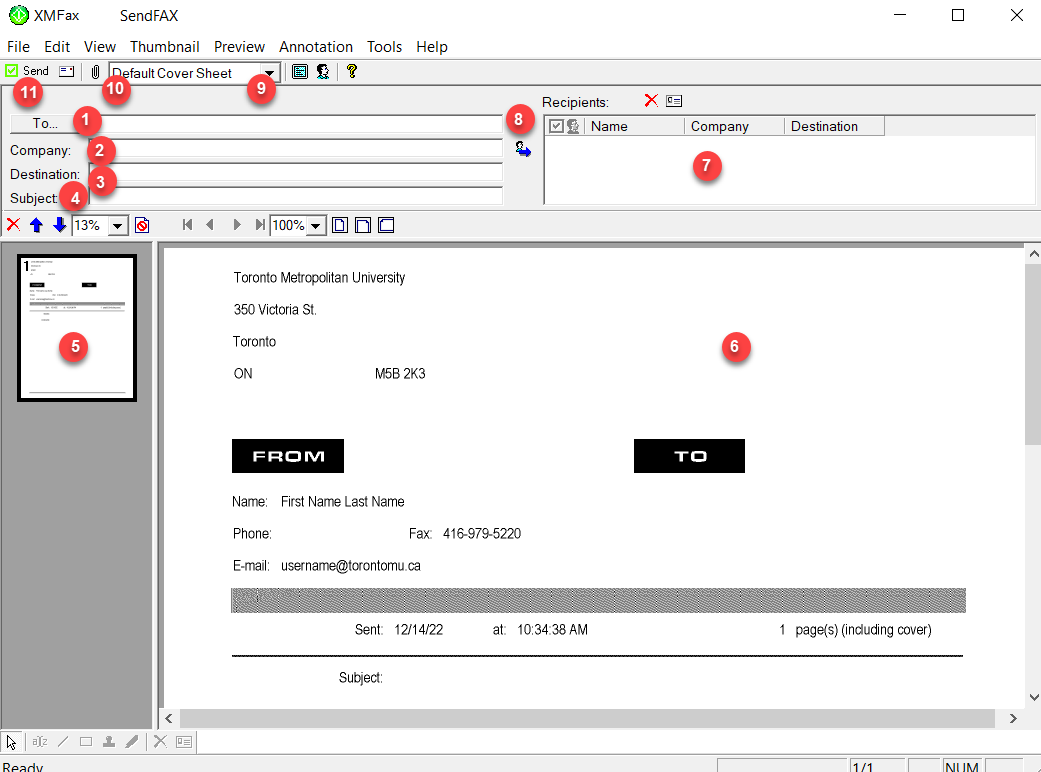 Different Options on the XM Fax SendFax Screen are Described
No:
Name
Description
To
This field receives the name of the fax recipient. Manually enter a recipient's name, or click the To... button and select from your personal Fax phone book.
Company
Recipient's company name.
Destination
Fax number of the recipient. This is the only mandatory field.
Note: All fax numbers external to TMU must begin with a "9," (the number nine followed by a comma).
Subject
Subject heading of fax.
Thumbnail View
Displays a small image of each page of the fax. Selecting a page in the Thumbnail view displays the page in the Fax Preview portion of the screen. Use Thumbnail View to reorder or delete pages from the fax you are composing.
Fax Preview
Displays a single page of the fax at a time. It is here that you add annotations to a fax before transmission. Annotations can include text; highlight; bitmap images; and shapes like lines, squares, circles, etc.
Fax Recipient List
Displays individuals and groups who are to receive the transmission, either selected from a phone book or typed directly into the To field (item 1).
Add to Fax Recipients
Used to add a fax recipient to the Fax Recipient List when entered manually. When adding to the recipient list, the Destination field is the only required field.
Cover Sheet
Select a different cover sheet by clicking on this drop down menu.
Insert File
Button used to insert a document or image file you would like to fax.
Send
Used to send the fax to the Recipient List, when at least one recipient has been added
SendFax from an Application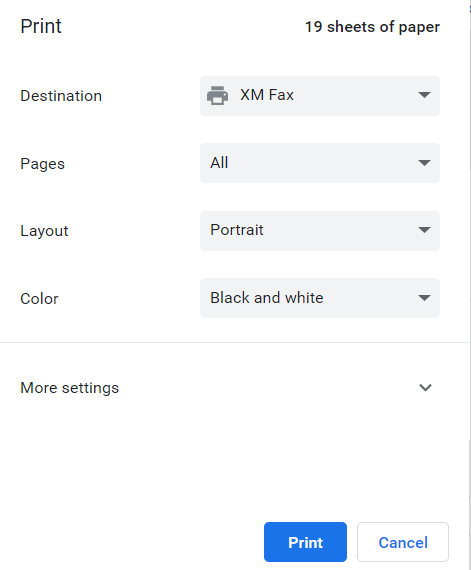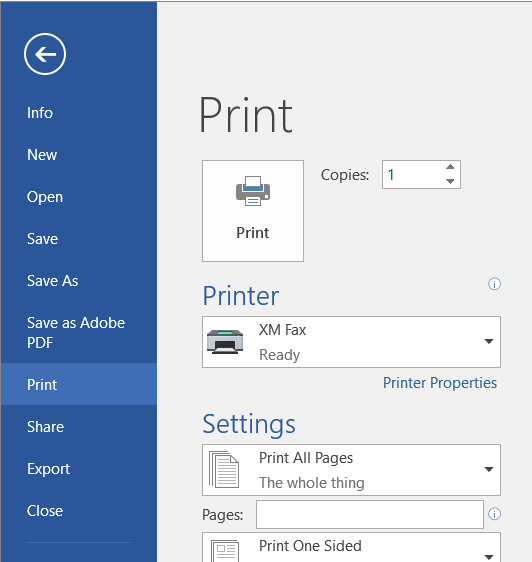 Using the XM Fax Web Interface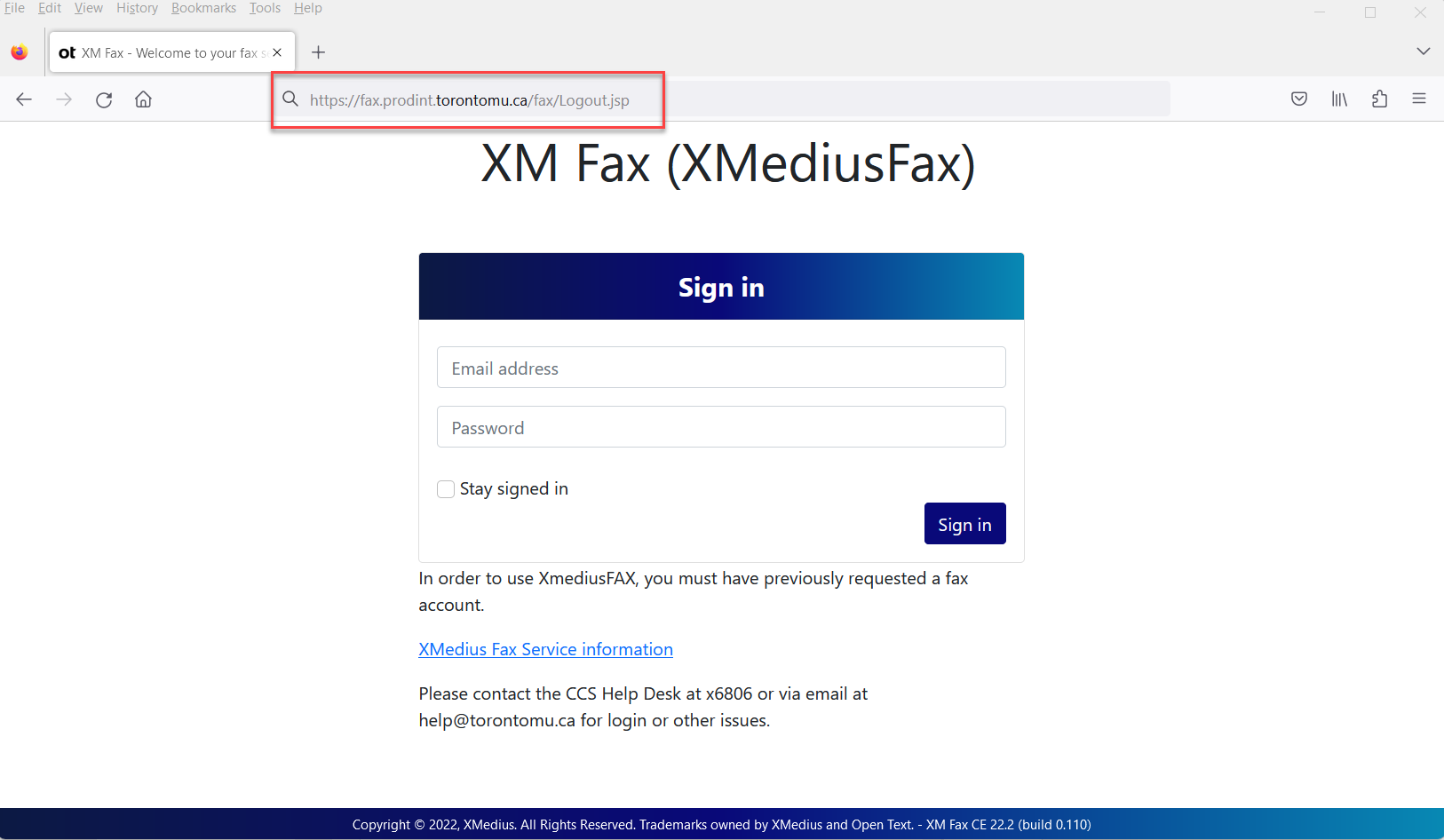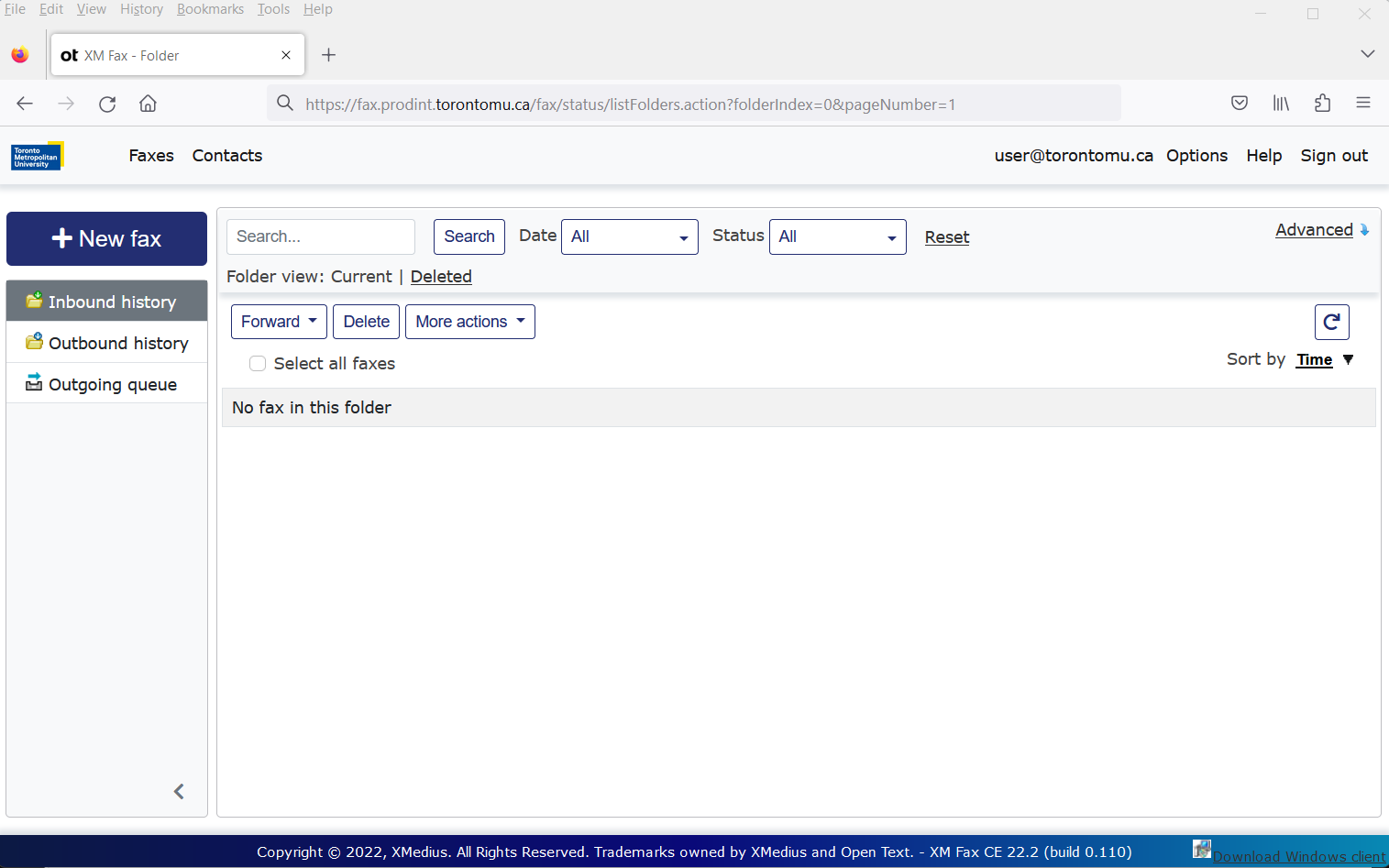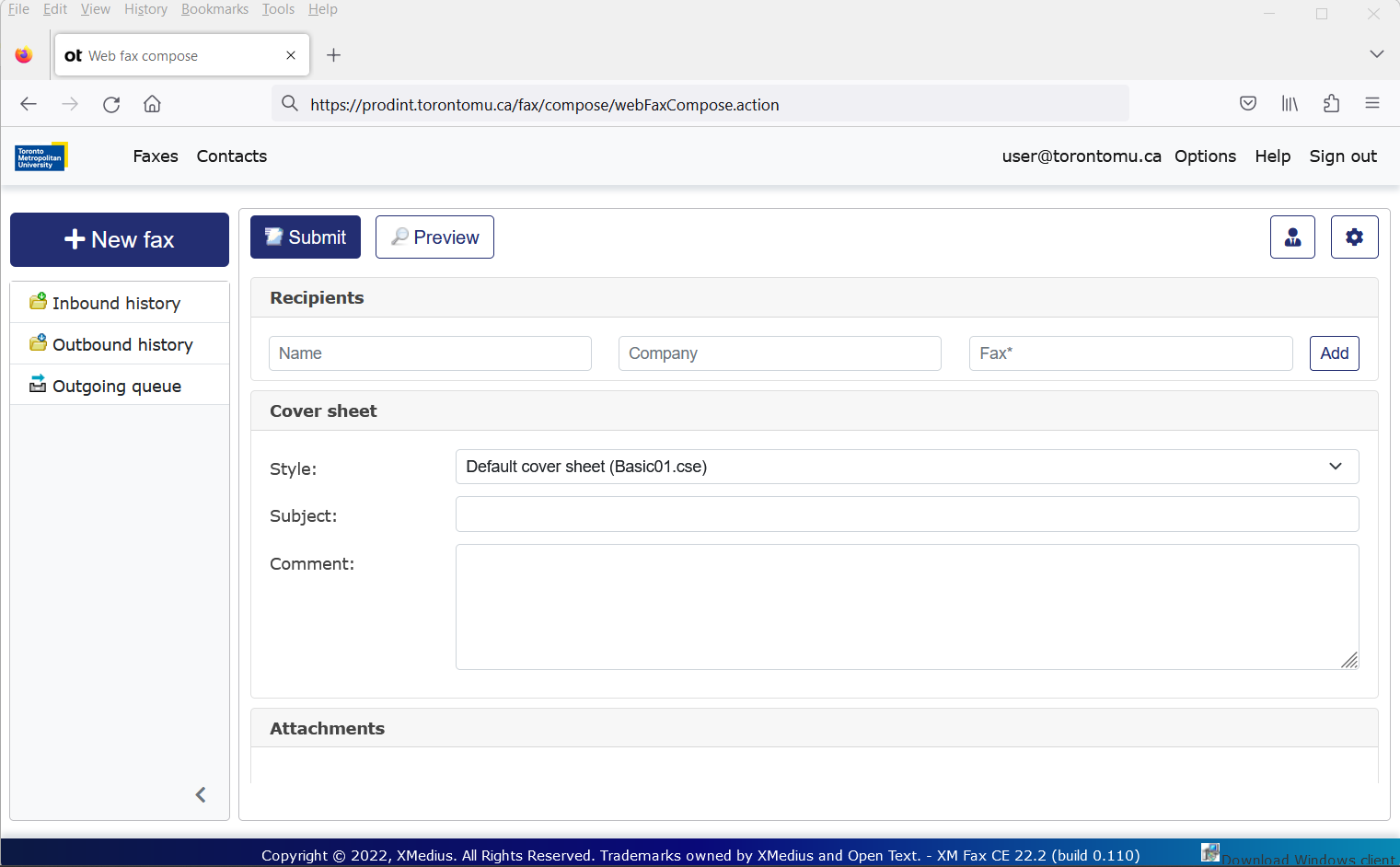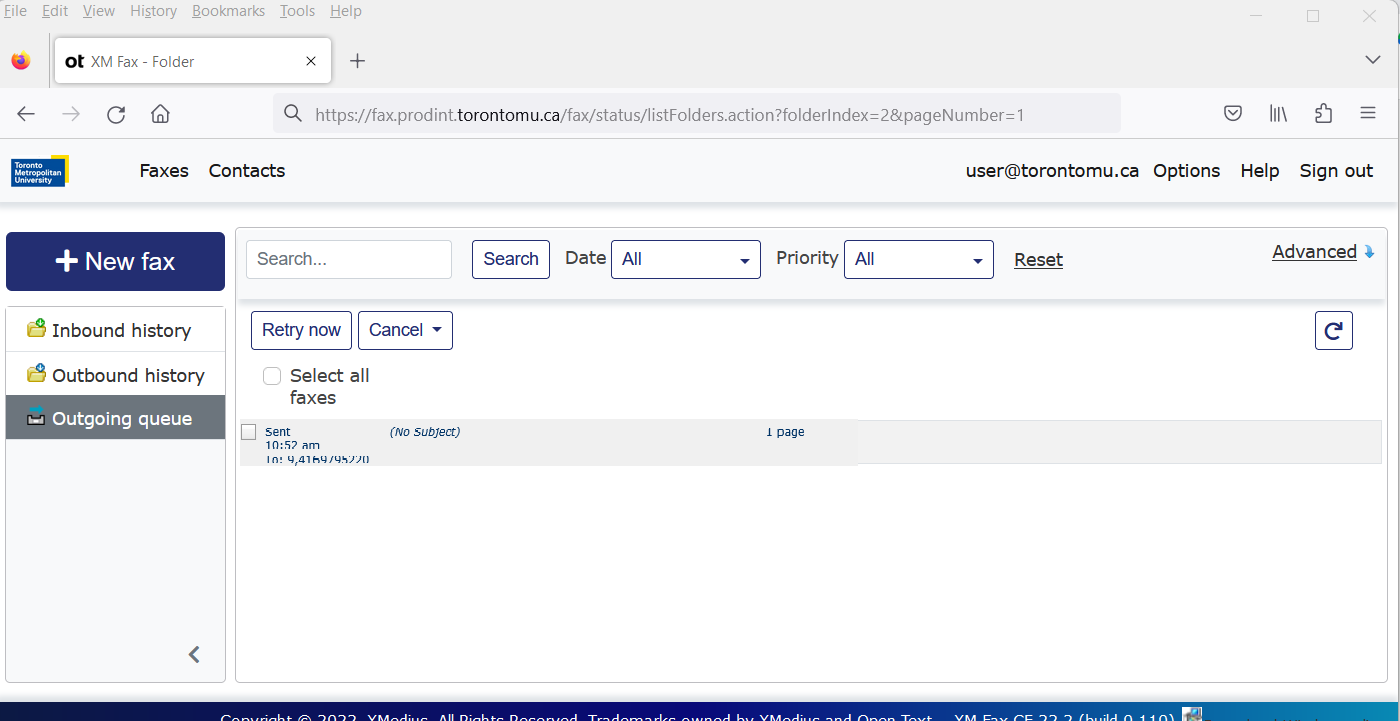 Please see below for more options: