You are now in the main content area
Dr.
Cheung
Poon
Professor
Associate Chair, Undergraduate Studies
BSc, MASc, PhD, PEng
Areas of Academic Interest
Composite Materials and Fiber Metal Laminates
Structural Repair of Impact and Fire Damage

Jointing Methods Involving Mechanical Fastening, Adhesive Bonding and Laser Welding

Experimental Characterization of Structural and Material Performance

Spotlight
If you ask Cheung Poon to describe composite materials, he'll recall the children's story of the Three Little Pigs who foiled the gusty breath of the Big Bad Wolf. Would the third little pig, who nailed down the correct ratio of straw and bricks, be considered a real engineer? "Oh yes, definitely!" laughs Poon.
Instead of straw and bricks, Poon uses materials like carbon fibres and epoxy matrix. And his Big Bad Wolf? The high pressure environment of space.
Poon is familiar with pressure. Before coming to Toronto Metropolitan University, he worked on the Canadarm at the National Research Council where it was his job to outsmart and outmaneuver any potential shock loads. "I really felt the responsibility," he says. "The Canadarm could not fail."
Poon credits his own education for his ability to perform under stress, especially his professors who pushed him to master the fundamentals. At Toronto Metropolitan University, Poon strives to do the very same for the students in his own lab. "Education is my number one thing," he says. "I love to teach."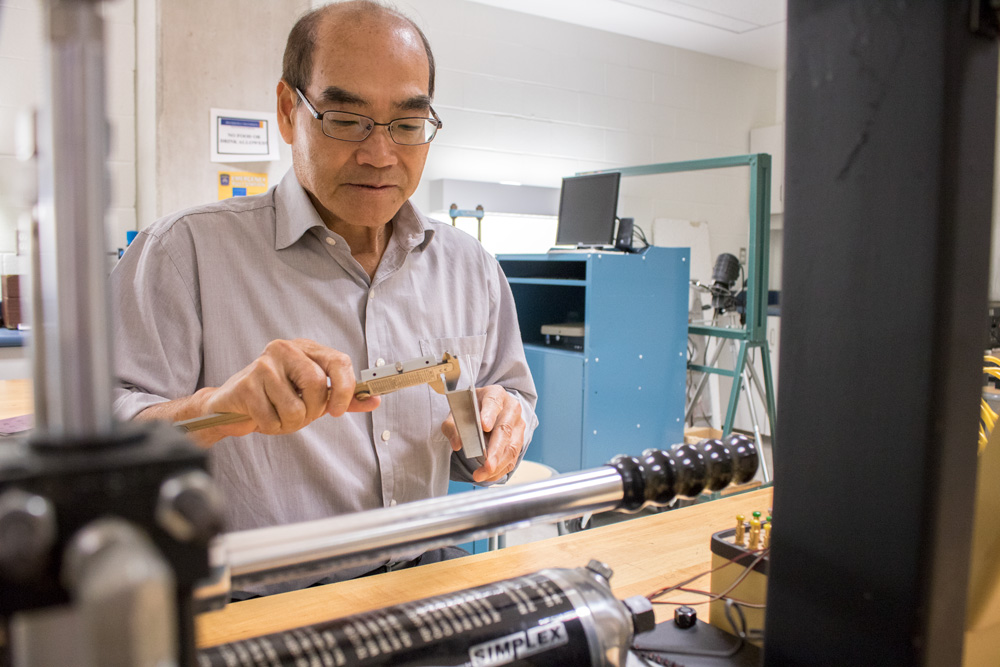 "Everyone should have the freedom to think and design."
Montesano, J., Selezneva, M., Poon, C., Fawaz, Z. and Behdinan, K., "Application of fiber optic sensors for elevated temperature testing of polymer matrix composite material", Science & Engineering of Composite Materials, 18: 109-116, 2011.
Montesano, J., Fawaz, Z., Behdinan, K., and Poon, C., "A microscopic investigation of failure mechanisms in a triaxially braided polyimide composite at room and elevated temperatures", Materials and Design, 53:1026-1036, 2014.
Canada-Japan-Vietnam Workshop on Composites, Advisory Committee Member
American Society for Testing and Materials, ASTM International Committee D-30, Member
Canadian Association for Composite Structures and Materials, Member