You are now in the main content area
Awards & Scholarships
The students at the Ted Rogers School of Management at Toronto Metropolitan University continue to inspire staff and faculty with their drive to create, innovate and succeed. To recognize student excellence, Ted Rogers School of Management and Toronto Metropolitan University offers many awards and scholarships to undergraduate and graduate students. Students are eligible at several levels: faculty-wide, program-specific and university-wide awards. The Dean's List recognizes our undergraduate students' exceptional academic achievement for the Fall and Winter semesters within an academic year.
Each year, awards and scholarships are presented to students who excel in academics, leadership, volunteer and community engagement.
Application process through AwardSpring will open in August 2022. Please take the time to update your profile so that you have access to all relevant and open current student awards across Toronto Metropolitan University.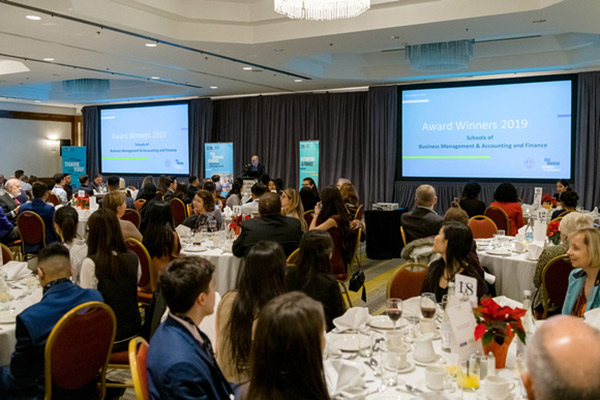 Awards are subject to change at any time. The year on which the awards are based is the 2021-2022 academic year. The awards listed below are available to all full-time students in the Ted Rogers School of Business Management at Toronto Metropolitan University. Each award listed below has criteria which can be reviewed by clicking on the award name. Please note that not all awards are offered every year.
Award recipients will receive details through their TMU email account if chosen in late October, early November.
AwardSpring
AwardSpring enables you to view and apply for all awards available at Toronto Metropolitan University in one convenient spot!
Using your university email, simply log into the system at torontomu.awardspring.ca and create a single application to be considered for all awards for which you are eligible.
Business Management Program Awards (for confirmation of award values please visit AwardSpring)
Students admitted to the Ted Rogers School of Business Management for Fall 2022 through the Direct Entry/Degree Program for College graduates are not eligible to apply for awards until they are in their final year of the program.
All awards are subject to change without notice.