TMU announces Canada Excellence Research Chair (CERC) in Health Equity and Community Wellbeing
Faculty of Community Services gains international leading scholar with $8-million award
November 16, 2023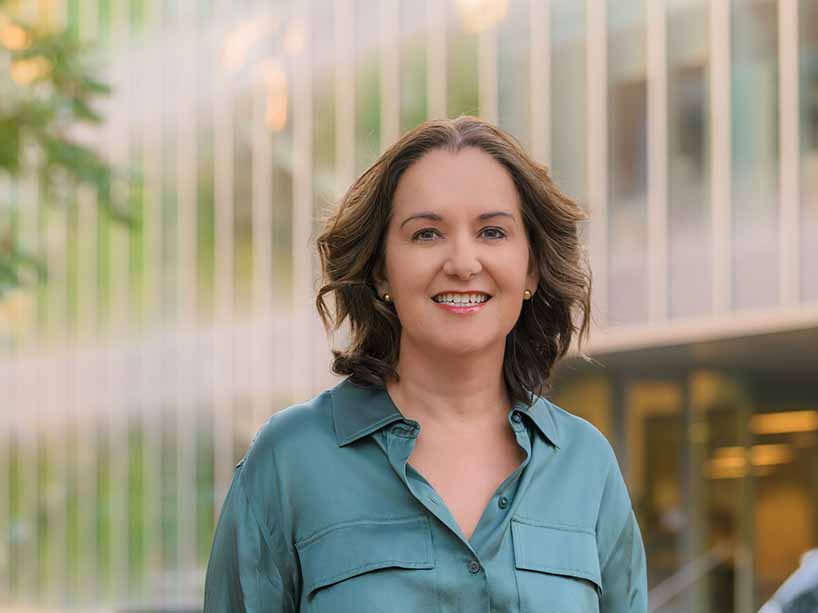 Toronto Metropolitan University (TMU) has successfully nominated Professor Karen Soldatic for appointment as the Canada Excellence Research Chair (CERC) in Health Equity and Community Wellbeing, an $8-million, eight-year program.
Professor Soldatic is a leading international scholar of disability, marginality and global inequality. She is currently based in Australia at Western Sydney University in the School of Social Sciences and the Institute for Culture and Society. She will join the Faculty of Community Services (FCS) in January 2024 to lead this internationally recognized research program. Professor Soldatic's affiliation will be with the School of Disability Studies.
"I'm thrilled to welcome professor Soldatic to TMU," said Steven N. Liss, TMU's vice-president, research and innovation. "With her leadership, this important research program will further our understanding of health equity and health systems across Canada and the world. Pressing equity issues such as access to care are of critical interest across TMU's expanding and deepening research focus in health and well-being."
Professor Soldatic pursued this research chair at TMU because of the unique opportunity to expand social understandings of health and well-being through a disability lens. "TMU has a vibrant, rigorous and thoughtful disability studies program that is producing important ways of thinking about the relationship between disability, health and well-being," she said. "The dynamism of TMU and its location provides an exciting base for advancing broad-based research impact, not only in Canada but also internationally."
"Professor Soldatic's work has pushed the boundaries of how we think about health, health care and healthy communities," said Kiaras Gharabaghi, dean of FCS. "More importantly, given her deep engagement with critical disability studies, her research program will resist and challenge dominant narratives about health and community well-being in ways that are transformative and innovative."
Dean Gharabaghi anticipates the potential for rich and fruitful interdisciplinary collaborations across the university. "At a time when FCS and TMU are moving to redefine health-focused post-secondary education and its impact on communities, colleagues from across FCS and TMU will find endless opportunities to connect to this CERC," he said.
Research program to unpack disparities in health and well-being
This CERC research program aims for a paradigm shift – one that challenges a siloed, expert-driven approach to health and well-being and moves, instead, towards a community-engaged, preventative model. The research program aims to not only reduce health disparities that are inextricable from their social contexts but to embed community knowledge into health-care institutions and systems.
"The CERC in Health Equity and Community Wellbeing provides a rare opportunity to work in partnership with local communities, civil society and health-care providers on core equity issues," professor Soldatic said. "Together, we'll generate a rigorous and comprehensive knowledge base to inform local, national and global policy."
This research chair is TMU's second CERC award (external link, opens in new window) . The CERC program is known worldwide for being one of the most prestigious of its kind. This $8-million, eight-year program is funded by the Tri-agency Institutional Programs Secretariat on behalf of the Social Sciences and Humanities Research Council (SSHRC), the Natural Sciences and Engineering Research Council of Canada (NSERC) and the Canadian Institutes of Health Research (CIHR).
During the 2022 competition, TMU commenced an internal search to determine the topic allocations, followed by a search for candidates by the respective faculties. As a result, FCS nominee Karen Soldatic and her proposed research program were submitted to the CERC competition for consideration. The competition involved a single-phase, two-tier application process in which the research program and nominee were presented together.
The TMU community thanks the members of the selection and executive committees for their contributions to this successful search.
FCS Selection Committee
Jennifer Martin, Chair
Associate Dean, Scholarly, Research and Creative Activity, Faculty of Community Services
Mehrunnisa A. Ali
Professor, School of Early Childhood Studies
Annette Bailey
Associate Dean, Graduate Studies and Internationalization, Faculty of Community Services
Cristina Catallo
Graduate Program Director and Associate Professor, Daphne Cockwell School of Nursing
Esther Ignagni
Director and Associate Professor, School of Disability Studies
Richard Meldrum
Associate Professor, School of Occupational and Public Health
Susan Preston
Associate Professor, School of Social Work
Jordan Tustin
Associate Professor, School of Occupational and Public Health
Kathryn Underwood
Professor, School of Early Childhood Studies
Josephine Wong
Professor, Daphne Cockwell School of Nursing
Executive Committee for CERC Planning
Steven N. Liss, Chair
Vice-President, Research and Innovation
Naomi Adelson
Associate Vice-President, Research and Innovation
Johannes Dyring
Assistant Vice-President, Business Development and Strategic Initiatives
Cynthia Holmes
Dean, Ted Rogers School of Management
Roberta Iannacito-Provenzano
Provost and Vice-President, Academic
Alexandra Mazalek
CRC in Digital Media and Innovation and Professor, RTA School of Media
Anver Saloojee
Professor Emeritus, Department of Politics and Public Administration
Cory Searcy
Vice-Provost and Dean, Yeates School of Graduate Studies
Pam Sugiman
Dean, Faculty of Arts
Anna Triandafyllidou
CERC in Migration and Integration and Professor, Faculty of Arts
Learn more: