This school year, tap the TMU Libraries for research support and more
Walk through the research process with someone, or access your favourite publications online
September 15, 2023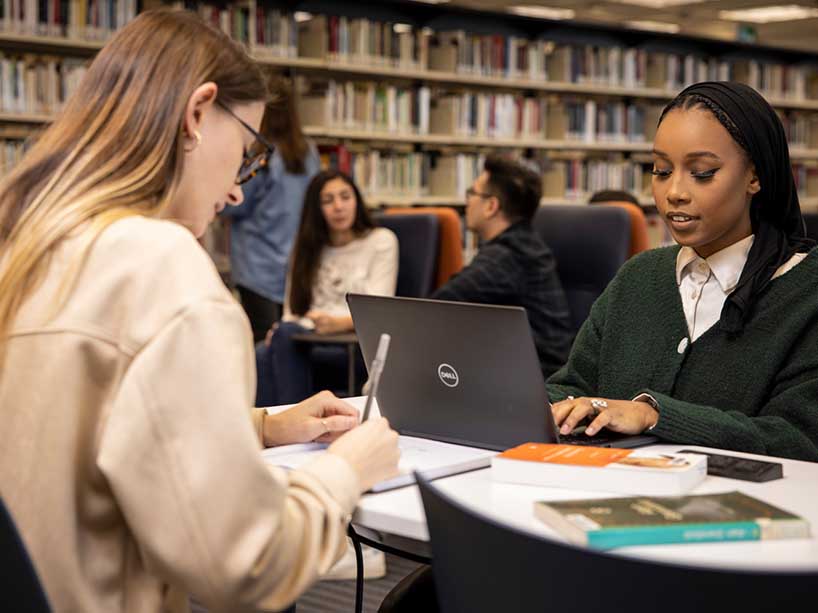 Now that the new academic year is underway and assignments are right around the corner, Toronto Metropolitan University (TMU) Libraries wants the community to know their doors are open to support you throughout the school year.
"The Library has such deep expertise. Sometimes you don't know what there is to know until you ask," says Mark Robertson, chief librarian. "My number one pro tip for students at all levels is to get in touch with your subject liaison librarian who can connect you to all the tools, information resources and services available to you, as well as walk you through the research process."
Robertson says taking this step to connect with the Library can pay off in terms of academic success. "So often we hear upper year students say, 'I wish I had known that in first year' – whether it's about how to get started on a research topic, search techniques, the nature and use of scholarly sources, or how to find and use statistical data. I highly recommend getting in touch and learning more about all the ways the Library can support you."
Getting familiar with the resources at the Library
Before you settle into your assignments, take a look below at some of the ways the Library can support you.
Study space and on-site resources
Whether you're commuting to campus and need some quiet space to study between classes, or you live on campus and just want to get out of your dorm room on the weekend, the Library has a variety of spaces available to meet your needs.
Floors 2 through 10 of the main library have study space available, with new individual partitioned desks with outlets and lighting, and more casual seating areas with great views. If you're not alone, the Library also has open group study areas, and accessible group study rooms (for groups of 4 to 12 people) with monitors and white boards for project work and collaboration.
Want a study space with a view? Check out the fourth and eighth floors!
If you forgot your computer or prefer to travel lightly, the Library has loads of computer stations and labs available on three floors, and there are also laptops you can borrow from the Circulation Desk. Missing a textbook? Again, check the Circulation Desk, because the Library carries a whole host of these for loan to students.
Research help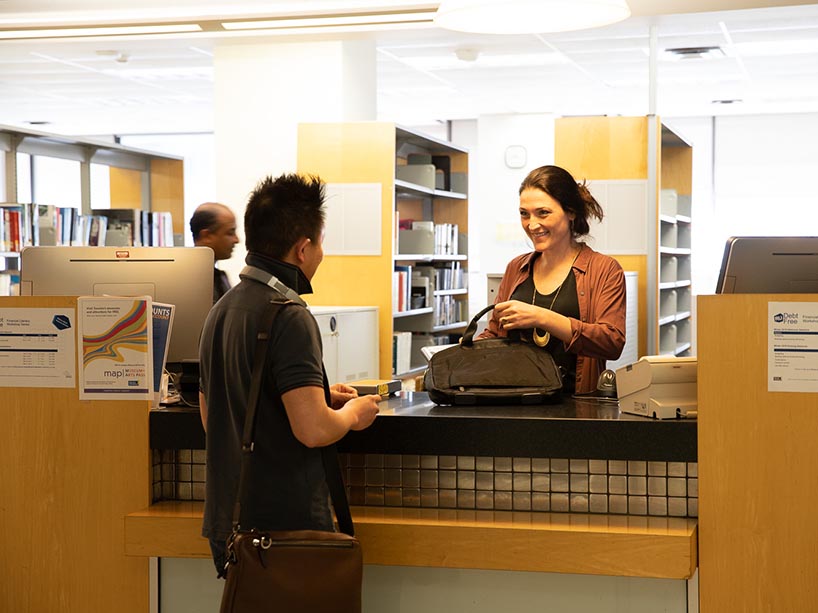 Whether you're new to research or just like to up your research game this year, TMU Libraries is where you'll find the help you need. Librarians and staff can help you develop your research skills, learn about the research process and access appropriate information.
Resources include:
Research guides, which show you how to evaluate resources and find information critical to your topic. Basically, how to research.
Research help: Librarians and staff can help you find what you need. If you're on campus you can drop in and meet with someone on-site. If you're at home, you can book an online appointment, or use the real-time chat services to chat with someone right away.
Research skills workshops: Offered every month, these workshops cover a variety of topics including navigating resources, conducting literature reviews and more.
Citation management tools: These online resources help you properly cite and reference material.
Collections and resources
Access all the amazing resources and collections (over half a million online resources, and an extensive physical materials collection as well) you need for essays, projects and assignments – plus Library staff who can help find what you're looking for.
There's also extensive access to magazines, newspapers, journals and more.
Browse the collection online, or come into the Library for a look around.
Fun resources and collection to discover
Think the Library is just a space full of dusty books? Wrong! There's lots to discover on-site and online that can save you money and subscription services.
"I hope students drop by the research help desk to talk to me or other librarians and learn about how we can help connect them to anything from highly specialized mapping databases to the newest issues of popular publications like the Economist."
Equipment, tech and digital resources
On top of the collections, online resources, workshops and research support the Library can provide, there is also access to various software and hardware that may interest students.
The Digital Media Experiences Lab (DME) is a Library space on the third floor of the SLC where students have access to video and photo editing software, a green screen, podcasting equipment, 3D printers, soldering tools and even sewing machines. Want to learn how to use some of the equipment available? There are also experts on-site to support you.
The Circulation Desk has cameras – including GoPros – and tripods available for loan. All equipment, tools and tech are available to all students, and no experience is required.
For more information or general inquiries, reach out to the Library or stop in on campus – enter through the main entrance of the Library Building located at the corner of Gould St. and Nelson Mandela Walkway. Then head to the second floor. There's also an entrance to the Library on the second floor of the SLC.
Related stories: