Five ways to cultivate belonging at TMU
How to build connections, find identify-affirming spaces and more
Category:
From the Vice-President, Equity and Community Inclusion
September 14, 2023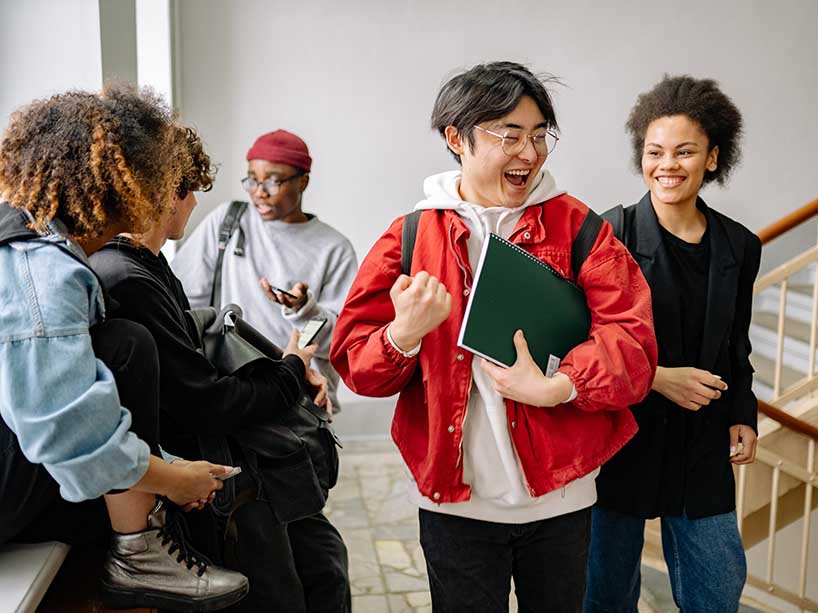 For new and returning students, the campus community is often an important source of connection and support that shapes the university experience. However, it can also be a daunting experience, especially for students belonging to equity-deserving groups, for whom fostering communities of belonging is not always so simple.
There are many factors that contribute to student success. At the top of this list is a sense of belonging and questions like: "Am I seen and heard? Do I matter here?" I believe that belonging becomes possible when diverse identities and experiences are celebrated, people are included, and groups across identities can feel safe, affirmed and valued.
Toronto Metropolitan University, located in the heart of Canada's most diverse city, proudly embraces students from a multitude of lived experiences, each bringing a rich tapestry of abilities, backgrounds and beliefs. With teams of dedicated individuals working together to embed equity, diversity and inclusion across campus, there are many ways that students can find and build belonging on campus.
Explore these five actionable opportunities:
Build lasting connections and access culturally competent resources
I advise all students to establish multiple support networks by taking advantage of various university resources. Bonds forged with fellow students and mentors will offer support throughout their academic journey, extending beyond school and graduation.
Check out targeted programs like the Indigenous Peer Support Program led by Gdoo-maawnjidimi Mompii Indigenous Student Services and the Tri-Mentoring Program, led by the Office of the Vice-Provost, Students (OVPS). Initiatives such as the Career Builder, an 8-week mentorship and career development program, equip students from equity-deserving groups with opportunities to expand their professional networks and acquire new skills, all while contributing to a diverse talent pool.
These peer and mentorship support programs provide social, cultural and informational support, helping students build a supportive network and transition smoothly to university life.
Embrace TMU's values of equity, diversity, inclusion and decolonization
Find ways to centre under-represented experiences, celebrate our intersections and differences and contribute to removing barriers in the classroom, workplace and on campus. Explore Access TMU and check out guides to learn how to create accessible events and documents.
Learn more about our pathway towards Truth and Reconciliation. Come together with Indigenous and non-Indigenous community members alike to commemorate Ozaawaa Babigoyaan Giizhigad (Orange Shirt Day) on September 29, a day before National Day for Truth and Reconciliation.
Get to know the Presidential Implementation Committee to Confront Anti-Black Racism to understand how our university is working to confront anti-Black racism and cultivate Black flourishing.
Learning about the lived experiences of others can make a difference in how students connect with each other and the broader issues facing our communities.
Discover identity-affirming spaces and networks
TMU is home to over 600 clubs and groups which bring students around shared interests and experiences together. These student-led groups focus on everything from outdoor activities and volunteering in the community to connecting over shared courses and backgrounds. The Ted Rogers Pride Alliance, Jewish Legal Network, Black Nursing Student Association, Hindu Students Association, Muslim Students Association and the Organization for Latin American Students for example, bring together students of shared identities.
TMU has intentionally created many spaces on campus where students can study, work and collaborate, including an entire Student Learning Centre. We also have spaces specifically for students that may require intentional support. The Black Student Lounge, Indigenous Student Centre and International Student Support offer affirming places where students across marginalized identities can heal, access resources and find connection in shared experiences.
For TMU faculty and staff seeking identity-affirming spaces, community networks such as the Immigrant Employees Community Network, Parent Network and Positive Space Faculty and Staff Network can help foster community and address barriers on campus.
Start your own initiative
Students can connect with TMSU's five equity service centres (external link) such as the Queer Space, the Centre for Women and Trans People and the ACCESS Centre to come together and organize equity and social justice initiatives, events and campaigns.
The university also offers funding that supports students looking to start or advance their own initiatives. For example, Student Life and Campus Engagement offers the Black and Indigenous Student Fund, an extension of the Student Initiatives Fund, that provides funding to students interested in developing events, meetings or initiatives that specifically support fellow Black and Indigenous students.
Count yourself in
At TMU, we use data to see who's here and who isn't, at the university and in specific faculties and programs. This helps us work with partners across the university to identify and address gaps. Students can count themselves in by completing the Student Diversity Self-ID after logging in to MyServiceHub. The data helps improve access to the university and the experience of all students.
Want to know more about diversity within a specific program? Check out the latest undergraduate or graduate student diversity data.
While we settle into another school year full of promise, let's remember: diversity occurs naturally, inclusion requires intent. We both have the right to experience belonging and share the responsibility to cultivate it for others. I invite each and every member of TMU to remain curious, participate in opportunities to cultivate belonging for yourself and others and embrace the power of community.
Together, we can continue to make Toronto Metropolitan University a place where people who study and work here can truly feel a sense of belonging.
Have questions about these strategies? The Office of the Vice-President, Equity and Community Inclusion is here for you. Please get in touch.
Tanya De Mello
Vice-President, Equity and Community Inclusion