Sustaining commitment to promote Black flourishing at TMU
Co-chairs of the Presidential Implementation Committee to Confront Anti-Black Racism provide progress report
Category:
From the Presidential Implementation Committee to Confront Anti-Black Racism
May 26, 2023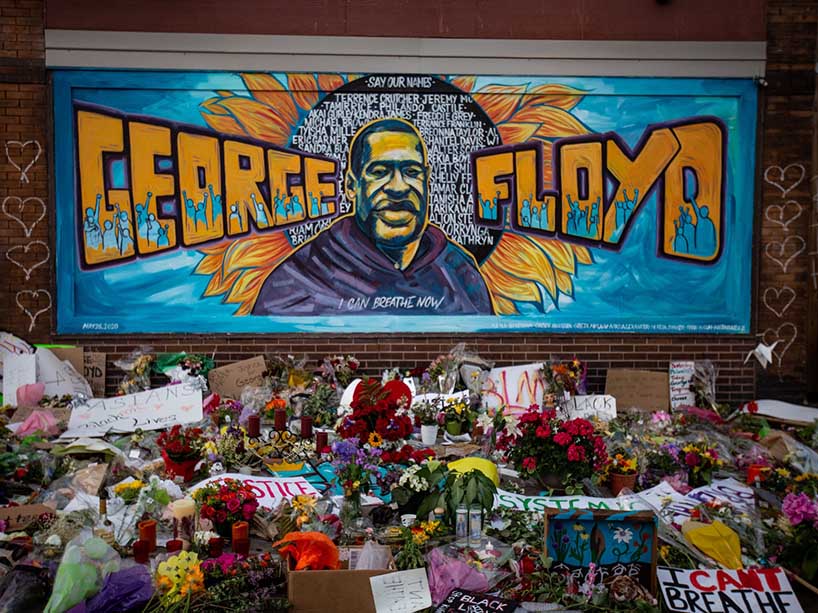 Three years ago last week, the murder of George Floyd shook the world. It was an exceptionally traumatic moment, particularly for Black communities-at large, further revealing the ever-present realities of racial injustice globally in nearly every aspect of life. The ensuing public discourse in Canada acted as a wake-up call for many, highlighting the need to confront the country's history and legacy of systemic anti-Black racism and prompting numerous institutions to pledge commitments. Now, three years later, collective efforts to confront anti-Black racism must remain steadfast.
TMU, as other academic institutions, must be keenly aware of its role in upholding anti-Black racism and contributing to systemic oppression, and intentionally engaged in confronting it. Beginning in 2010 with the (PDF file) Taskforce on Anti-Racism at TMU Final Report and scaling up in 2020 with the Anti-Black Racism Campus Climate Review, TMU has remained committed to listening and responding to Black experiences on campus in an effort to foster a greater sense of safety and belonging for Black students, staff and faculty.
This article provides an overview of recent progress to promote Black flourishing undertaken by the Presidential Implementation Committee to Confront Anti-Black Racism (PICCABR) since the last community update, in December 2022.
Key progress highlights
Student Working Group
Events that specifically support and centre Black students
Tailored and intentional events for Black students on campus are regularly hosted in the Black Student Lounge (BSL), founded by TMU's Office of the Vice-President, Equity and Community Inclusion (OVPECI). Most recently, the Tri-Mentoring Program hosted several events in the space to provide students with tools to support wellness, financial management and community building as part of a "Black on Campus" orientation series.
One such event, Let's Talk Hair, invited Black female-identified students across intersections to discuss Black hair and Black hair experiences. Participants learned about Black hair care from facilitators from Curly Lifestyles (external link) and were given hair care products from Cloré Beauty Supply (external link) .
Black male-identified students were invited to an event designed to help create a safe space for Black men studying at TMU to build community and connect with one another by offering a barbershop experience. It was supported by Carlton Carter of Saucy Trims (external link) , who offered attendees a line-up while students participated in guided dialogue. To date, over 100 students have attended the Let's Talk Hair programs, many of whom report leaving with a strong sense of community and grateful for a space to share their natural hair experiences.
"What we don't get to talk about in our curriculum is self care - and it's a direct contributor to our mental well-being," says Yama, a Black TMU student who attended the event. "As Black people, our hair is so important to us, so to have a seminar like this – to educate us, to get us engaged – it motivates us. It shows us that other people care. It drives us to take care of ourselves."
Most recently, the BSL launched the Let's Talk: Amplify Black Voices program to create a space where more Black students have the opportunity to intentionally shape the university's work in confronting anti-Black racism, strengthening linkages between Black students and the Office of the Vice-Provost, Students (OVPS).
These new Black student-centred events are offered in addition to long-standing equity initiatives led by OVPECI such as the Viola Desmond Awards and Bursary. The awards, which celebrated its 15th anniversary earlier this year, recognize the contributions of Black women across generations, who are connected to the university and community at-large.
Faculty Working Group
Targeted recruitment of Black faculty
In 2022, the OVPECI's Diversity Self-ID tool was integrated into job applications to support a targeted increase of Black faculty at the university. Additionally, job ads were updated to include intentional language that reinforced TMU's commitment to creating a diverse, equitable and inclusive academic environment.
The Office of the Vice Provost, Faculty Affairs (OVPFA) is working to build an implementation plan that provides Department Hiring Committee (DHC) with the guidance, awareness and knowledge required to track and report the intentional use of the Diversity Self-ID in an effort to meet its recruitment, retention and promotion ambitions for Black, Indigenous and racialized communities.
Improve Black faculty applicant pool by building capacities in graduate and postdoctoral programs
The post-doctoral fellowship for Black students was launched to help address underrepresentation of Black scholars and advance the development and dissemination of Black scholarship. The successful scholars will receive up to $70,000 a year for up to two years. The initiative received over 50 applications in its inaugural term and four fellowships have been awarded to Black scholars.
Additionally, the university has established the Black Scholarship Institute to expand Black scholarship and leadership across disciplines through enhanced research collaboration with communities, for knowledge production, documentation, publishing and intellectual dialogue.
The Black Scholarship Institute (BSI) will officially launch in the next academic year. Grace-Camille Munroe, former project manager for the Presidential Implementation Committee to Confront Anti-Black Racism, is serving as the interim director of the BSI.
Staff Working Group
Building trust with Black staff through an equity, diversity and inclusion (EDI) knowledge and action framework
Progress towards the implementation of the TMU EDI Knowledge and Action Framework has steadily continued. The executive group has expressed support of the framework and collaboration continues with Human Resources, OVPECI and key stakeholders from OVPFA, the Office of the Vice-Provost, Academic (OVPA) and the OVPS on the development and implementation of a university-wide approach. This will include a multi-year plan with a strong focus on anti-Black racism. The next phase includes developing a learning strategy, program topics, objectives and delivery channels.
The team has been working on procuring a robust and reliable learning management system (LMS) to house EDI learning modules and assist with tracking of completion – an important piece in ensuring successful implementation. In late February, a Request for Information was completed to solicit vendor responses to better inform the functional software requirements for the LMS and get an update on the LMS technologies. Part of the procurement process is ensuring that vendors demonstrate commitment to EDI and anti-Black racism.
Creating clarity around what skills leaders need to begin addressing systemic barriers for equity-deserving employees seeking growth and development.
To support the recommendation to establish programs designed for staff advancement, the university has been developing leadership competencies which will help identify and develop future leaders, in particular, those in equity-deserving groups.
This will create a clear understanding and expectation about what it means to be a leader at TMU through consistent, bias-free language that defines the skills, abilities and behaviours for each identified competency. The development and implementation of these competencies will help reduce bias and create a common language around leadership.
Over the past few months, best practice research was conducted, in addition to internal and external consultations on leadership competencies. On February 22, 2023, Human Resources, in collaboration with the OVPFA, held an interactive workshop with senior leaders to determine the top leadership competencies for TMU leaders. Consultations will be continuing into the Spring/Summer of 2023.
The OVPECI's Education, Awareness and Outreach team continues to deliver workshops on issues related to confronting anti-Black racism as part of the Human Resources learning calendar for staff and faculty. To date, over 1000 students, staff, faculty and leaders have participated in workshops. Additionally, there were workshops held for staff from the Career Co-op and Student Success Centre and an event held in partnership with the Student Life and Campus Engagement.
Looking ahead
The third anniversary of both George Floyd's passing (May 25) and the release of the 2020 Anti-Black Racism Campus Climate Review (July 17) offer a critical opportunity for reflection and accountability. It is not enough to simply honour people and communities who have endured anti-Black racism, we must remain dedicated to changing the conditions.
In the coming months, the university will be releasing a three-year milestone report to provide a fulsome account of the impactful initiatives to confront anti-Black racism that have been launched to date, as well as the university's plans to sustain efforts and continue investing in Black flourishing. To learn more and stay up to date with the committee's work, visit the Confronting Anti-Black Racism website.
While there is still much work to be done, we are excited to continue pushing forward and remain committed to cultivating a more equitable and inclusive environment for Black students, staff and faculty at TMU.
Executive Co-Chairs
Roberta Iannacito-Provenzano, Provost and Vice-President, Academic
Tanya (Toni) De Mello, Vice-President, Equity and Community Inclusion
Saeed Zolfaghari, Vice-President, Administration and Operations
Related stories: