Cynthia Holmes appointed dean, TRSM
Associate dean and founding chair of real estate management department takes on new role
Category:
From the Interim Provost and Vice-President, Academic
May 25, 2023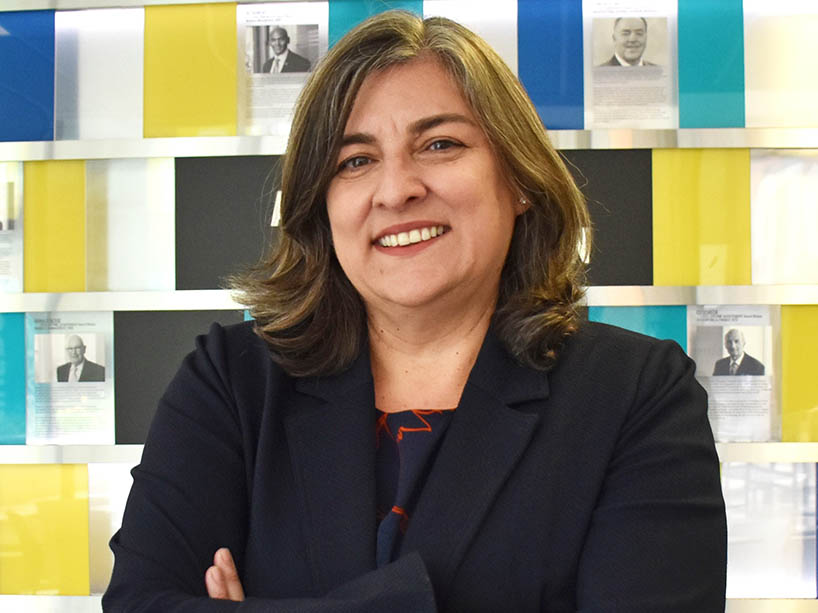 I am pleased to announce the appointment of Cynthia Holmes as dean, Ted Rogers School of Management (TRSM) effective June 1, 2023.
A seasoned academic leader, Cynthia has been with TRSM since 2010. As associate dean, faculty and academic, she currently oversees academic issues for more than 12,000 undergraduate business school students. Her leadership has fueled initiatives like the TedPack student communities and cohort registration, the new learning and innovative teaching committee, the tenure and tacos workshop series for junior faculty, and the implementation of the Navitas partnership for international business students.
Cynthia is deeply committed to ensuring students receive a rich university experience through excellent curriculum and experiential learning opportunities.
"Every student is special and important," says Holmes. "They all deserve to feel that they belong at TRSM and in the world of business. Their education must be world‐class in both content and delivery, and it must prepare them for success."
Recognized with the 2023 Errol Aspevig Award for outstanding academic leadership, Cynthia also served in 2022 as the university's interim vice‐provost, academic. Her tenure saw accomplishments that ranged from launching development of the reimagining teaching strategy to co‐introducing Policy 159 to the senate to address the accommodation of students with disabilities.
As its founding chair, Cynthia was crucial to the establishment of the real estate management department at TRSM. She developed the curriculum, obtained curricular approvals, and hired faculty members. She also implemented the co‐op option and supported the formation of a real estate alumni group. Cynthia teaches real estate management courses at the undergraduate and master's level and her research focus is real estate finance and housing economics.
Prior to joining TMU, Cynthia held academic positions at the Schulich School of Business at York University and at Florida State University. She has 10 years of industry experience with Standard Life Assurance Company, including several years in mortgage investment. Holding an Institute of Corporate Directors designation, Cynthia is also an active member of the board of management at the Toronto Zoo. She has made numerous media appearances and speaking engagements as a Canadian housing market expert.
I would like to take this opportunity to thank Daphne Taras, whose leadership and dedication as dean of TRSM has contributed greatly to the university and our community.
Thank you to all committee members for contributing your time and careful consideration to this successful search:
Mohammad Badawy
Student Representative, Hospitality and Tourism Management, TRSM
Cheri Bradish
Associate Professor, Marketing Management
Gloria Fernandes
Program Administrator, Graduate Program Administrator, Master of Business Administration/ Professional Master's Diploma
Anthony Francescucci
Chair, Marketing Management
Anatoliy Gruzd
Professor, Information Technology Management
Murtaza Haider
Professor, Real Estate Management
Yuanshun Li
Associate Professor, Finance
Cory Searcy
Vice-Provost and Dean, Yeates School of Graduate Studies
Donna Smith
Professor, Retail Management
Please join me in congratulating Cynthia and wishing her the very best in her new role.
Roberta Iannacito-Provenzano
Interim Provost and Vice-President, Academic