Help name TMU's new falcon mascot!
Community is invited to contribute ideas for the name of our new university mascot
March 21, 2023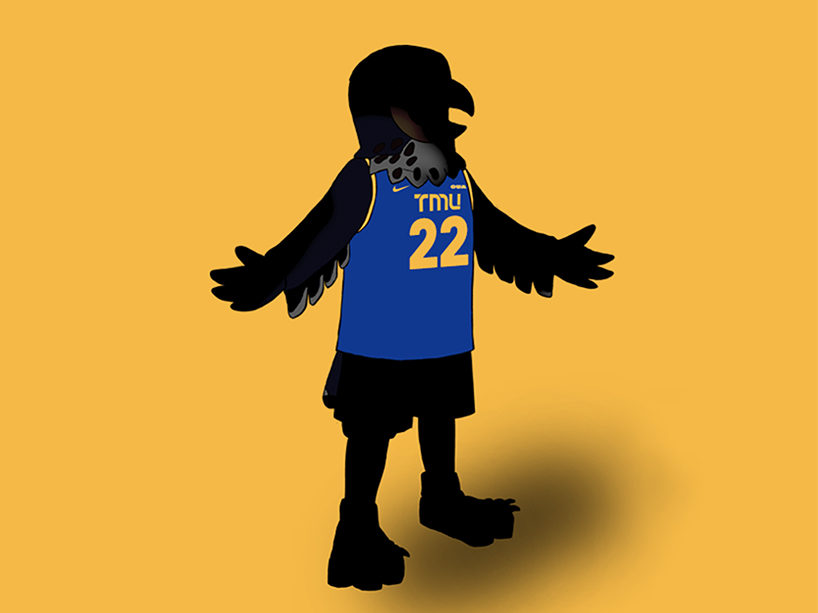 At the start of this academic year, TMU announced a new team name,TMU Bold, and a new falcon mascot.
This coming fall, the new falcon mascot will be introduced across campus - but first, they need a name!
Participate for a chance to win!
From March 22 until March 31, 2023, all community members are invited to share name ideas for our falcon mascot. To submit a suggestion, complete the (google form) Mascot Name Google Form (external link) . Participants will be invited to enter a raffle for one of five TMU t-shirts. A name from the list of submissions will be selected and announced in the fall when the new mascot is introduced across community events.
What you should know about the TMU Falcon
"Falcons are as bold as they come. They are fast and fierce, they are good critical thinkers, they are strong." - Jen McMillen, Vice-Provost, Students
The mascot will be part of our campus community and will attend a variety of events including orientation, convocation, athletic competitions, award ceremonies and children's programming. The mascot will welcome a wide range of community members and will carry the role of both representing the strength of our TMU Bold athletes and being an approachable and fun character.
Context
On August 26, 2021 the university's Board of Governors accepted the 22 recommendations put forward by the Standing Strong (Mash Koh Wee Kah Pooh Win) Task Force to guide commemoration at the university and to address the legacy of Egerton Ryerson. One of the recommendations was to reconsider the former mascot.
During June and July of 2022, community members participated in a two-phase engagement period that first invited individuals to share their ideas and rationales and then asked for feedback on a shortlist of ideas. On August 29, 2022 the new team name was announced along with the mascot decision.
For more information about the process that led to the new mascot, please visit the Next Chapter website.