15th annual Viola Desmond Awards a milestone celebration of Black women
Event honours the legacy of Canadian human rights icon
March 30, 2023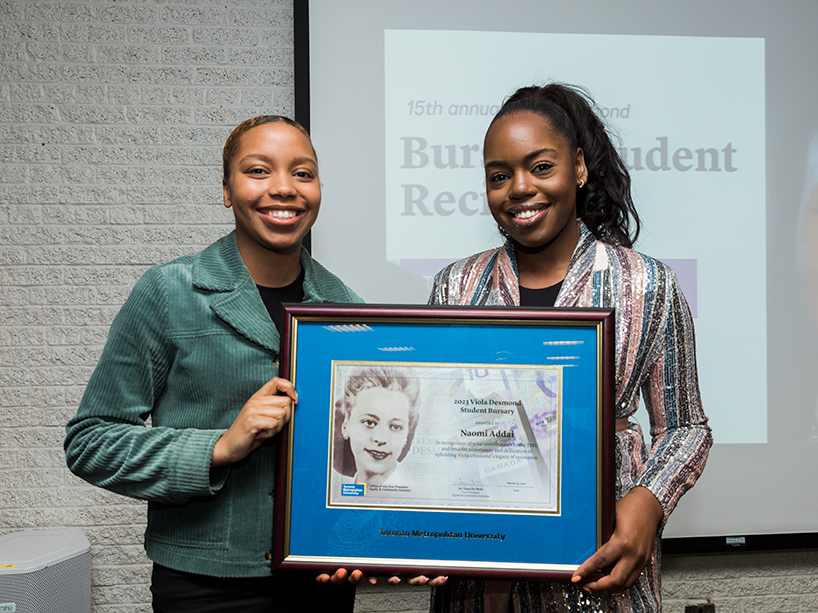 Just a day ahead of the International Day for the Elimination of Racial Discrimination, the 15th annual Viola Desmond Awards ceremony celebrated the outstanding achievements of Black women students, staff, faculty and alumni, who are upholding Viola Desmond's legacy of resistance and resilience.
Viola Desmond was a Black Nova Scotian businesswoman who challenged racial discrimination and segregation in 1946 by refusing to move from a "whites-only" section of a movie theatre in New Glasgow. The incident took place almost a decade before American human rights icon Rosa Parks resisted segregation on a city bus. Desmond was arrested and gave up her freedom to initiate the modern civil rights movement in Canada.
The awards ceremony on March 20th honoured the power of Black Canadian women and their impact on communities, and celebrated Black flourishing. The first in-person version of the ceremony since 2019 was hosted by equity consultant, columnist and media contributor Hawa Mire.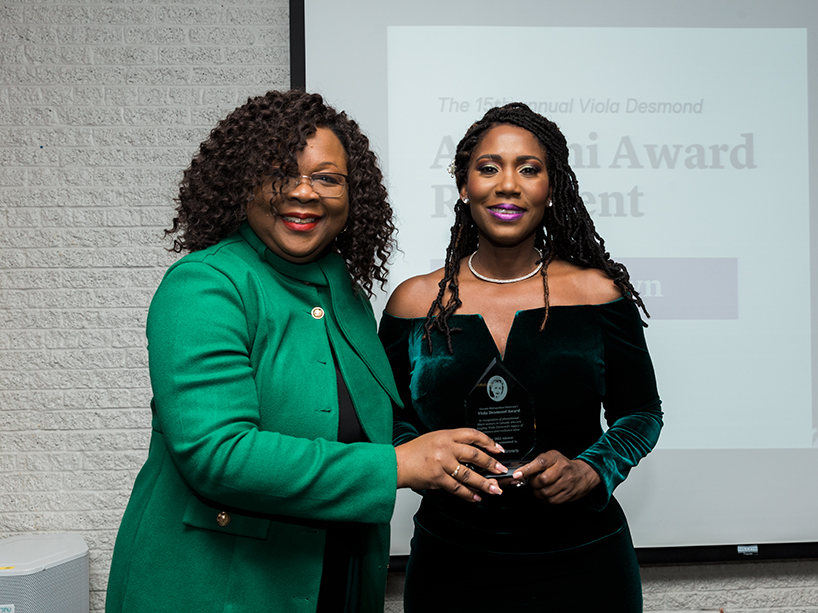 "We are here to celebrate Black women who are doing amazing things," said Mire in opening remarks. "We have changemakers who are making history as community mobilizers, champions for human rights, activists who are protecting our most precious resource, our children. We are also celebrating students who are taking action to address Black health inequities, criminal justice reform and facilitating mental health support for youth."
Attendees included the honourable Jean Augustine, the first Black woman to be elected to the House of Commons who led the motion that created Black History Month in Canada; and Pamela Appelt who served for 11 years as Judge of the Court of Canadian Citizenship, the first African-Canadian woman to hold this position. Appelt has been the patron of the Viola Desmond Awards since 2017 and received an honorary patron award at the ceremony.
Other attendees included: Donette Chin-Loy Chang, philanthropist and TMU alum; Liberal MPP Mitzie Hunter; and past president of the Ontario Black History Society, Rosemary Sadlier, who led the drive to have Black History Month recognized across Canada.
Was wonderful to be at TMU for the 15th Annual #ViolaDesmondAwards. Congratulations to this year's winners!

Today, on International Day for the Elimination of Racial Discrimination, we honour outstanding achievements and recognize emerging leaders/legacies of Black excellence. pic.twitter.com/xGw4waxyu4

— Mitzie Hunter (@MitzieHunter) March 21, 2023
"If we do not name you, we might erase you."
"As a Canadian and as a human rights lawyer that has worked in equity and diversity and also worked with Black communities for a number of years, it's important to note that I had never heard Viola Desmond's story," said Tanya (Toni) De Mello, vice-president, equity and community inclusion, in opening remarks during the event.
"It was only here at TMU, because of this flagship event, that I came to know her. This night is not just to honour and celebrate you, it's to say that if we do not name you, we might erase you," said De Mello. "We need to start rewriting our history and our contemporary narratives so that Black, racialized and Indigenous people are featured in its fabric. Black and Indigenous people have contributed to this community and their stories need to be told."
The celebration once again brought the community together to support and uplift Black women, carving out a dedicated and safe space to recognize their achievements as leaders and role models. It is through the hard-won successes of the award winners and honourees that a trail is blazed, and the embers of inspiration are stoked.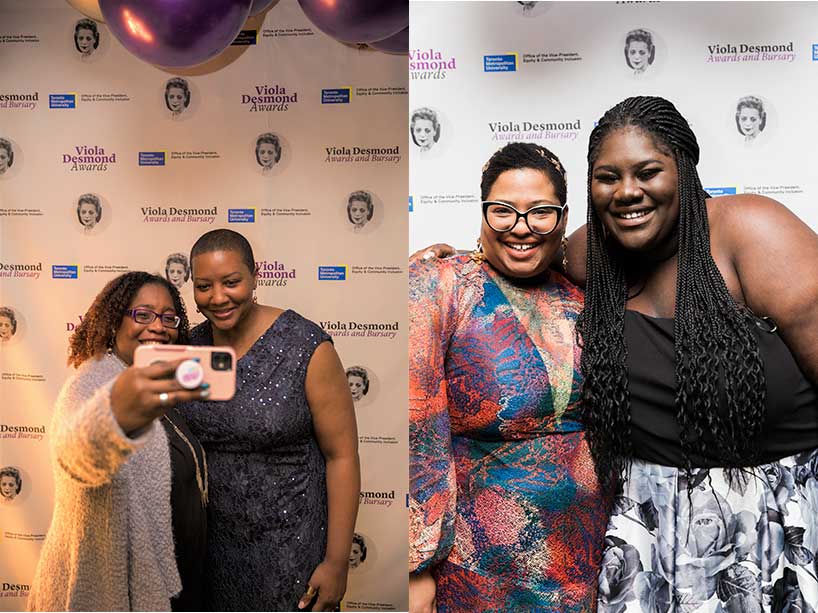 "We honour the Black trailblazers who continue to resist and have resisted so that we have this opportunity today," said Grace-Camille Munroe, manager, projects & operations, Presidential Implementation Committee to Combat Anti-Black Racism (PICCABR) during the event.
"Our flourishing is our resistance. Our joy is our resistance. So keep on flourishing. For the past 15 years, the Viola Desmond Awards ceremony has honoured the contribution of Black women across Canada who are uplifting the Black community and driving transformative change."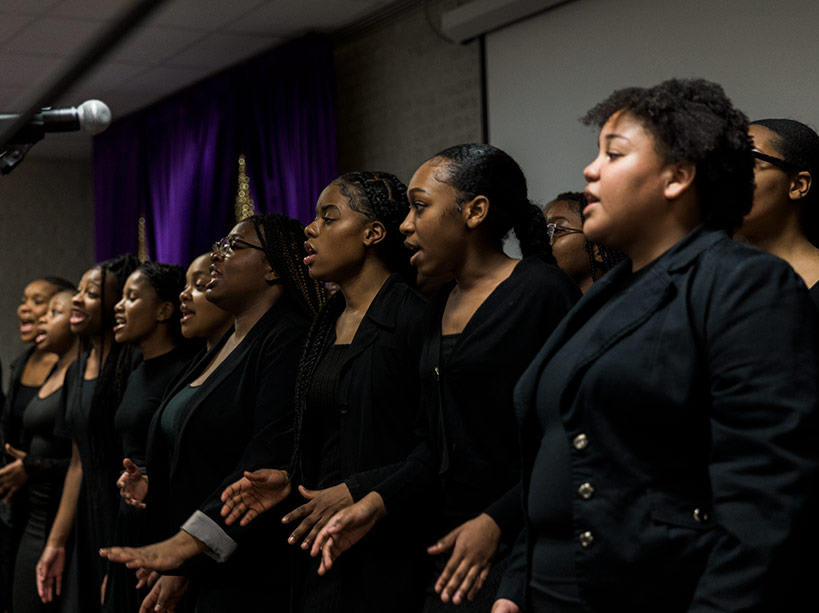 The awards were punctuated with heartfelt performances by the Crawford Adventist Academy High School Choir who sang the national anthem and the Black national anthem, Lift Every Voice and Sing, a song that is intended to not only uplift Black communities still healing from the intergenerational trauma of enslavement, but also empower the community as a call to action. The powerful performances were met with standing ovations, and captured the collective spirit of the event.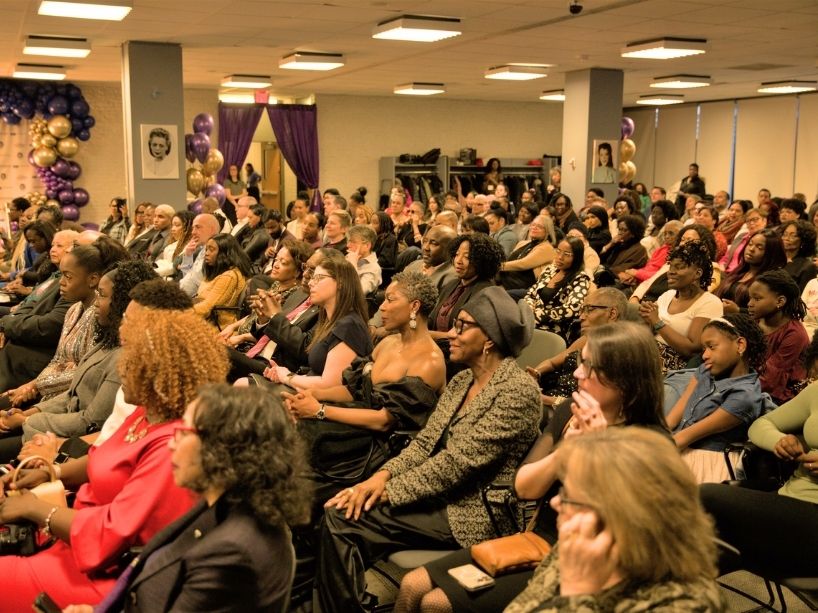 2023 Award and Bursary Recipients
TMU faculty award
Rai Reece teaches and has published in the areas of Black feminist thought, social justice, race and racism.
TMU staff award
Crystal Mark is a poet, writer, equity educator, mobilizer and community engagement and development specialist
TMU alumni award
Marsha Brown is a social justice advocate who has spent 25 years in the non-profit sector
Sidney & Mettelia Ferguson student award
Georgiana Mathurin is a current graduate student in the Master of Arts, Immigration and Settlement Studies program. Her Early Childhood Studies master's thesis explored how the Canadian immigration system contributes to legal violence against Black mothers with precarious migration status.
High school student award
Jeya Nkrumah is a senior student at Father Michael McGivney Catholic Academy where she has prioritized community involvement along with academic success. She is currently a member of multiple school councils including the African Caribbean Club, Student Leaders at McGivney, Student Athletic Council, Peer Mentorship and Voices Of McGivney.
Denise O'Neil Green student leadership award
Flesticiah Amoah is a fourth-year social work student. She plans to pursue a master's degree in social work with the goal of building a career in the mental health sector and working with marginalized communities.
Jama Seham is a student in the Collaborative Nursing Program
TMU student bursary
Naomi Addai is a politics and governance student, and a passionate community advocate
Tahja Burnett-Ffrench is a nursing student passionate about addressing health inequities
Kelly Cameron is a midwifery student passionate about equitable healthcare for Black birthing families
Jayde James is a law student who aims to transform the criminal justice system
Honourees:
Patricia DeGuireis a Black woman who pushes boundaries to ensure access to justice, equality, and equity and is dedicated to public service. Before being appointed Chief Commissioner of the Ontario Human Rights Commission in August 2021, Patricia served as a Deputy Judge with the Ontario Superior Court of Justice, on various tribunals and boards, and is known as an impactful mediator.
Sandra Ferguson is the owner and operator of several residential care homes for individuals who are marginalized by poverty and recovering from mental health and addictions. She is committed to identifying, preventing, and removing barriers that impede the lives of people with mental health issues.
Tanitiã Munroe is a Black Queer scholar-activist and researcher with degrees in education and child and youth care practice. She is pursuing a PhD in Adult Education and Community Development with a collaborative specialization in Educational Policy.
Keisha Evans is an EDI, educator and graduation coach for Black students who believes in the power of education through collaborative partnership with families and communities using an intersectional approach to elevate lives of Black students in both school and community.
Honorary Patron Award
Pamela Appelt, former Judge of the Court of Canadian Citizenship, the first African-Canadian woman to hold this position. Appelt has been the patron of the Viola Desmond Awards since 2017, and in honour of the 15th annual Viola Desmond Awards was recognized for her continued commitment to the program
Find out more about this year's Viola Desmond awards and bursary recipients and honorees on the awards website.