Black students in Canada need spaces of connection
TMU's Black Student Lounge responds to Anti-Black Racism Campus Climate Review recommendation
February 14, 2023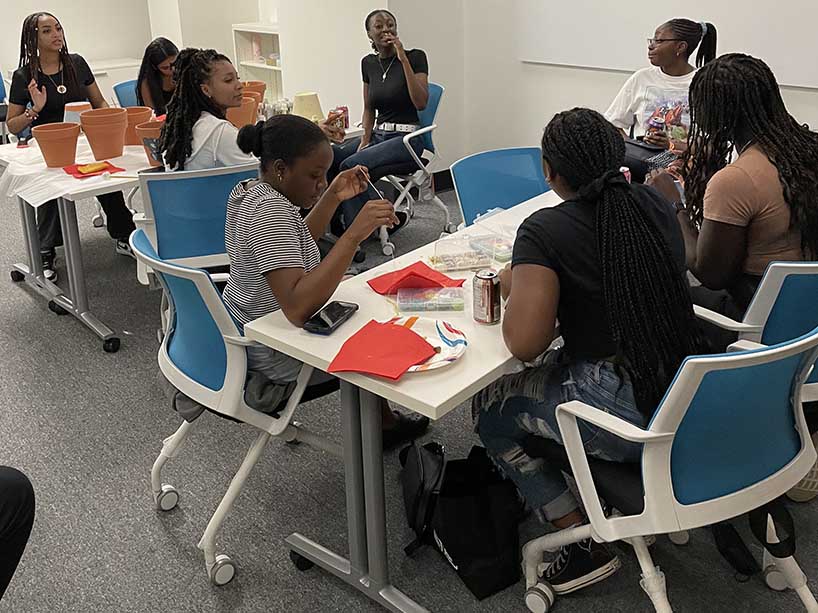 The (PDF file) Anti-Black Racism Campus Climate Review highlighted the experiences of Black students, faculty and staff at the university, bringing to light student experiences of anti-Black racism and associated concerns about the lack of Black faculty and culturally relevant teaching materials. It also brought attention to exclusionary admission practices, harsher punishments, concerns with safety and security on campus and hostility from white faculty and staff. Overwhelmingly, the report findings indicated that Black-identified students did not feel a sense of belonging at TMU.
Feeling a sense of belonging at school is often a privilege; one that everybody deserves but not everyone can access. Many years ago, the OVPECI responded to community feedback by working towards the creation of The Black Student Lounge (BSL) at TMU. This lounge was created to provide an intentional and affirming space on campus where Black students, across intersections, can feel a sense of belonging at the university.

This was later confirmed as a need through the 14 recommendations in the Campus Climate Review. The BSL was established over many years of work by the Office of the Vice-President, Equity and Community Inclusion and later formally opened by The Presidential Implementation Committee to Confront Anti-Black Racism (PICCABR) Student Working Group as a safe space on campus for Black students, by Black students.

All Black-identifying students can access the lounge to study, relax, make new friends, gain tools and resources, build community and heal from the exhaustion of navigating systemic racism in their day to day lives. In this room, Black students are reminded that they exist beyond their trauma and oppression.

Anti-Black Racism Campus Climate Review - Student Recommendation #6: A dedicated Black student space on campus with the necessary resources allocated to it for Black students to feel safe and a sense of belonging is needed. These resources should involve funds for staffing and programming for Black students (Anti-Black Racism Campus Climate Review Report, 2019, p.15).

The BSL briefly opened in 2019 and closed soon thereafter due to COVID-19. In 2022, its doors officially reopened on the TMU campus.

Although this is primarily a student-centered space, Black faculty and staff at TMU are also welcome. The space is furnished with tables and seating, a projector screen and whiteboard. It also has a computer area and kitchenette that students can use.

"Witnessing and supporting students building a community of their own through the Black Student Lounge has been extremely fulfilling. Universities have historically been an unsafe place for Black students. The lounge is just one step towards dismantling this harmful reality," shares Eboni Morgan, Black student support facilitator, Tri-Mentoring Program. "Not long ago, I was a student at TMU and would have loved to have access to a space like this. It's heartwarming to see Black students enjoy a dedicated place where they can feel welcomed, engage with other Black-identifying students and build connections, all while pushing for a safer, more inclusive campus for incoming and prospective Black students."
Showcasing Black art

At the end of the month, Laneigh Ramirez, a Black Toronto-based artist and TMU student, will unveil a mural she is painting for the lounge. Using vibrant colours and textures, the piece will leverage impressionism to pay tribute to Black healing and joy.

"Having access to a Black-centered lounge at TMU is so necessary for Black students, as it creates a safe space and a sense of belonging in the broader TMU community," says Ramirez. "This has a great impact on mental health and overall mood, which can truly contribute to success in studies. This mural aims to reflect that purpose, and the essence of the Black Student Lounge."

A hub for programming and events

Since its launch, the demand for the Black Student Lounge has been considerable. Though the space holds approximately 30 occupants at any given time, it has already welcomed over 260 new and returning Black students over the last year. Moreover, Black students have made the space their own by hosting events, activities and meet-ups.

"The BSL is like a home to me. It's a space where the dynamics have characteristics of my Nigerian culture and I enjoy engaging and interacting with the people," says Oluwaseyitodun Akinyelure, a student at TMU. "We speak a universal language only Black/African people could know; not necessarily in terms of our vocabulary but more so the intentions, connotations and energy driving our communication. My university experience has been elevated since I discovered the BSL and I'm very grateful to the forces and people who have worked to create this space."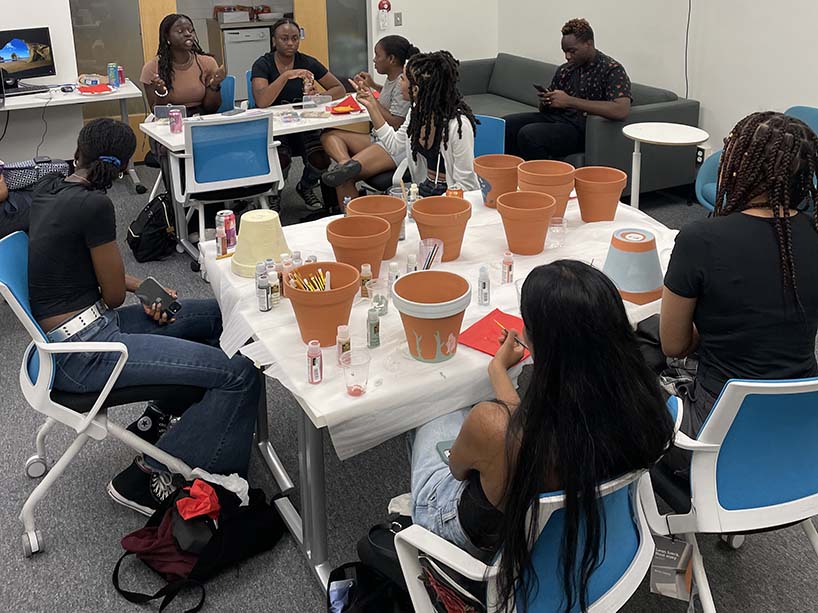 In addition to a welcoming space that Black students can freely occupy freely, the Tri-Mentoring Program has collaborated across teams to deliver discussions, events and programming in the BSL Black Student Lounge including, but not limited to:
Let's Talk: A brave space to engage in dialogue on key topics of interest to Black students.
Connect2Flourish: Monthly group mentorship sessions that invite Black students and faculty to access resources and learn from one another.
A community of care
The university intentionally celebrates Black History Month each February recognizing that Black histories and realities continue to be marginalized daily. Black students navigating predominantly white institutions are often acutely aware that their experiences may not be reflected in learning materials, their identities lacking in representation among faculty and their needs overlooked in decision-making.
Community can become an incredible source of respite, strength and, ultimately, joy. However, for Black students at TMU, fostering identity-based community is not always so simple. Black people represent roughly 7.5 per cent (external link) of the population of Toronto, seven per cent of undergraduate students and five per cent of graduate students at TMU. Moreover, representation of Black students remains uneven across the various programs and faculties.
In this context, building a community of care and a sense of belonging among Black diasporic groups requires space – free from dominant patterns of whiteness and where Black people can come together in the fullness of their humanity.
Fostering Black Flourishing at TMU
For people who haven't had to question their belonging at school, it may be hard to understand the power of a safe space. In Yearning: Race, Gender, and Cultural Politics, bell hooks writes, "one of the most vital ways we sustain ourselves is by building communities of resistance, places where we know we are not alone (Yearning: Race, Gender, and Cultural Politics, 1999, p.213)."
Through the work of PICCABR, the university has been working hard to respond to the Campus Climate Review, challenge systemic racism and cultivate the necessary conditions for Black students, staff and faculty to flourish. As we continue to work towards a future of belonging for equity-deserving groups across all areas of campus life, the BSL seeks to hold intentional space for Black students to feel spaces of connection now.
For information on how to access the space or to stay up to date on upcoming events, please visit the Black Student Lounge webpage.