TMU announces location for future school of medicine
Ontario's first new school of medicine in 20 years will help community meet health-care needs
January 27, 2023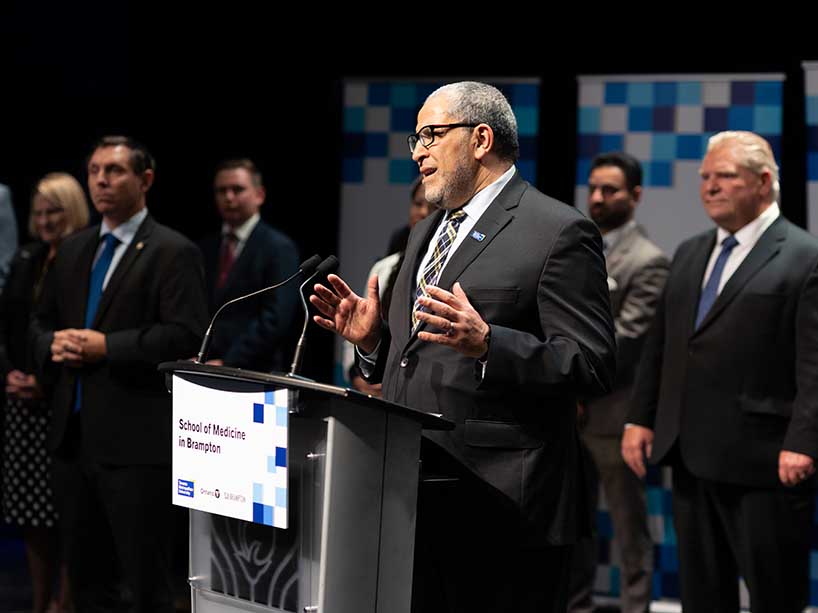 In a joint announcement with the City of Brampton and the Province of Ontario, Toronto Metropolitan University (TMU) confirmed that the Bramalea Civic Centre in Brampton-Peel has been selected as the future site of its school of medicine.
"We are committed to creating a school of medicine that will meet the diverse needs of the Brampton and Peel Region community and today, with a location secured, we are one step closer," said TMU's president and vice-chancellor, Mohamed Lachemi.
The Bramalea Civic Centre was chosen for its proximity to both the Brampton Civic and Peel Memorial Hospitals as well as its accessibility to municipal transportation, GO transit and highway systems. The site also meets the space requirements to build a school of medicine that will require 250,000 square feet for classrooms, offices, research facilities and an integrated health clinic. The City of Brampton will invest $20 million to support building renovations required for programming and operations of the school of medicine.
"This school and the City's second hospital being built at Peel Memorial will help address the health-care emergency in Brampton and ensures the next generation of health-care practitioners can train locally right here in the city," said Brampton's mayor, Patrick Brown.
The school of medicine at TMU will open in September 2025 with 80 undergraduate seats and 95 postgraduate seats. William Osler Health System (Osler) is working with TMU as primary clinical partner. Osler will support the school of medicine in providing the clinical learning environment for undergraduate medical education, other health professionals' education, residency training and professional development. With the location now selected, extensive planning, consultation and community engagement continues as the university works towards welcoming its first cohort of future medical doctors in 2025.
"TMU's new school of medicine will help to ensure that we have the doctors in place — in Brampton, in Peel Region and throughout the province — so that Ontarians get the quality care they need, when and where they need it," said Premier Doug Ford.
TMU's school of medicine will be rooted in equity, diversity and inclusion, with an intentional focus on enhancing community-driven primary care through innovation and interprofessional collaborative practice. Five pillars have been identified as the school's foundation: community centric primary care; culturally respectful care; innovation and technology to improve quality of care and patient outcomes; interprofessional healthcare networks; and support for the health and wellbeing of seniors. Other priorities include health equity, Indigenous health and decolonization, interprofessional collaborative practice, and leadership, advocacy and social justice.
For more information visit TMU's school of medicine website.
Related stories:
Community engagement on school of medicine sets the stage for year ahead