Update from the Presidential Implementation Committee to Confront Anti-Black Racism
Committee co-chairs provide progress report
Category:
From the Presidential Implementation Committee to Confront Anti-Black Racism
December 01, 2022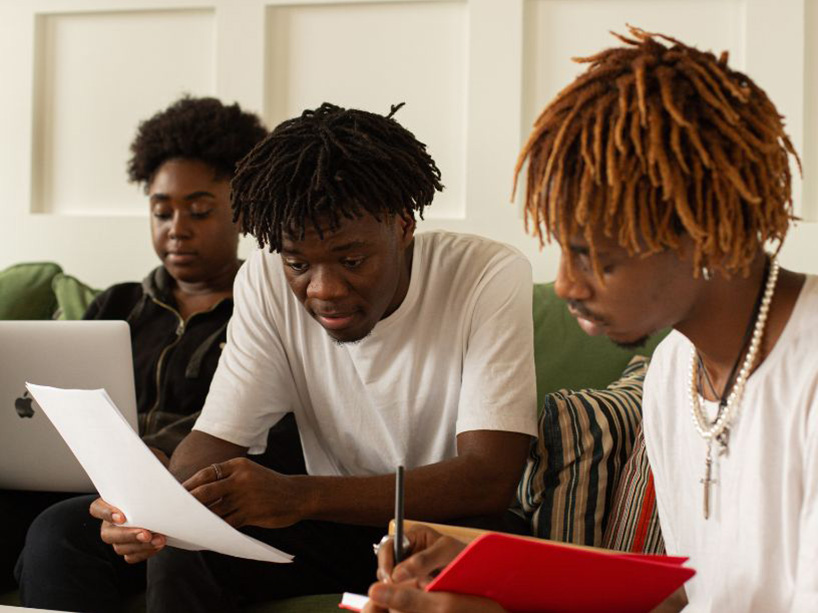 Since the community update released in February 2022, the Presidential Implementation Committee to Confront Anti-Black Racism (PICCABR) has made notable progress in responding to the 14 recommendations of the (PDF file) Anti-Black Racism Campus Climate Review Report published by the Office of the Vice-President, Equity and Community Inclusion (OVPECI).
The university's efforts to cultivate a culture of belonging for Black students, faculty and staff was furthered by president Mohamed Lachemi's recent signing of the Scarborough Charter; an overarching framework for combating anti-Black racism through Black flourishing, inclusive excellence, mutuality and accountability. The university's endorsement of the Scarborough Charter, which signifies a coordinated and tangible commitment to dismantle systemic anti-Black racism in Canadian higher education, aligns with progress already being led by the PICCABR.
The Presidential Implementation Committee is pleased to offer the university community an update and summary of implementation activities. Find a more detailed overview on the Confronting Anti-Black Racism website.
Key progress highlights
Student Working Group
Creation of a dedicated space for Black students on campus
In 2022, the Tri-Mentoring Program (TMP) and the Office of the Vice-President, Equity and Community Inclusion collaborated to open the Black Student Lounge (BSL) located at Kerr Hall West 77A (KHW 77A). The intersectional-identity affirming space offers Black students at TMU a place to study, relax and build community. The space hosts approximately 30 students at a time and can be used for both planned events organized by students and/or staff and there is a dedicated area for Black students to freely occupy.
The Black Student Lounge was soft-launched during the winter 2022 semester and fully activated during Orientation Week in September, drawing attention to the space from over 200 new and returning Black students.
"I'm very excited to be immersed in Black spaces and get to learn and collaborate with my peers. I hope this gives us the opportunity to build a community that can be lucrative to us when we exit academic spaces," says a student who accessed the Black Student Lounge.
Programming to centre and support Black students on campus
Monthly lunch and learn events were convened this year to promote Black excellence through academic, social and emotional support and group mentorship. These activities were intentionally conducted in small groups to inspire open-dialogue, confidence and psychological safety among participating Black students. One example, Connect2Flourish: How to talk to profs, offered an interactive session for Black students to network with Black faculty and staff, strengthening social connectedness and support systems.
Most recently, the Tri-Mentoring Program (TMP), the Student Life & Campus Engagement (SLCE) and Student Learning Centre (SLC) teams celebrated Black excellence by hosting a collaborative event showcasing Black talent and businesses. Approximately 80 staff, students and faculty visited the showcase. A similar event, which will feature the talents and achievements of Black students, is planned for Black History Month in February 2023.
Faculty Working Group
Postdoctoral fellowship program for Black scholars
In 2022, funding was secured for a forthcoming postdoctoral fellowship program for Black scholars, to help address underrepresentation. Given the underrepresentation of Black scholars in postdoctoral positions, this program is intended to build a more inclusive academy and support Black flourishing by increasing the research capacity of Black scholars, expanding their opportunities for SRC contribution to the institution and the community, and supporting their career development and career readiness.
The program will be advertised in the upcoming months, and is expected to begin in September 2023, with a two-year term for each postdoctoral fellowship. Interested applicants will be required to secure an agreement for supervision from full-time tenured or tenure track faculty members across the university.
Interim Director, Black Scholarship Institute to be hired
TMU has posted a two-year position for an Interim Director to support the development of a Black Scholarship Institute. The primary role of the position will be to design and implement the Institute, with broad community consultation and collaboration.
Supporting the university's commitment to equity and addressing anti-Black racism, the Institute is a strategic long-term initiative to unify and expand Black studies locally and internationally, convene intellectual engagements, support mentorship and career development of students, generate race-based data and broader knowledge to address issues impacting the Black community and promote innovation, and foster community engagement. With partnership support, this Institute will serve as an ecosystem for emancipation, upliftment and conscious awareness.
Staff Working Group
Building trust with Black staff through an equity, diversity and inclusion (EDI) knowledge and action framework
To help build trust among Black staff, the university set a goal to increase knowledge in equity, diversity, inclusion and anti-Black racism through the development of an EDI framework.
Throughout 2021, best practice research and stakeholder consultations on the development of the framework were conducted. Based on the findings, a draft EDI knowledge and action framework was developed. Most recently, a second round of consultations were conducted to obtain feedback on the framework. In the year ahead, the model will be launched to the TMU community to ensure leaders and employees gain foundational knowledge and skills required to confront anti-Black racism, and embed EDI in their behaviours and actions.
Applying EDI as a core element of performance and development processes
The university has revised its performance and development practices for MAC and senior administration employees with an emphasis on equity, diversity and inclusion, employee development, growth and shared accountability.
In particular, the program introduced a common EDI objective for all leaders in the program which measured hiring, building an inclusive environment and personal and team EDI development. In addition, five common performance rating definitions were rolled out to reduce bias and ensure a consistent, fair and transparent approach. This development seeks to build trust among Black staff by establishing EDI as a core competency and expectation of all leaders at TMU.
Looking ahead
While substantial strategic and operational work has been accomplished through the PICCABR to date, the future of this work will move from the project team to the best aligned departments across the university. Details on the departments assigned to lead the implementation of each of the recommendations can be found on the Confronting Anti-Black Racism site.
Additionally, the three executive co-chairs will continue to give oversight and work closely with the department heads to track, monitor and report on the implementation progress of the recommendations. The Office of the Vice-President, Equity and Community Inclusion will retain a leading role, supporting offices across the university in the implementation of the recommendations.
For their steadfast dedication to date, we would like to thank the working groups as well as the students, faculty and staff across the university who continue to lead efforts to promote equity, inclusion and a sense of belonging.
It's through the efforts of the experts and advocates that made up and supported the committee that TMU has already made encouraging progress on the challenging work of confronting and dismantling anti-Black racism and cultivating Black flourishing at the university. We also want to thank the PICCABR project team for ably managing and coordinating these efforts.
However, the work is far from over.
These changes mark an important shift towards the institutionalization of this work so that efforts to confront anti-Black racism and promote Black flourishing and excellence at TMU extend beyond any one project and become ingrained as part of the daily operations, strategic vision and ultimately, the fabric of the institution.
We are preparing to enter the Year of Action, 2022-2023, where our work, informed by ambitious and robust action plans designed to confront anti-Black racism will be scaled up in an effort to co-create the conditions for Black flourishing and belonging at the university.
Executive Co-Chairs
Roberta Iannacito-Provenzano, Interim Provost and Vice-President, Academic
Anver Saloojee, Interim Vice-President, Equity and Community Inclusion
Saeed Zolfaghari, Vice-President, Administration and Operations