Meet our fall 2022 award-winning grads
Hear what these 9 extraordinary graduates are most proud of and what they loved most about their university experience
November 22, 2022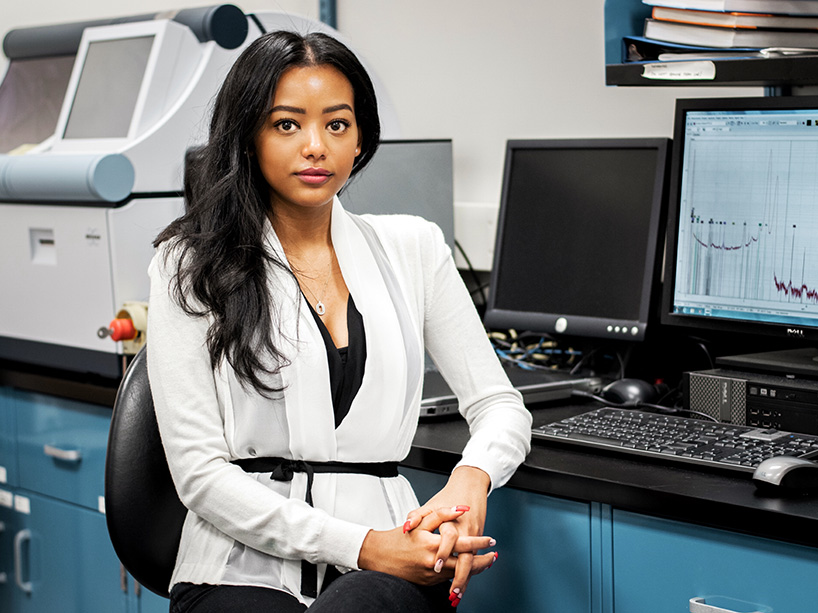 Congratulations to nine award-winning fall 2022 graduates, recognized for their triumphant success following an exceptionally challenging few years.
From devoting research efforts to tackling critical mental health conditions, to helping refugees integrate into Canadian society, these remarkable graduates have been selected for a Toronto Metropolitan University Gold Medal, Governor General Gold Medal or Board of Governors Leadership Award.

Join us in celebrating these esteemed award winners - and below, hear about their proudest moments and what they loved most about their experience at TMU.
Seeking a specific grad? Click on the names below to explore each profile:
Harsh Brahmbhatt ● Bev Fredborg ● Steven Gibson ● Stephanie Hill ● Md Amirul Islam ● Melody Johnson ● Sadaf Rezakhan Khajeh ● Gabriella Mankovskii ● Sydney Wizenberg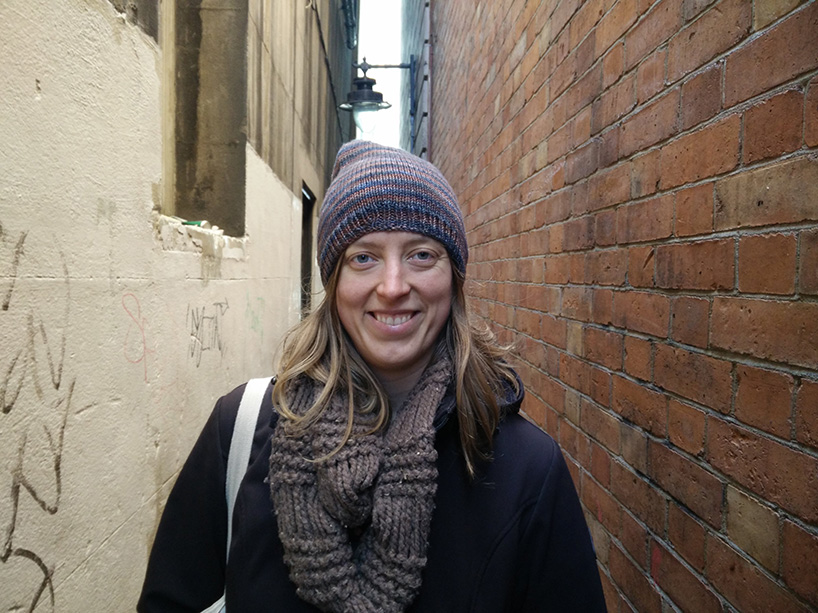 What are you most proud of from your time at TMU?
Stephanie Hill: "In academia, the writing, the workshops, grants, new research and publications mostly come from self-organized communities. These academic communities make the experience less lonely and makes everything else possible. During my time at TMU, being of service to these communities with other members of my program and with scholars around the world has been a tremendous source of pride."
Numerous scholarships, fellowships

Stephanie Hill has had a huge impact on the TMU scholarly community, as her work, leadership and professional development were truly exceptional. Hill received many scholarships and fellowships including SSHRC, MITACS, and a Rogers Fellowship.
She was a visiting researcher at the prestigious London School of Economics and Political Science (LSE) and contributed to eight publications and more than a dozen national and international conference presentations. Hill served as a president of the ComCult Graduate Students Association and as co-chair of the Emerging Scholars' Network of IAMCR. She accomplished all of this in less than five years of PhD study. Her graduate experience, by any metric, has been a great success.

View the feature story on Stephanie Hill

Gabriella Mankovskii
Physics, FOS, Doctoral
Board of Governors Leadership Award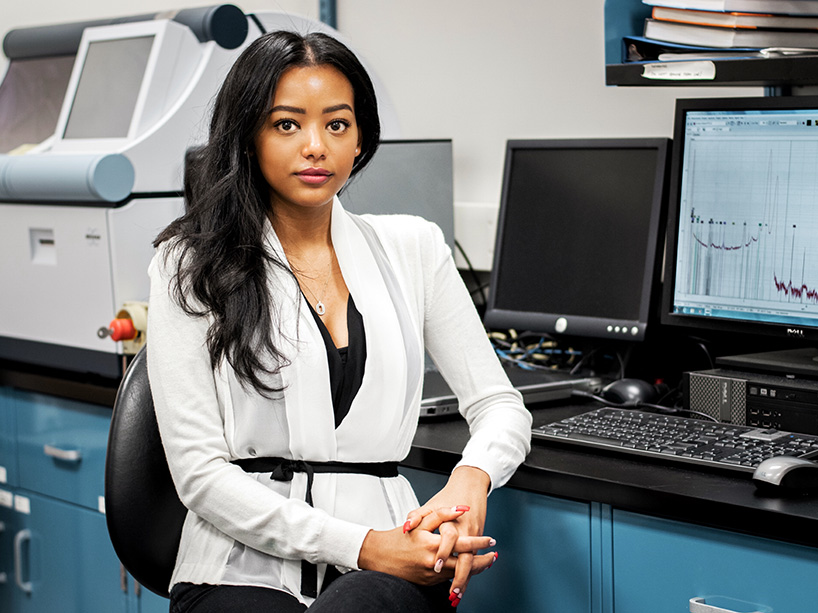 What are you most proud of from your time at TMU?
Gabriella Mankovskii: "Teaching. My absolute favourite moment is when a student's face lights up and they announce, "Ah ha, I get it now!" All my efforts went towards amplifying that moment and offering students the opportunity of seeing the beauty in physics. I consider being a supportive and approachable teacher to be my proudest and most rewarding experience during my tenure at TMU. I still receive thank you emails and questions from my previous students seeking guidance."
Helping refugees, vulnerable communities

As evidenced by receiving both a TMU Gold Medal and Board of Governors Leadership Award, Gabriella has been an exceptional member of the TMU community, both through her academic work and considerable volunteer activities benefitting the broader community.
She has received competitive scholarships including QEII-GSST and NSERC PGS-D. Her dedication to research has led to several journal publications and conference presentations, which helped contribute to advancements in the field of X-ray spectroscopy. She was awarded the Department of Physics Teaching Assistant Recognition Award twice as well as the Center for Excellence in Learning and Teaching TA/GA Award and participated in the Physics Graduate Student Union, faculty-level search committees and YSGS Senate Appeal Committee.
Outside of academia, Gabriella has devoted herself to many volunteer initiatives in the community. She has done so through tutoring and mentoring students from low income and vulnerable communities, assisting families and individuals experiencing poverty, helping refugees integrate into Canadian society, as well as serving as a language interpreter and cultural guide to the diaspora in Toronto.
Her impact is likely most felt in her work helping the newcomer community. For 12 years, she has volunteered as a counsellor to refugees who are enrolled in post-secondary programs, assisting them with settling in Canada and permitting them to thrive through access to educational opportunities.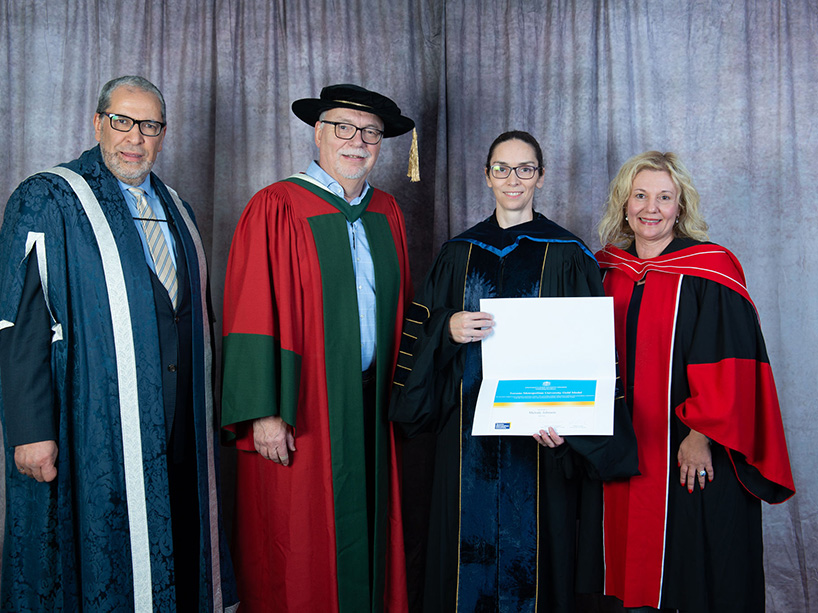 What are you most proud of from your time at TMU?
Melody Johnson: "I am most proud of the outcomes of my research into improved methods to treat winery wastewater at municipal wastewater treatment plants. In addition to potentially helping Canadian municipalities such as Niagara Region, this research resulted in the development of a novel treatment system for high-strength wastewaters that is currently being patented. The support of TMU faculty, staff and my fellow graduate students made these advances possible, and helped to strengthen TMU's reputation as a leader in innovative research."
International attention
During Melody Johnson's time in the Chemical Engineering program, she received prestigious scholarships, achieved a perfect GPA, and brought provincial, national and international attention to the quality research being conducted at TMU through her publications, conference presentations and international patent application.
Melody also volunteers to support French-language education rights in Toronto and as vice-president of the Coalition PESQ, she helped secure funding for a new school serving a diverse francophone and newcomer community.
Sadaf Rezakhan Khajeh
Documentary Media, The Creative School, Masters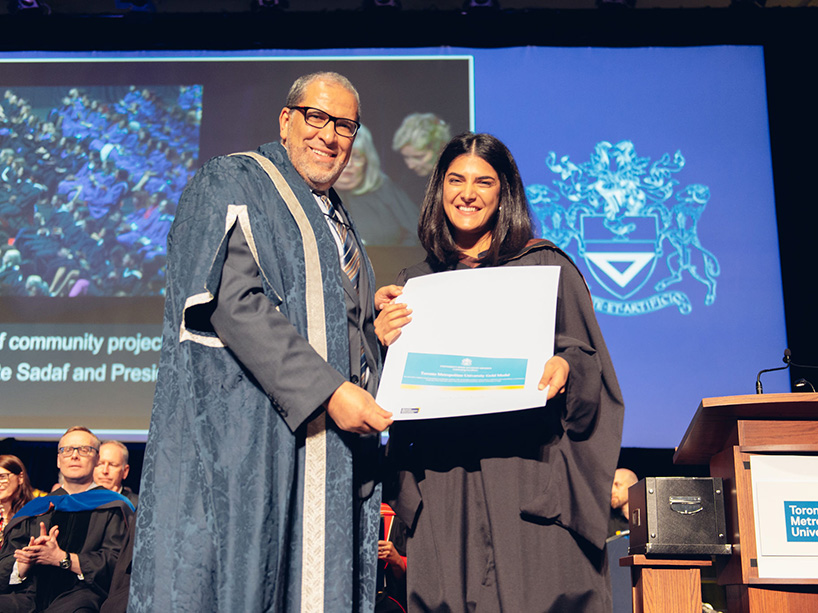 What was the best part of your experience at TMU?
Sadaf Rezakhan Khajeh: "What made my experience at TMU so special was the endless support I received from the faculty and my cohort. Getting my degree during the pandemic had its own challenges and I am so grateful that during this time, the TMU community was so understanding and caring toward me."
Community projects on immigration, settlement issues
Sadaf is a scholar and documentary artist who graduated with a top CGPA in Documentary Media. She was co-chair of the Doc Now 2022 student festival, which involved an impressive city-wide showcase of graduate student work in film, photography and new media. Her own creative work - a film bringing together family history and the sociocultural context of Iranian society - has been described as "outstanding" by her supervisory committee.
Sadaf is also to be commended for putting her creative background to the service of community projects with youth and on immigration and settlement issues.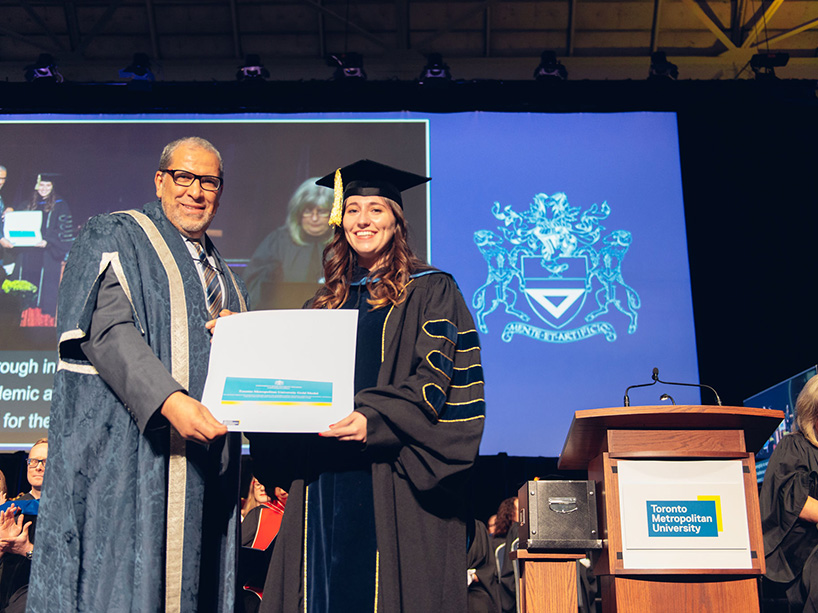 What was the best part of your experience at TMU?
Bev Fredborg: "The best part of my experience at TMU was receiving close mentorship from fantastic professors in clinical psychology. These mentors understood the needs of their students and provided relevant, practical training so that we can provide high levels of ethical, evidence-based, and compassionate care to our patients. I always felt so supported by the department on my journey, and am forever grateful that I chose to study at TMU."
Tackling severe, complex mental health conditions
Bev Fredborg is a Joseph-Armand Bombardier doctoral scholar whose research seeks to improve psychotherapy process and outcomes for those with severe and complex mental health conditions, particularly those with high rates of suicidality, self-harm, and childhood trauma. Bev's scholarly achievements and community engagement are evident in an exceptional record of research and knowledge translation activities, including creating a mental-health related podcast in her free time and volunteering time on several committees dedicated to anti-racist efforts at TMU.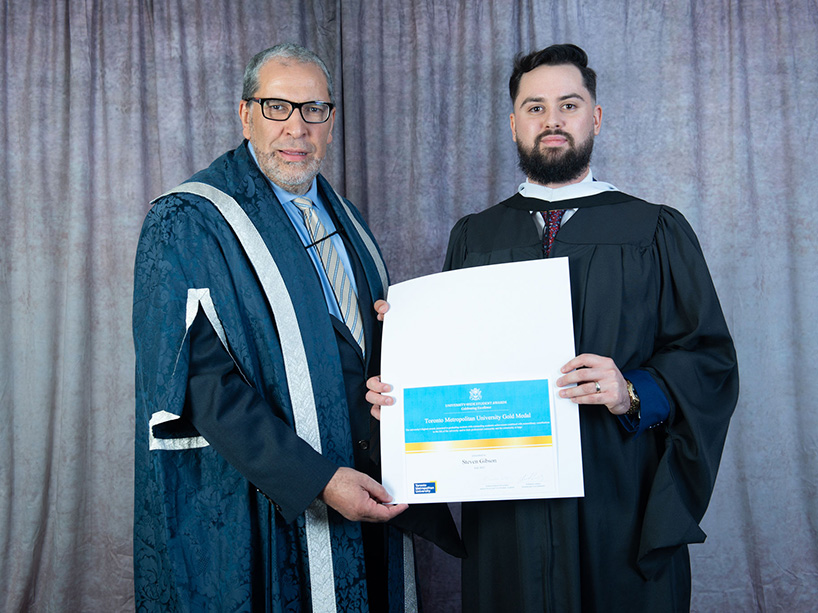 What are you most proud of from your time at TMU?
Steven Gibson: "Producing my Major Research Paper was such a rewarding and unique achievement – I think it will be hard to top that feeling. I am also proud of the relationships that I built at TMU with my faculty and peers. I was able to contribute to a meaningful and caring learning environment, which is perhaps the most important thing you can do as a student."
Co-organizing impactful youth workshops
As top scholar, Steven Gibson has significantly contributed to the Child and Youth Care (CYC) program, the university, and community. He recognizes his social location and society's imperative to advance anti-oppressive/anti-racist/post-colonial and rights-based work.
His track record includes supporting a $2.5-million grant's success and co-authoring two forthcoming publications that also propel CYC forward. He co-organizes and co-facilitates impactful youth workshops at TMU and organized a multi-disciplinary student-led children's rights association to raise critical awareness, and relationally supported peers for their academic success.
View the feature story on Steven Gibson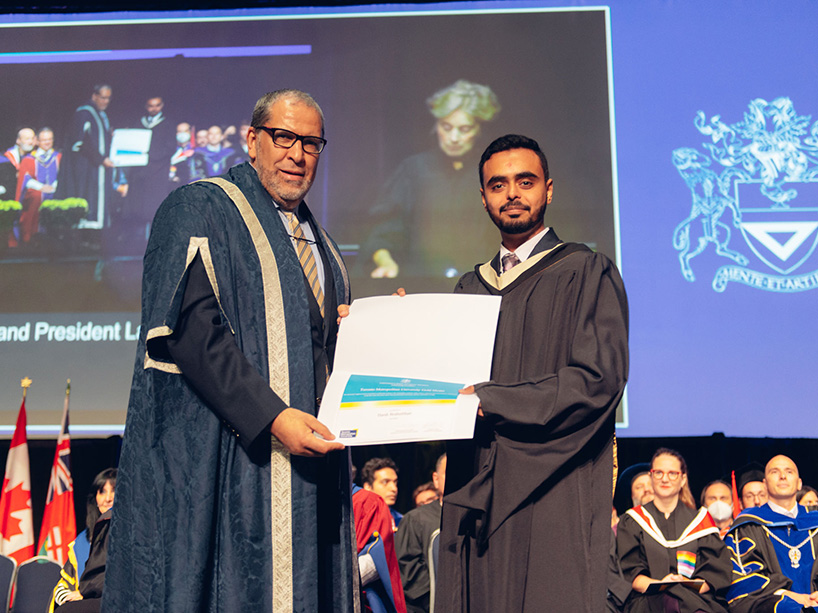 What are you most proud of from your time at TMU?
Harsh Brahmbhatt: "I had the privilege to sit on several Senate committees and contribute to promote fairness, inclusion and a level playing field for all. These committees really make a difference to the functioning of the university and each decision was the best for the whole TMU community."
Promoting gender equality
Harsh Brahmbhatt is an outstanding community member at TMU and beyond. As a member of the University Senate, he served on committees that made a profound difference in the TMU community. Harsh supported strong female leadership as vice- president, Outreach and Engagement of the MBA Women in Leadership Association, leading programs to promote gender equality.
As an alumni, he also stepped into the role of vice-president, Student Engagement of the Ted Rogers MBA Alumni Association. Since January 2011, in the community through BAPS Charities (UN-affiliated international charity), his work has impacted hundreds of thousands of people across Canada in five areas: health, education, humanitarian aid, community empowerment and environmental initiatives.
Governor General Gold Medals
Sydney Wizenberg
Molecular Science, FOS, Doctoral
Governor General Gold Medal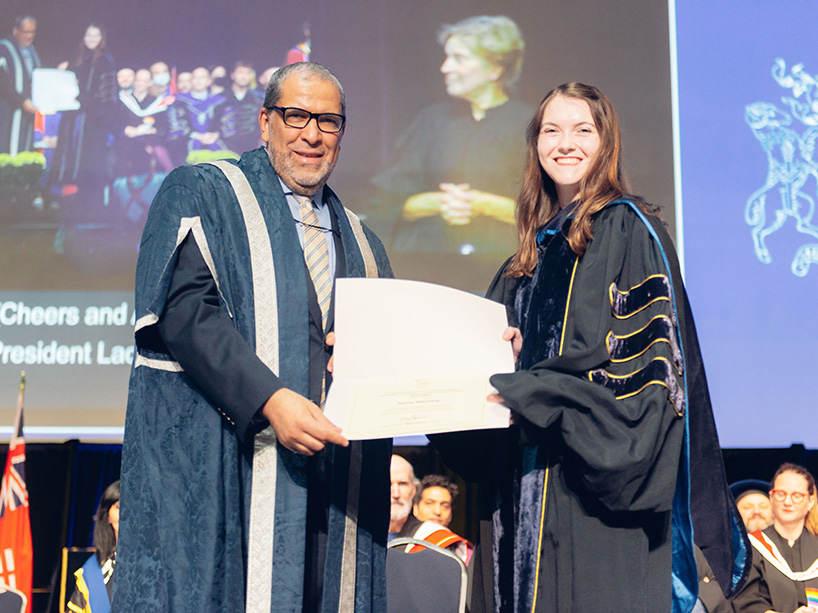 What was the best part of your experience at TMU?
Sydney Wizenberg: "The tight-knit community. I made lifelong friends here that I'll carry with me for the rest of my life. The Faculty of Science is a warm and welcoming place– I attribute my success to the network of academic and personal support that I had here at TMU."
Researching controlled pollination, pollen fitness

Across her four years at TMU, Sydney published three articles in scientific journals, won an Ontario Graduate Scholarship, and maintained a 4.33 cumulative GPA. She served as the treasurer of the Molecular Science course union and was featured in the Faculty of Science's annual report, discussing her research on controlled pollination and pollen fitness. Before defending her thesis she was offered a full-time position as a Postdoctoral Fellow in Molecular Palynology at York University, where she is continuing her work with pollen.
Md Amirul Islam
Computer Science, FOS, Doctoral
Governor General Gold Medal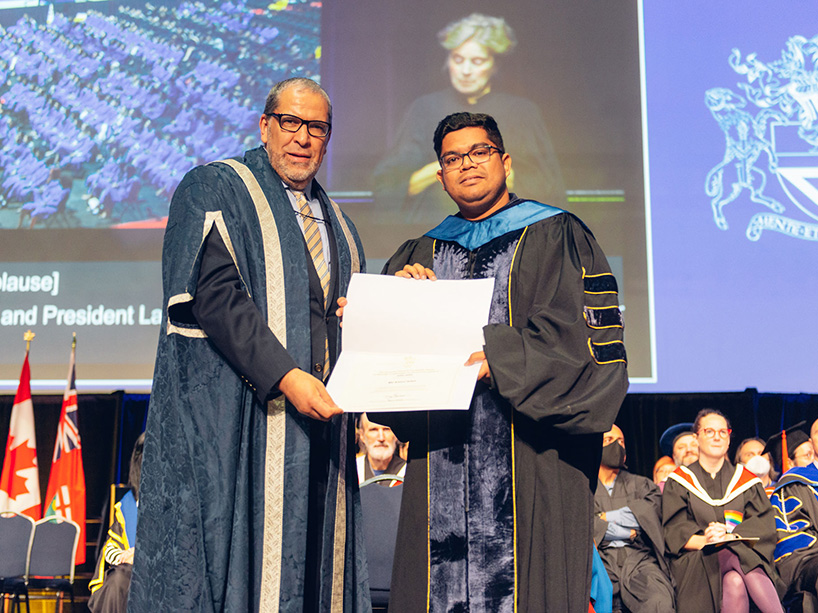 What are you most proud of from your time at TMU?
Md Amirul Islam: "I am extremely honoured to receive the Governor General Gold Medal. I'm really humbled and very surprised, just because of the quality of research happening at TMU. I found the whole process of discovering things and exploring things very exciting. It gave me a sense of satisfaction, like I am doing something creative."
Researching to build trustworthy AI systems
Amirul began his PhD in computer science under the supervision of two prominent researchers: Neil Bruce and Kosta Derpanis. During his PhD, he focused on understanding various human-centric properties of current AI models beyond their accuracy, such as explainability, interpretability, generalization, fairness and bias.
He believes his research findings and associated applications will benefit research areas concerned with understanding the characteristics of AI models to build trustworthy AI systems. His research has appeared in top-tier conferences/journals in computer vision (CVPR, ICCV, ICLR, and TPAMI) and robotics (ICRA). Amirul is currently working as a senior computer vision researcher at Huawei Noah's Ark Lab, Canada where he is translating his expertise to develop artificial intelligence systems that learns concepts shared across video, audio and text.