University celebrates Indigenous placemaking with mural installation
Large-scale public art piece created by international artists installed on Kerr Hall West
October 25, 2022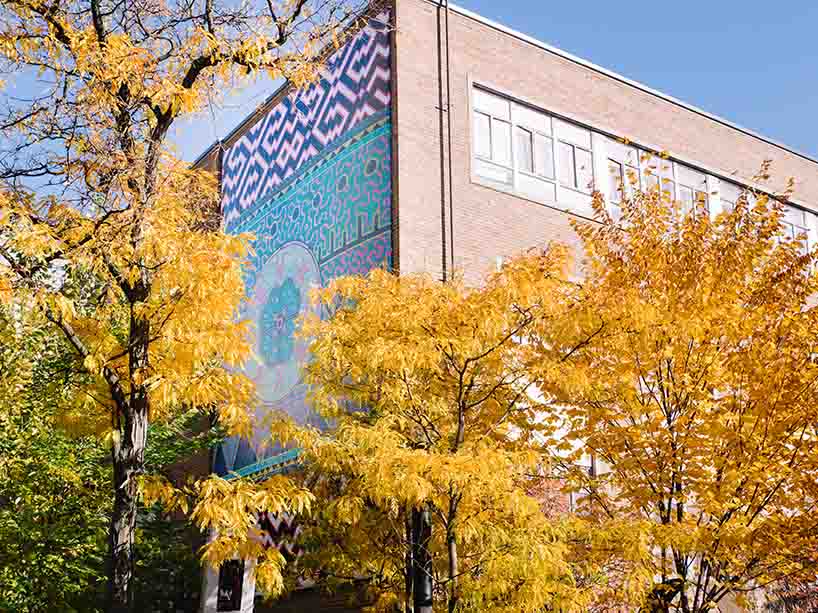 Toronto Metropolitan University (TMU) has unveiled a large-scale public artwork to celebrate Indigenous placemaking and further the university's commitment to Truth and Reconciliation. Located on the west-facing wall of Kerr Hall West at Gould Street and Nelson Mandela Walk, Paisajes de Nosotros (Landscapes of Us) is a sprawling mural commissioned by the university.
The piece is part of Arctic/Amazon: Networks of Global Indigeneity (external link) , an expansive curatorial program originated by the Wapatah Centre for Indigenous Visual Knowledge. Curated by Gerald McMaster, the mural is a collaboration between Indigenous artists Niap (Nancy Saunders), and Olinda Reshinjabe Silvano who respectively hail from these two regions.
"The intricate balance of relation, the first meeting between Niap and Olinda, was tenuous," said McMaster. "The immediate effect of this meeting and eventual creative collaboration was unmistakable in that there was a true understanding of a global network, a connection that a project such as this could realize. By singing their songs, their worlds came into being."
The 12-by-8-metre mural merges traditions, cultural legacies and insights from the Arctic and Amazon regions through the exploration of Indigenous ways of being, seeing and the shared values that inform each artist's work. The colour scheme of the mural embodies the ice, northern lights, Inuit cosmologies and symbolism of the North; while the bold graphics of ancient kené designs symbolize woven visualizations of plant songs that serve as a musical score for Shipibo-Konibo peoples of the Amazon.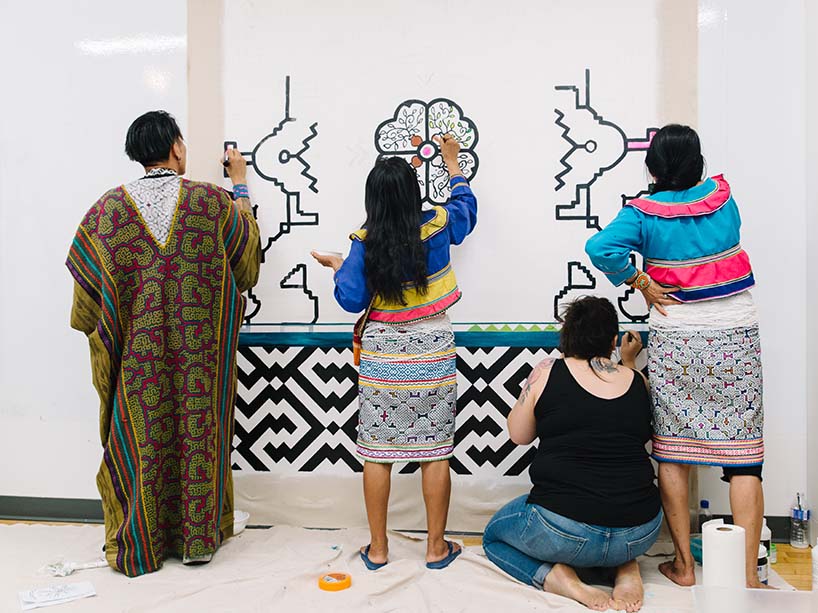 Placemaking connecting between people and spaces
Paisajes de Nosotros (Landscapes of Us) is the third public art piece recently installed on campus as part of the (PDF file) Campus Master Plan's commitment to increase Indigenous placemaking. Placemaking means creating unique, iconic spaces of gathering for learning, teaching, culture and exchange that embody Indigenous culture and traditions. Placemaking ultimately strengthens the connection between public space and the people who use it. The creation and commission of the mural has been a multi-year process in collaboration with the university's public art committee and the Indigenous space sub-working group.

"Paisajes de Nosotros is a gift to all peoples. It reminds the observer of connection to self through love, respect for all life. It awakens or expands our spirit to the feelings shared by the artists and their audience," said Joanne Okimawininew Dallaire,TMU's elder (Ke Shay Hayo) and senior advisor, Indigenous Relations and Reconciliation. "There survives a deep connection in our bodies and in our knowing that we are connected to each other. We all want the ability to love, express ourselves, do and be what is truly us. Thank you to the amazing artists for sharing one beautiful way to do it."
Located on one of the most visible and central corners of TMU's campus, the mural is one of many ways the university is working to implement recommendations from its (PDF file) 2018 Truth and Reconciliation Report, which includes increasing Indigenous visibility at the university and honouring Indigenous history and cultures through symbolic gestures. Other recent public art installations include the Ring at the Gould and Nelson Mandela Walk intersection and Nadya Kwandibens' photography in the university's Library.
Industry-wide support for mural
Arctic/Amazon: Networks of Global Indigeneity is a multi-phase interdisciplinary project that explores the ways in which Indigenous contemporary artists ​and collaborators take on issues of climate change, globalized Indigeneity, and contact zones in and about the Arctic and the Amazon during a time of crisis.
Support for the mural was made possible by the university, StreetARToronto, a City of Toronto program; Canada Council for the Arts; Nunavut Community Tourism and Cultural Industries; the Ontario Arts Council; Downtown Yonge Business Improvement Area; Partners in Art; and the Toronto Arts Council.

"We are thrilled and humbled to have commissioned this mural with combined support from a range of city, business, arts, and government partners," said Paul Roth, director of The Image Centre at TMU and head of the university's public art committee. "Working with such extraordinary artists in Niap and Olinda, and with Gerald as curator, it has truly been a privilege to bring this major public artwork to our community."
A public ceremony to celebrate the mural and bless the land in which it is installed will be held in mid-November 2022. To learn more about the mural, visit torontomu.ca/indigenous-mural


Related stories: