Launching a social media campaign to live
How a nursing student's living donor transplant journey made her one of the faces of a life-giving treatment
September 30, 2022
Before launching a personal social media campaign to save her life, fourth-year nursing student Afsana Lallani was reticent about sharing her health story on social channels. In fact, her buoyant posts never hinted at the health problem she was battling.
Lallani had primary sclerosing cholangitis (PSC), a rare and chronic liver disease that can eventually lead to organ failure. A liver transplant is the only known treatment. After finding out no one in her family was a match for organ donation, the 23-year-old became an expert on searching for a living donor, starting her own Facebook campaign which reached 60,789 people. And one of those connections stepped up to help.
Living Donation Week
You may have come across Lallani on a poster, billboard or on the local news recently. That's because she's been busy with advocacy for Living Donation Week (external link) which took place Sept. 11 to 17.
"I spent a lot of time drawing awareness of living donation and advocating for patients that are still on [liver or kidney organ donation] waitlists," says Lallani, who also participated in a webinar to share advice on creating social media campaigns to connect with potential living donors.
Living donations are made by living persons who give a kidney or partial liver for transplantation to another person whose organ is no longer functioning properly. The procedure has no serious side effects for the donor (livers grow back to full size for both the donor and recipient, it is the only part of the body that can regenerate) and is life-altering for someone who needs it.
The gift of life
Living Donation Week is part of a campaign by the Ajmera Transplant Centre at UHN and The Centre for Living Organ Donation at UHN. This year's theme, 'great actions leave a mark', honoured the meaning behind surgery scars. 39 transplant success stories were profiled for the project, including Lallani. For her, the scars on her abdomen are worn like a badge of honour.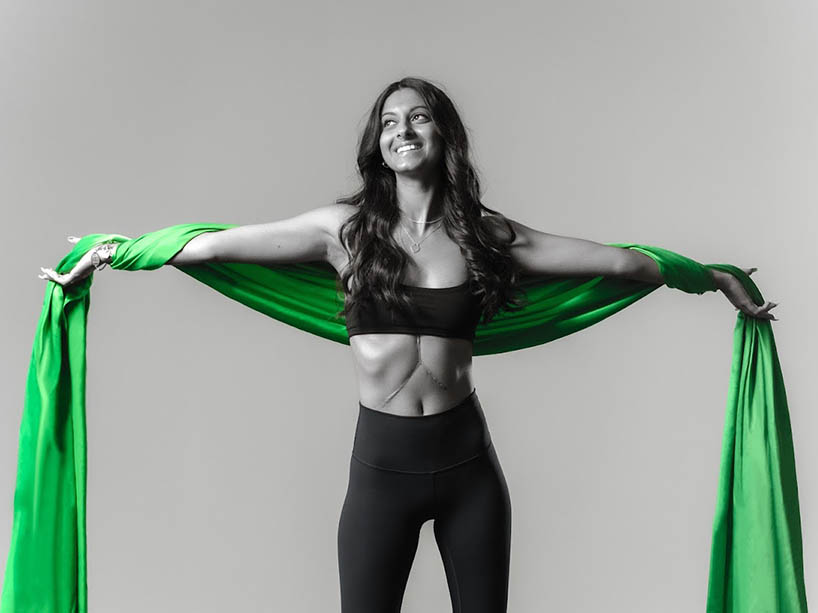 "My scar is a beautiful reminder of my strength and perseverance through adversity. It reminds me of all the love and hope in this world because I was able to get one of the rarest gifts - my donor," says Lallani.
Lallani wants those who can to consider donating, whether it's living donation, blood donation or checking off the registered donor option indicated on your health card. She also wants people considering living organ donation to know that there is funding to cover expenses like downtime from work.
My picture can be seen across UHN in the form of posters, digital media distributions, and a TTC billboard. I'm on TV and on billboards. I'm speaking up for the things I believe in, and I'm confident in my own skin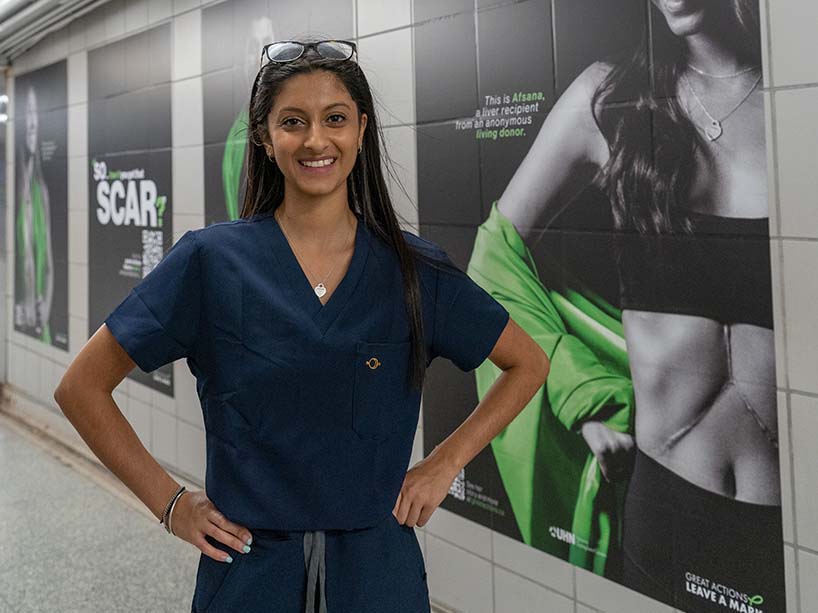 Campus activation
Toronto Metropolitan University was also the site of one of the campaign's activations, a chalk stenciling of Lallani on bustling Gerrard Street.
"Having the drawing on campus was really important to me because it was a chance to expose a younger demographic to the initiative. By encouraging and spreading awareness of living donation, my hope is that it helps save more lives," says Lallani.
A future in health care
The chalk drawing on campus was also a personal win for Lallani who is in her fourth year of the nursing program at TMU. As a student in an intense and vigorous program, she says she couldn't have managed during her illness without the support of TMU faculty and the accommodation office which permitted her a medical leave and lighter course load during her health journey.
Lallani's successful transplant surgery offered her the opportunity to realize her dream of being a nurse with renewed drive and energy. She highlights the professional nursing placements in her program that allowed her to experience her future career first-hand.
"I'm definitely on the right career path. I'm leaning towards pediatrics because I've been a pediatric patient since I was 15 months old," she says.
As for her specialization within pediatrics, Lallani thinks it could be in intensive care working with organ transplant patients where she could use her personal experience to help others.
"It's something close to my heart. I know I can apply deep empathy and compassionate care to those patients."
DID YOU KNOW THAT in Canada there are currently 1,500 people waiting for a kidney and nearly 400 waiting for a liver. To learn more about the campaign and donating, visit www.greatactions.ca (external link) .