Senate approves new university policies and updates
Changes apply to student names, academic accommodations, certificate programs and more
September 08, 2022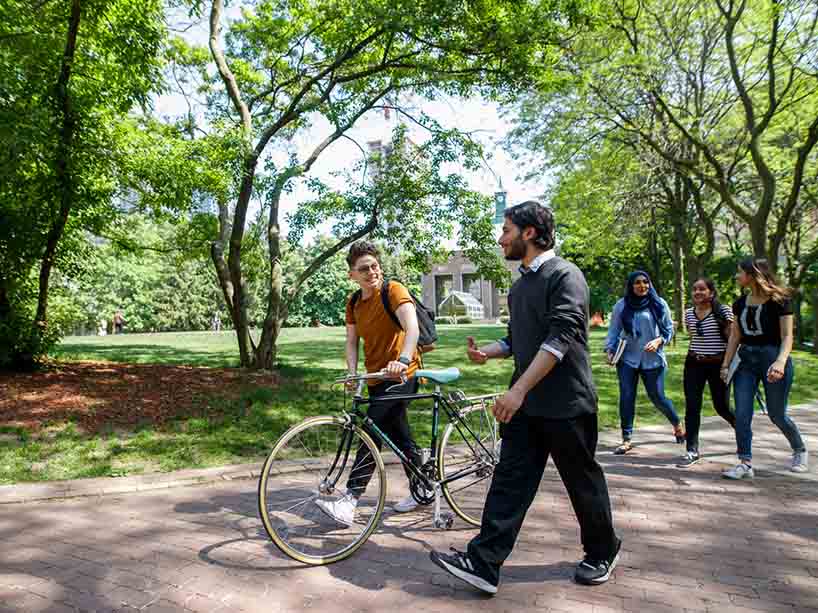 A new university policy on student names allows students to choose to be identified in the Student Administration System by a name different from their legal name. It's one of a number of policies introduced or updated by the university Senate recently.
To help students, faculty, contract lecturers and staff prepare for the upcoming academic year, the Senate has approved two new policies and revised several others, covering student names, academic accommodations for students with disabilities, the development and review of certificate programs and the Lincoln Alexander School of Law academic term.
The changes are summarized below:
Policy 172: Student Names
The new (PDF file) Student Names policy will apply to all students at the university and supports students' chosen form of self-identification.
Students may choose to be identified in the Student Administration System by the chosen first name that they would like to be addressed by at the university. The chosen name will appear for internal purposes such as the class roster, grade roster, D2L, and Google Meet and Zoom display names. The university will still require that students use their legal name on all legal records and official documents. All official documents produced by the university for external use, such as but not limited to transcripts, parchments and enrolment confirmations, will state the full, legal names of students.
The policy outlines:
Clear definitions for overview of the legal name and the chosen first name.
Clarification on where the chosen name will display and how it will be used in RAMSS and other university systems.
New functionality in RAMSS that will allow students to select a chosen name that they wish to be identified by on campus, without changing their legal name.
The Policy also supports the process for altering, deleting, substituting or adding a legal name or a chosen first name to a student's academic record.
The Policy includes a section on Procedures for;

Legal name changes
Chosen name changes
Requests to use a chosen name on official University documents
Legal name changes for former students and alumni
Legal name and chosen name changes for Instructors/Lecturers who are current or former students
Details of chosen name usage
Policy 48: Undergraduate and Lincoln Alexander School of Law Academic Term
The Senate has approved an amendment to (PDF file) Policy 48: Undergraduate Academic Term to allow the five required intensive courses in the Juris Doctor (JD) program to run in the week before the official start of the term and to allow the required professional placement course to begin in the week prior to the official start of term in both the fall and winter terms.
The amendment will permit a change so that the intensive courses (which are integral to the JD Program) will no longer be delivered in the first week of the 12-week term. The program's term-long courses will be delivered over the full 12 weeks to teach required professional competencies.
In 2019 the program was approved for the Integrated Practice Curriculum (IPC) designation from the LSO. The designation requires the professional placement course to include 15-weeks of direct supervision by a practicing lawyer. To accommodate this 15-week timeline, onboarding activities for the placement need to be run in the week before the official start of term.
Policy 170(c) Lincoln Alexander School of Law Grading, Promotion and Academic Standing Policy
The new (PDF file) Lincoln Alexander School of Law Grading, Promotion and Academic Standing Policy consolidates grading and standing rules approved by the Toronto Metropolitan University Senate on October 1, 2019, with the grading and standing designations currently used by the Registrar's Office.
It includes some additions and improvements to these rules, based on experience administering the Juris Doctor (JD) program at Toronto Metropolitan University.
LASL has added detailed procedures relating to incomplete grades, grade
revisions, reinstatement, timespan requests/appeals, and graduation requirements.
Policy 76: Development and Review of Continuing Education Offerings
(PDF file) Policy 76 has been updated to help serve the needs of continuous learners across Canada and beyond by reflecting a better understanding of changing continuous learner demographics and the evolving technology and societal developments that continue to disrupt all sectors and require new or renewed skills and competencies.
Summary of changes:
New policy name that better reflects the school's commitment to identifying new opportunities to grow and maintain our competitive advantage.
Introduction and definitions of "Microcredential" and "Microcertificate"offerings and artifacts
Clear distinction between Microcredential and Certificate requirements.
Broadened values and principles to align with the TMU 2020-2025 academic plan.
Comprehensive procedures section providing clarification on:

development, and implementation of microcredential, microcertificate and certificate offerings
the program review cycle for each offering.
Policy 159: Academic Accommodations for Students with Disabilities
This (PDF file) policy establishes the guiding principles, conditions, and expectations surrounding the request for and provision of academic accommodations for students with disabilities.
It has been updated to better reflect the university's values, and to demonstrate a stronger commitment to addressing the barriers that some students face, including ableism, in the learning environment.
Policy 159 now includes broader definitions of key terms (i.e. "ableism", "academic accommodation", "accessibility", "essential academic requirements", "disability", "faculty (non-capitalized)", "medical documentation", "instructor", "non-course degree requirements", "staff" and "student") to better align them with current legislation and the learning environment;
A "new" Values and Principles section that reflects TMU's 2020-2025 Academic Plan as well as alignment with the Senate

(PDF file)

Policy Framework guidelines.
Emphasis on the importance of collaboration and shared responsibility in the accommodation process.

Clarifies roles and responsibilities for all involved in the accommodations process.
Roles and responsibilities now moved to the policy from the procedures section.
Institutional Quality Assurance Process - Policy 110, 112, 126 and 127
These policies have been updated:
]Each protocol now mirror each other and are consistent with the Quality Assurance Framework
Explicit references to equity, diversity and inclusion are provided with regards to processes throughout the various protocols
New definitions as well as several references and linkages to the Ontario Qualifications Framework have been added throughout
Administrative changes to policies
Policy 46: (PDF file) Undergraduate Course Grading, Academic Program Standing and Eligibility to Graduate has now been renumbered. Starting fall 2022, the new policy number will be 170(a).
Policy 164: (PDF file) Graduate Status, Enrolment and Evaluation has been renumbered. Starting fall 2022, the new policy number will be 170(b).
To find out all the Senate policy and updates, please visit the Senate website.
Related stories: